Red Rock Canyon entrance fees to increase today
January 9, 2018 - 12:32 pm
Updated February 20, 2018 - 6:00 am
Getting into Red Rock Canyon National Conservation Area is about to get more expensive.
Starting Feb. 20, the price to enter the 13-mile scenic drive at Red Rock will more than double from $7 to $15 for a car or truck and from $3 to $10 for a motorcycle.
Those entering on a bicycle or on foot will pay $5 per person, up from $3.
The price for a campsite at the Red Rock campground also will go up.
The Bureau of Land Management held public meetings on the fee hike last year and announced its implementation Tuesday. It's the first increase in the entrance charge since 2011.
The cost of a Red Rock Canyon Annual Support Pass will remain at $30 per year.
Active-duty members of the military can avoid fees with a free America the Beautiful Military Pass. Entrance fees also are waived for those with a free pass for the permanently disabled, an $80 America the Beautiful Annual Pass, a $20 America the Beautiful Annual Senior Pass or an $80 America the Beautiful Senior Lifetime Pass.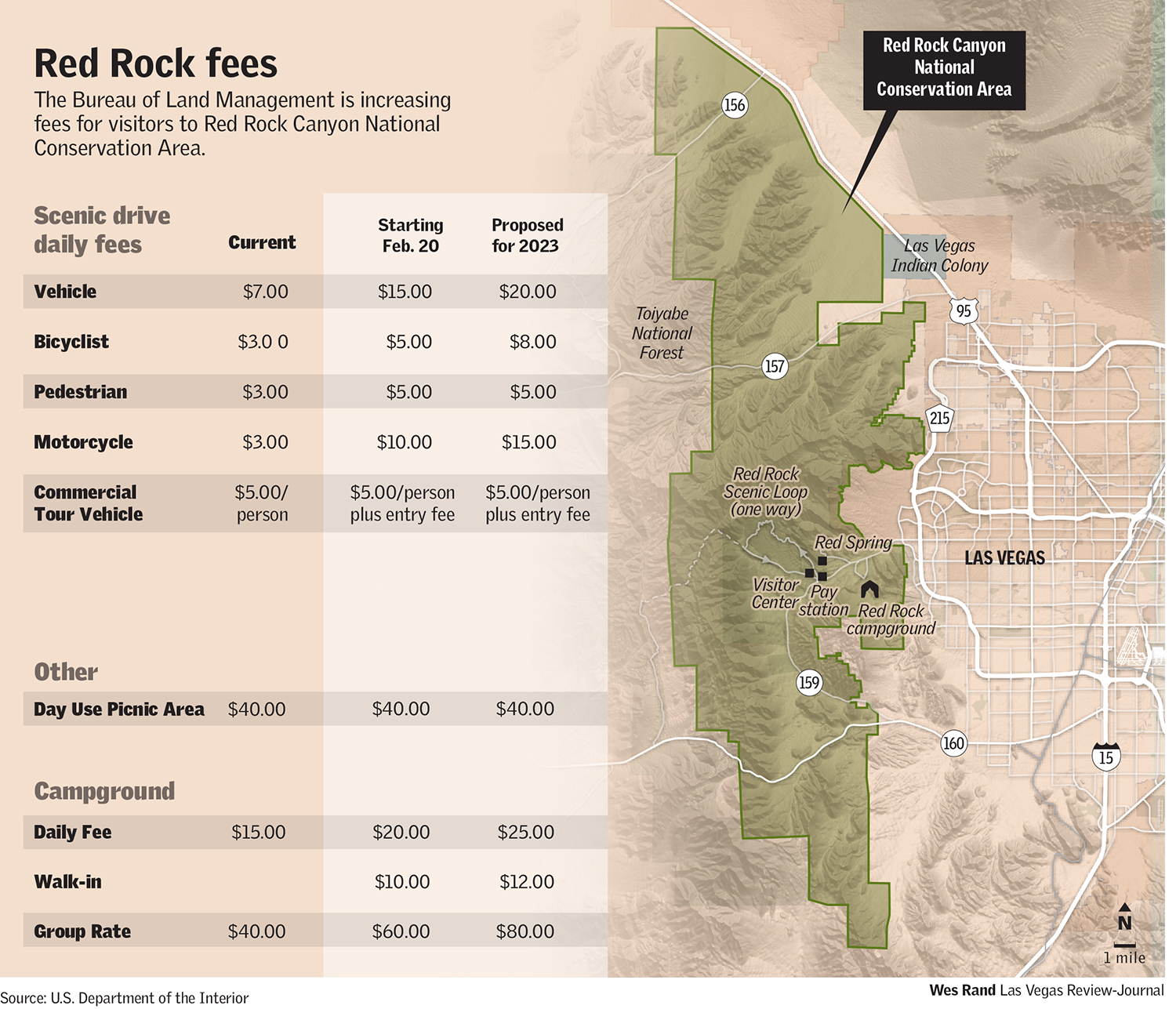 Trails and sites along state Route 159 outside the scenic drive will continue to be free of charge, including the Red Spring boardwalk and picnic area. Eventually, the BLM plans to charge a fee for access to Red Spring but not until it has a way to collect money there. "I can't estimate when that will happen," BLM spokesman John Asselin said in an email. "It likely won't be for some time."
The BLM also is planning a second fee increase by 2023 that would increase the price of admission to $20 per car, $15 per motorcycle and $8 per bicyclist.
Bureau officials have said the extra money will go toward search-and-rescue costs, educational programs, trail maintanence and other upkeep.
When the fee hike was first proposed last year, Rep. Dina Titus, D-Nev., sent a letter to BLM leadership accusing the agency of using the higher fees to cover its plans to cut $10 million from the budget the National Conservation Lands program.
Red Rock Canyon is the nation's busiest BLM site with approximately 2.5 million visitors in 2016.
Contact Henry Brean at hbrean@reviewjournal.com or 702-383-0350. Follow @RefriedBrean on Twitter.