Report: Before mother was fatally shot, son told her to call police
February 20, 2015 - 10:21 pm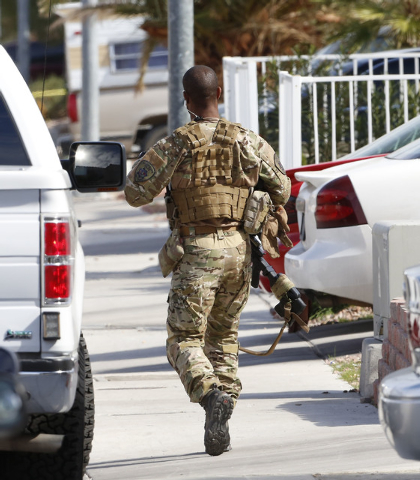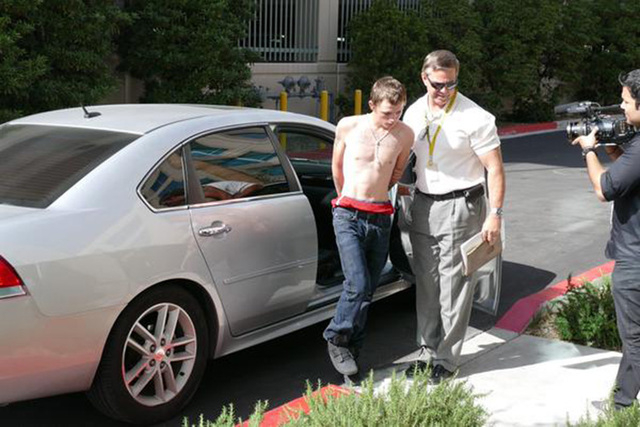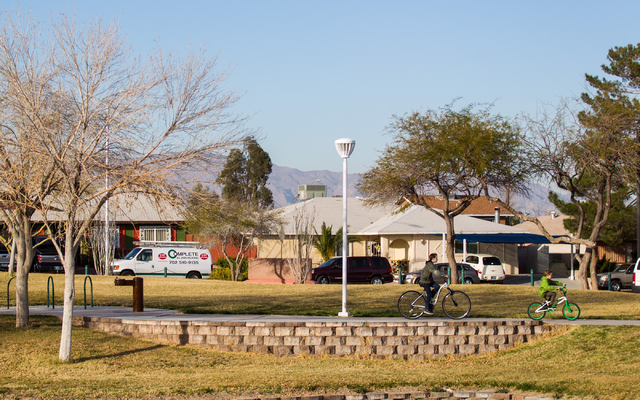 Metro's investigation into the twisted story of a fatal shooting revealed critical details Friday about the Las Vegas woman who was killed and the accused shooter.
Tammy Meyers' son tried to convince her to call police rather than going out to chase a car involved in a previous altercation, according to an arrest report.
But Tammy Meyers told her 22-year-old son Brandon — who had retrieved a gun when his mother got home Feb. 12 asking for his help — that she would go alone if he didn't join, the report said.
They opted not to call police. Instead, they ended up getting into a gunfight.
And Tammy Meyers, 44, never made it back into her house. She was shot out front and died two days later.
Just hours after Tammy Meyers went down, the same police report shows, accused trigger man Erich Nowsch told two friends he had fired 22 times outside the Meyers house on Mount Shasta Circle.
One friend said 19-year-old Nowsch appeared excited and happy, according to the report.
But in a police interview Tuesday — two days before he was arrested — Nowsch denied any involvement in the shooting of Tammy Meyers, the report said, saying he was in a recording studio when she was wounded.
He didn't even know she was dead, the report said.
Nowsch was arrested Thursday in the 7700 block of Cherry River Drive, near the intersection of Cimarron Road and Alta Drive, around the block from the Meyers' house. He faces one count of murder with a deadly weapon, three counts of assault with a deadly weapon and two counts of discharging a firearm from a vehicle.
He was also in police custody from Sunday to Tuesday on a warrant from an unrelated case, the report said.
The warrant was issued two years ago, when Nowsch was a juvenile, Metro spokesman Jesse Roybal said. Because the warrant was linked to someone younger than 18, Roybal could not provide further detail.
Neighbors said Nowsch used to be a pleasant kid. But he became angry and confrontational, they said, after his father died in 2010. Erich Nowsch Sr., 39, killed himself, according to the Clark County coroner's office.
With his dad gone, neighbors said, Nowsch got into drugs and dropped out of high school.
"Ever since that, Erich has been going nuts on everybody," said Robert Selig, who said Nowsch and his son used to be close friends.
Selig said he used to invite Nowsch into his home when the teen would show up saying he had been kicked out of his own house.
Sharon Provenzano, 65, has lived three doors down from Nowsch for 16 years and watched him grow up. In recent years, Provenzano said, Nowsch would get so intoxicated that he couldn't walk.
"He just was uncontrollable," Provenzano said. "Hanging out with the wrong people, too."
Melissa Mours, 30, moved in next door to Nowsch last year with her 7-year-old son. Nowsch often walked around the neighborhood carrying a gun, Mours said.
"There aren't many male figures in his life," Mours said.
Neighbors said Nowsch belonged to one of the neighborhood gangs, a claim Metro police acknowledged Thursday night after his arrest.
Robert Meyers Sr., Tammy Meyers' husband, said Thursday his wife often counseled the young man at a park close to where both families live. She also gave him food and money, he said.
They knew Nowsch was bad news, the husband said, but didn't initially reveal that publicly because they didn't want to hurt the police investigation.
Police and the Meyers have said the confrontation started out as a bout of road rage. Case details have since gotten more complicated.
Nowsch told a friend he was standing in Ansan Sister City Park on Feb. 12 when he suspected someone in a green car at adjacent Johnson Junior High School was looking for him, his arrest report said. So he called a friend for a ride.
The friend picked up him up in a silver, four-door Audi, the police report said, and the green car followed them.
Nowsch said he thought he saw a gun being pointed from the green car, the report said, so he loaded his own handgun and fired.
When the green car tried to get away, Nowsch told his friend according to the report, the Audi followed it into a cul-de-sac, and he fired at the car and at someone running into the house.
The family's version is still slightly different.
Tammy Meyers had taken her 15-year-old daughter for driving lessons at Johnson Junior High about 10:10 p.m. Feb. 12, according to the report. At 10:50 p.m., the mother was driving a green, 1993 Buick Park Avenue back home.
Within the next half-hour, a silver sedan sped up behind the Meyers' car, provoking the daughter to honk at the other vehicle from the passenger seat, according to the police report. Then the silver car pulled in front of the Meyers' car and stopped.
The driver, described only as as a 6-foot-tall white man, got out and said, "I'm gonna come back for you and your daughter."
Tammy Meyers then sped around the car and headed back home. Brandon Meyers got dressed and grabbed his Beretta 9 mm, then hopped into the passenger seat, according to the report. They found the silver Audi near the intersection of Villa Monterey and Cherry River Drive.
His mother stopped the car, Brandon Meyers told police, and a passenger in the Audi started shooting at them.
Brandon Meyers didn't fire his weapon them, and they headed back home, the report said. Then the Audi turned onto Mount Shasta Circle, a cul-de-sac, and a front-seat passenger leaned out the window and started shooting.
This time Brandon Meyers fired back three times, he told police. The shooting stopped, and the Audi went in reverse down the street.
It was 11:22 p.m., police said.
Tammy Meyers was lying on the ground bleeding from the head, Brandon Meyers told police in the report. He tried to help her, then he called 911.
Contact Chris Kudialis at ckudialis@reviewjournal.com or 702-383-0283. Find him on Twitter: @kudialisrj.
RELATED
Son of woman killed in road rage shooting has felt that anger himself
Woman shot in road rage fit recalled as nurturing at Las Vegas vigil
New police details raise questions in family's version of deadly road rage shooting
Family knows man arrested in shooting initially called road rage