Restored rail line reconnects Southern Nevada cities
Updated April 13, 2018 - 6:33 pm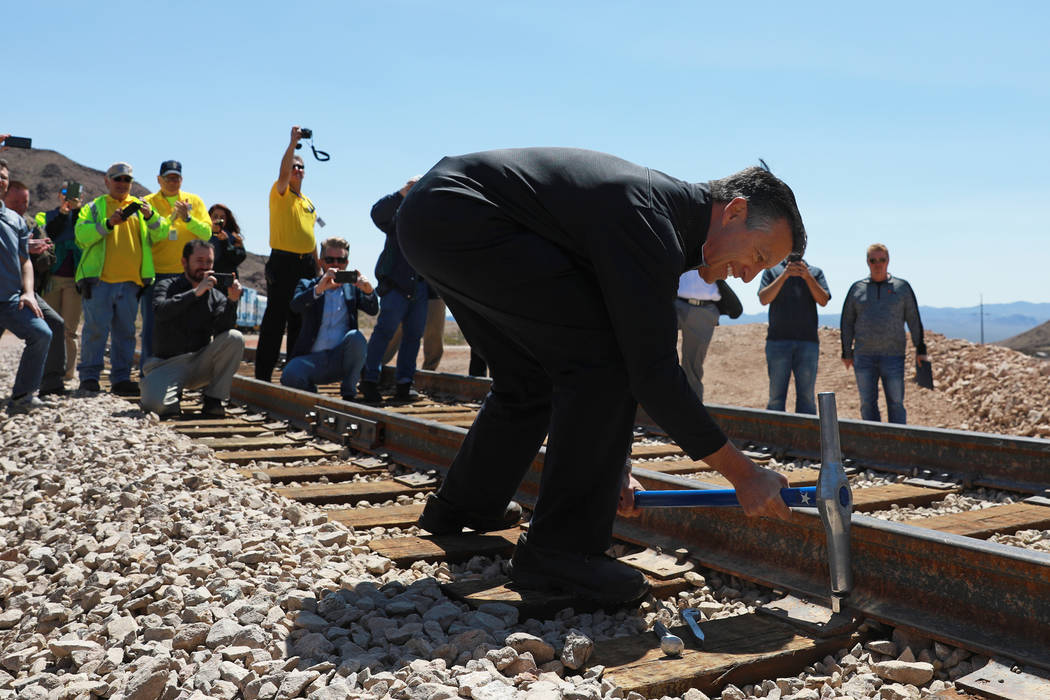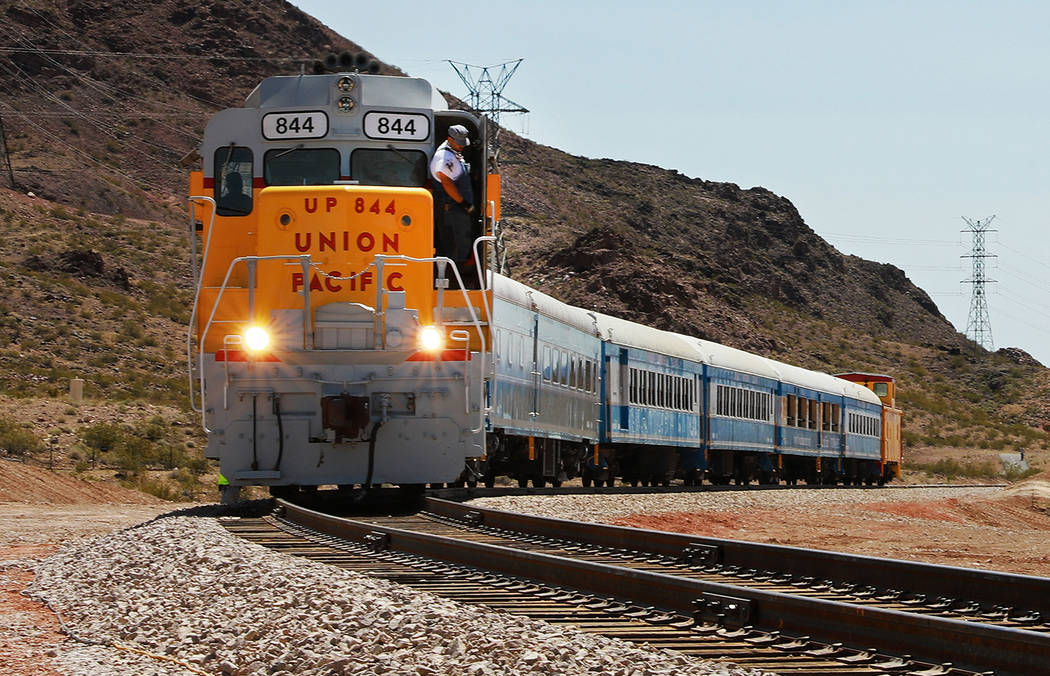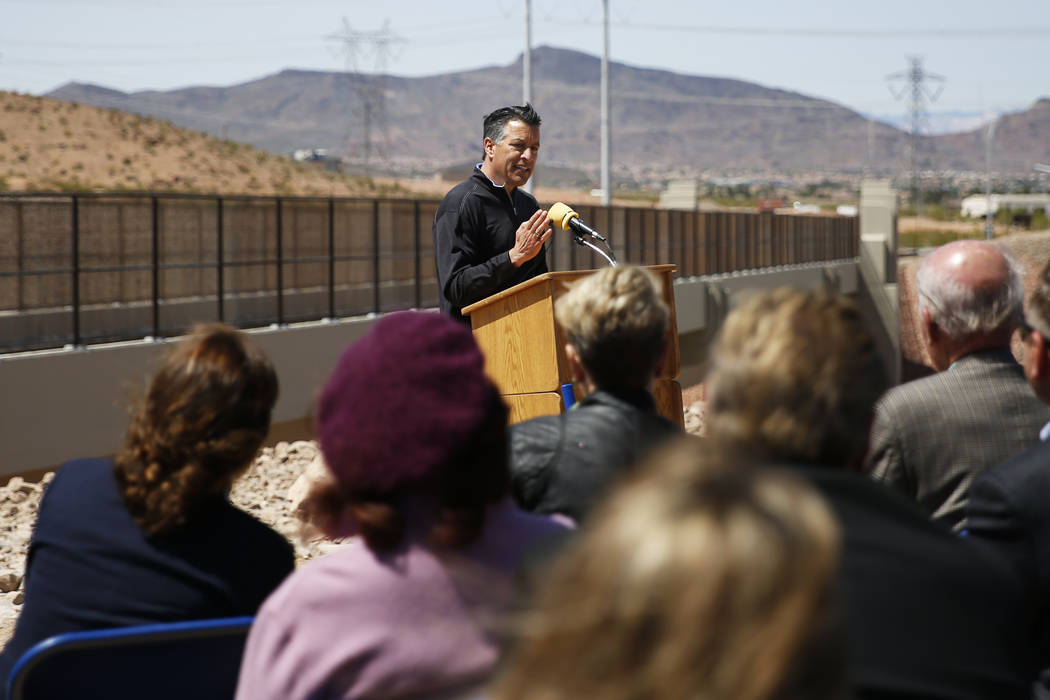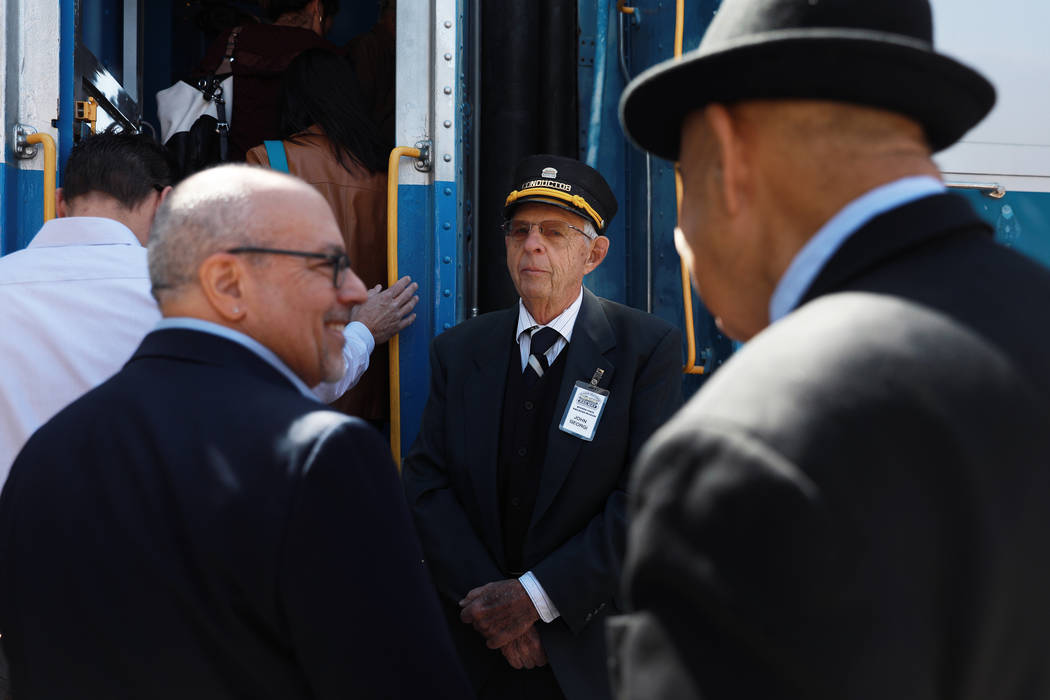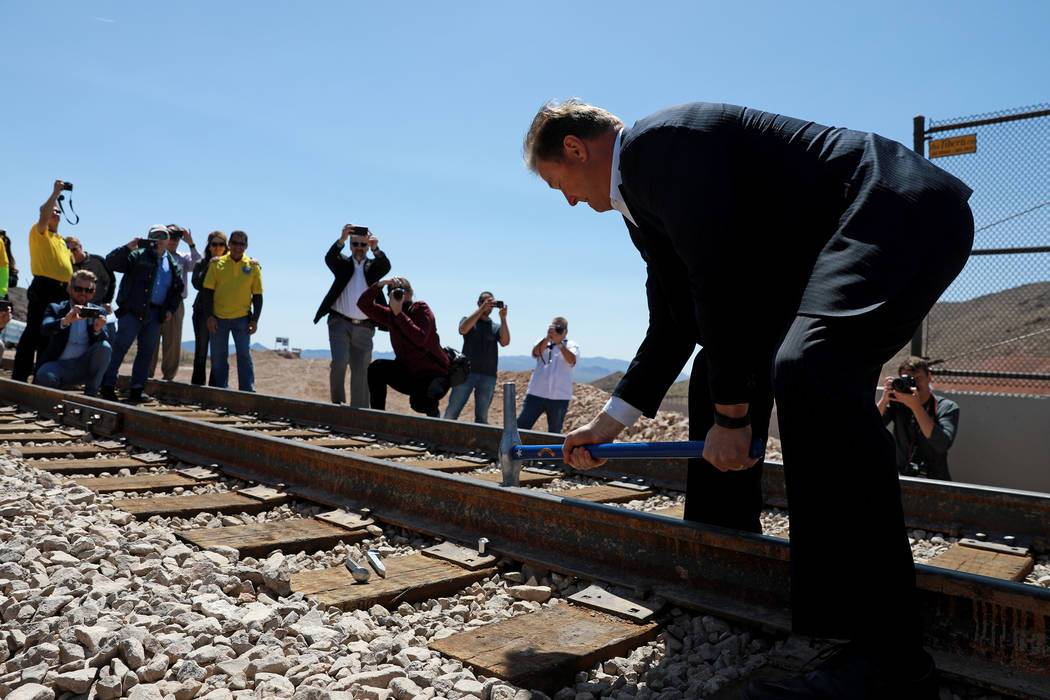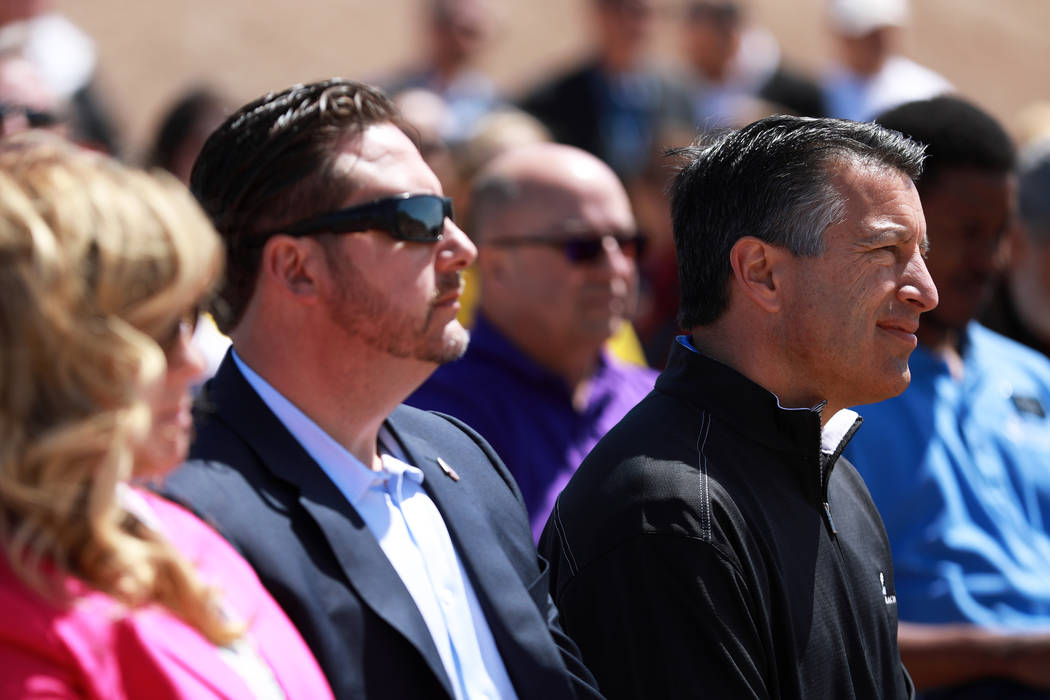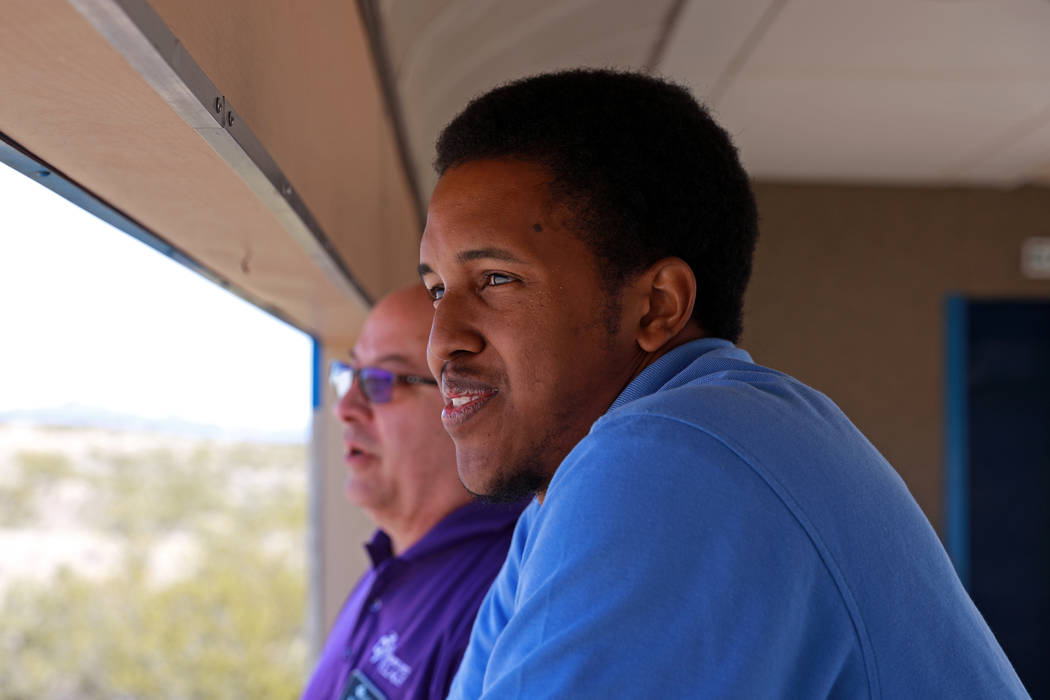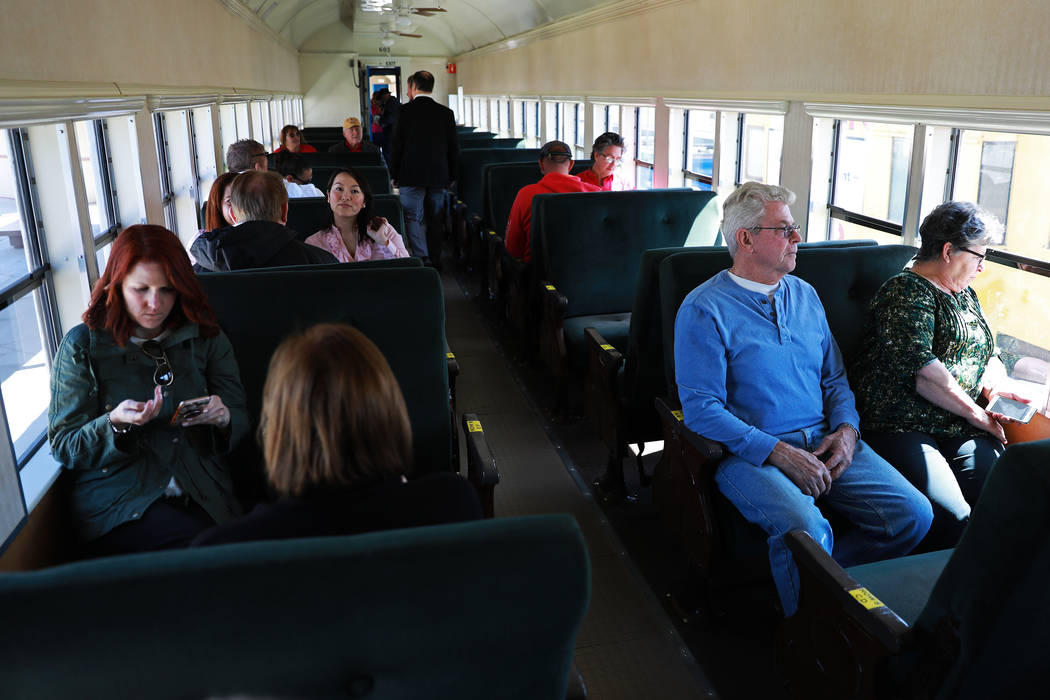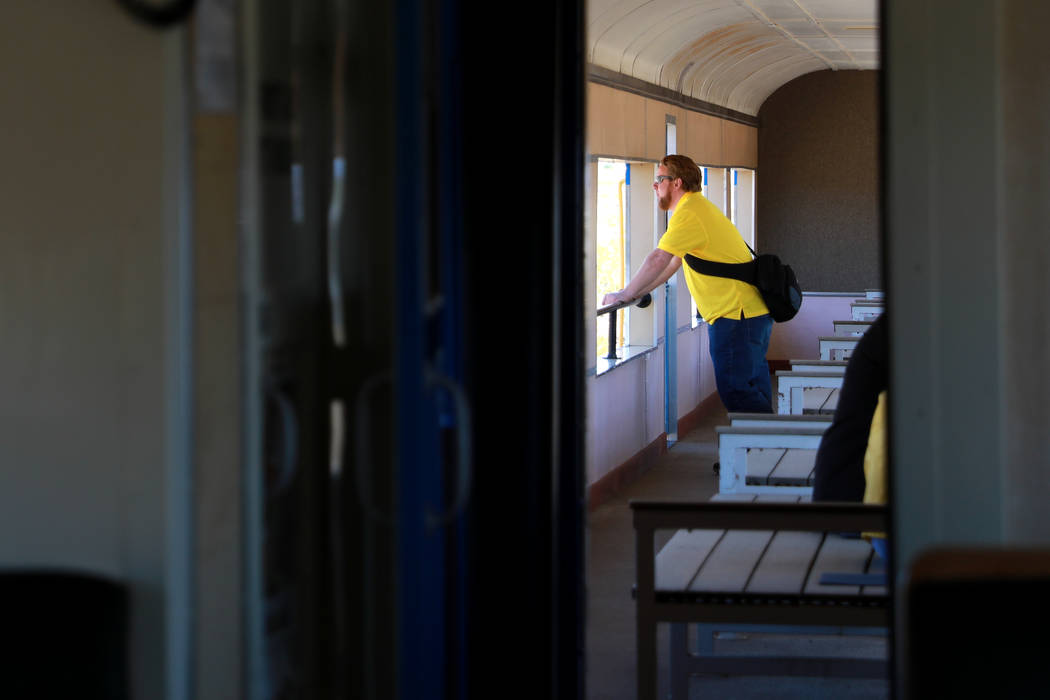 For the first time in 20 years, passengers boarded a train Friday connecting Boulder City to Henderson.
Gov. Brian Sandoval squatted down and took a few whacks at a chrome spike on a stretch of track that finally bridges a gap created two decades ago between the Southern Nevada cities.
"We're talking about a day where we're making history, but we're also restoring history," Sandoval said as gusty winds whipped around a crowd of 200 people gathered for a dedication ceremony.
"I think about the people coming to Southern Nevada, and they want a legitimate quality experience and adventure," Sandoval said. "Now they're going to be able to have that and share that as a family."
An art deco-style steel truss bridge spanning nearly 364 feet helped restore service on the Boulder Branch rail line, a spur that curves away from the main Union Pacific line in Las Vegas, runs through Henderson and — once again — connects to Boulder City.
The rail bridge, and an accompanying pedestrian bridge connecting Henderson and River Mountains hiking trails, were built by the Nevada Department of Transportation as part of a 2.5-mile concrete segment of Interstate 11 that's scheduled to open in May.
A 12.5-mile asphalt freeway segment headed to the Colorado River is scheduled to open to traffic by October, according to the Regional Transportation Commission of Southern Nevada. Construction on the $318 million freeway project, known as the Boulder City bypass, is split between NDOT and the RTC.
"Frankly, I was a doubter. I didn't think the bridge would be included" in the freeway project, said Peter Barton, administrator of the state Division of Museums and History, which operates the Railroad Museum Center in Boulder City.
Union Pacific Railroad opened the Boulder Branch line in 1931 to ferry people, supplies and equipment to the construction site for what would become Hoover Dam.
Segments of the rail line were decommissioned over time, but the original tracks stayed in place until 1985, when Union Pacific donated part of the land to the state for a museum and another piece of land to be maintained by the city of Henderson.
The line was severed in 1998 when NDOT paved over a high-speed, at-grade section of the track that was considered dangerous due to a sharp turn at U.S. Highway 93 near the Railroad Pass casino. Since then the Nevada Southern Railroad Museum has operated train tours on the closed-off spur.
Now that the historic rail line is reconnected, Henderson Public Works Director Robert Herr said the city is examining what should be built along the route while restoring sections of track that haven't been updated since the 1930s.
"Anyone who knows the history of Southern Nevada knows that we started as a railroad whistle stop, so we're reconnecting to our history by reconnecting this rail line," Henderson Mayor Debra March said.
"We also know that trains continue to excite and fascinate fans of all ages around the globe," March said. "So we know this is also important in terms of tourism and family fun."
Contact Art Marroquin at amarroquin@reviewjournal.com or 702-383-0336. Follow @AMarroquin_LV on Twitter.
Interstate 11 Railroad Bridge
Length: 363.5 feet, or the length of a football field
Width: 22.5 feet, or the equivalent of four Mini Coopers placed side by side
Steel: 302,634 pounds, or enough to build five Sherman tanks
Concrete: 1,858 cubic yards, or enough to pave 265 driveways
Bridge deck thickness: 7.5 feet, the equivalent of 321 stacked iPhones
Source: Nevada Department of Transportation