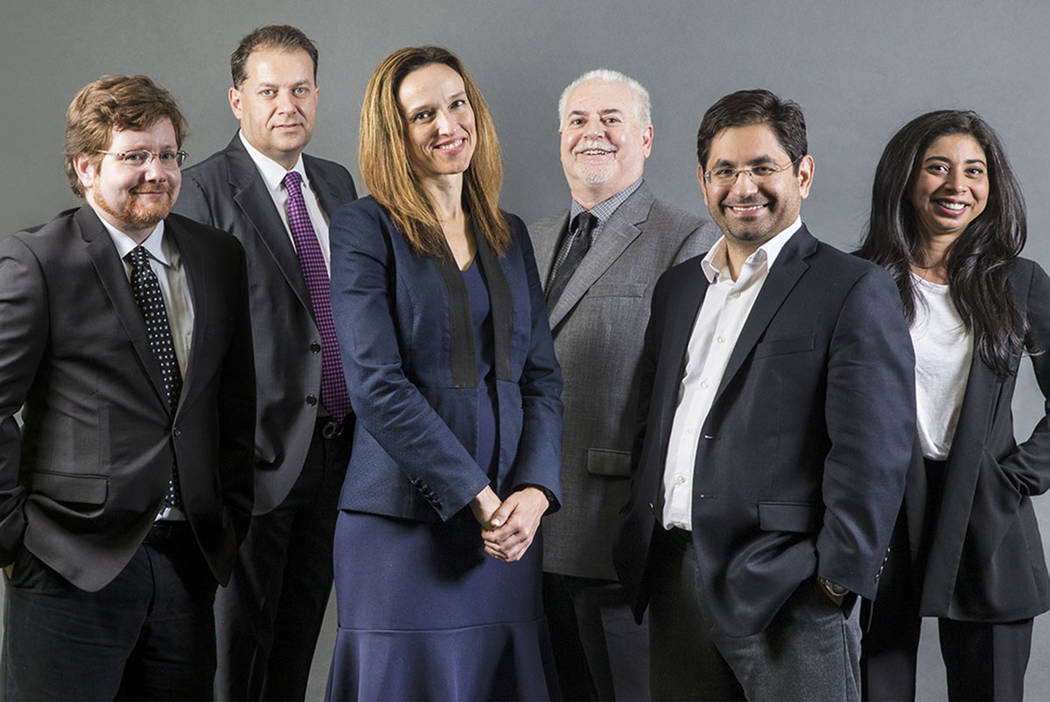 The Las Vegas Review-Journal investigative team was nothing more than a job advertisement 16 months ago.
Now, with last month's hiring of investigative reporter Anita Hassan from the Houston Chronicle, the six-person team is complete.
Assistant Managing Editor for Investigations Karisa King joined the Review-Journal from the Chicago Tribune a year ago after a national search for a team leader. King said the reporting team she has assembled will hold accountable Southern Nevada's most powerful institutions by weaving together data analysis, hard-hitting interviews and compelling storytelling.
"I think Las Vegas, this community, is ripe for investigative work," King said. "At a time when a lot of newspapers are dismantling investigative units due to a lack of resources, the Review-Journal has made a significant new commitment to accountability journalism."
The team
Hassan joins fellow investigative reporters Alexander Cohen, a data reporter formerly of the nonprofit Investigating Reporting Workshop at American University; Brian Joseph, a veteran of several newspapers and nonprofit news organizations in California; Arthur Kane, who spent the past 16 years writing and editing investigations in Denver; and Jeff German, who has been reporting in Las Vegas — most recently on federal courts for the Review-Journal — for close to 40 years.
"The RJ is Nevada's largest newspaper and most-read media entity, So it is important for our readers, and the state, that we field a sizable team of first-rate, veteran, investigative reporters," Keith Moyer, Review-Journal editor-in-chief, said.
"The team's mission is to identify and right wrongs where they exist and keep the public apprised of wrongdoing, within government, or elsewhere," Moyer said. "With our team of six award-winning journalists, we can work on multiple important stories simultaneously."
The formation of the team represents the Review-Journal's biggest-ever commitment to investigative journalism, Managing Editor Glenn Cook said.
Agency's questionable spending
This year the investigative team already has published a series of stories uncovering questionable spending of taxpayer dollars by the Las Vegas Convention and Visitors Authority.
The expenditures included millions of dollars for lavish entertainment services and scores of rides for CEO Rossi Ralenkotter and former Las Vegas Mayor Oscar Goodman by LVCVA security officers.
German said he had wanted to put the LVCVA under the microscope for some time. It was his reporting in 2005 that revealed Ralenkotter sold the convention authority's globally recognized slogan, "What happens here, stays here," to advertising agency R&R Partners for $1.
"This was, for me, an ideal opportunity to take another look," German said.
Biographies of investigative team
Karisa King
King is an award-winning investigative journalist who was a finalist for the Pulitzer Prize this year for her work at the Chicago Tribune.
Prior to joining the Review-Journal last year, she worked on the Tribune's Watchdog team with a focus on health and medical investigations. Her reporting found that pharmacies frequently failed to warn patients about dangerous drug pairs. The series led to reforms requiring pharmacists to counsel customers about risky new drug combinations.
She previously worked as a senior investigative reporter at the San Antonio Express-News, where she uncovered the mishandling of sexual assault cases by the U.S. military. Other investigations exposed segregation in the nation's largest affordable housing program, deadly lapses at nursing homes, patient dumping, tax loopholes and sweetheart deals on government contracts.
She was twice named Texas Reporter of the Year by the state's Headliners Foundation and shared with colleagues National Academies of Sciences, Engineering and Medicine, National Headliner, Associated Press Managing Editors, Society of Business Editors and Writers, National Press Club, Silver Gavel and Gerald Loeb awards.
Alexander Cohen
Cohen was the data editor for the Investigative Reporting Workshop, a nonprofit newsroom affiliated with the American University School of Communication.
Before the workshop, Cohen was the national security data reporter for The Center for Public Integrity and was Reuters' campaign data reporter for the 2012 election.
He is a recipient of the Society for Professional Journalists' Sigma Delta Chi Award and the Society of Environmental Journalists' Kevin Carmody Award for Outstanding In-Depth Reporting. His work has been published by The Washington Post, The New York Times, The Atlantic, Time and other outlets.
Jeff German
Through a network of well-placed sources and relentless reporting, German has broken national stories and uncovered corruption in Las Vegas for nearly 40 years.
Since coming to the Review-Journal in 2010, he has exposed allegations of high-level leaks in the government's biggest public corruption case in Nevada and dominated the front page with scoops on high-profile criminal investigations. He also wrote a series of stories that led to the filing of murder charges against the husband of a lawyer whose death was ruled a suicide.
At the Las Vegas Sun, German broke some of the biggest mob-related stories in the city, including many about the criminal career of Anthony Spilotro, who ran street rackets here for the Chicago syndicate. Part of the saga he exposed was made famous in the movie "Casino."
German, who has received numerous state, regional and national awards, was first to report that famed Strip entertainer Liberace was dying of AIDS. He also uncovered evidence that tied the death of casino boss Ted Binion to his girlfriend and exposed a secret contract for a UNLV basketball coach who was then forced to resign.
He is the author of the true crime book, "Murder in Sin City," which took readers inside the police investigation into Binion's death. The Lifetime Network movie, "Sex and Lies in Sin City," is based on the book.
Anita Hassan
Hassan previously worked on the investigative team at the Houston Chronicle, where she focused on criminal justice and social services.
Hassan's award-winning reporting highlighted Houston's massive backlog of untested rape kits, county jail abuses and corruption in a state program for sex offenders. Her recent four-part investigation at the Chronicle uncovered a series of failures in the criminal justice system that allowed a serial rapist to go free for nearly a decade.
Before joining the Chronicle's I-team, she worked as the newspaper's police and general assignment reporter, which taught her how to sift through scanner traffic and crime reports at police headquarters. She joined the Chronicle in 2005 as a researcher on the investigations desk. As a college student, she worked with the Texas Innocence Network, investigating the innocence claims of death-row inmates.
Brian Joseph
Joseph is a veteran of several California news organizations whose work has focused on people victimized by failing systems or faulty policies.
As an investigative reporting fellow at the University of California, Berkeley, his reporting in Mother Jones magazine exposed the link between child deaths and government outsourcing of foster care services. His work at FairWarning, a nonprofit news agency, revealed endemic workplace hazards in the recycling industry.
At The Orange County Register, he revealed how state lawmakers profit from tax laws and how licensed professionals in California avoid serious penalties for harming consumers. While serving as the newspaper's Sacramento bureau chief, his reporting prompted law and policy changes.
He has received a Polk Award, a national health care reporting award and statewide California honors.
Arthur Kane
Kane's award-winning investigative work has prompted indictments, changes to state law and the removal of incompetent and corrupt officials.
His stories at the Denver Post changed the way Colorado oversees dangerous doctors. Kane's work at Watchdog.org exposed problems with federal loan guarantees and prompted lawmakers to bar welfare recipients from spending tax money at casinos, liquor stores and pot shops.
Pieces he produced at Denver's ABC affiliate led to indictments and prison terms for half a dozen suburban employees and contractors who were trading no-bid contracts for gifts. Another series he produced prompted the Colorado legislaturecq — its formal title is Colorado General Assembly to revamp the state's child protective services.
He has received two duPont awards and a Peabody award, along with a national Emmy and a Murrow award. He also has been a finalist for the Investigative Reporters and Editors award and the Scripps Howard honor.