Review-Journal, parent Stephens Media to be sold to New Media
February 19, 2015 - 5:50 pm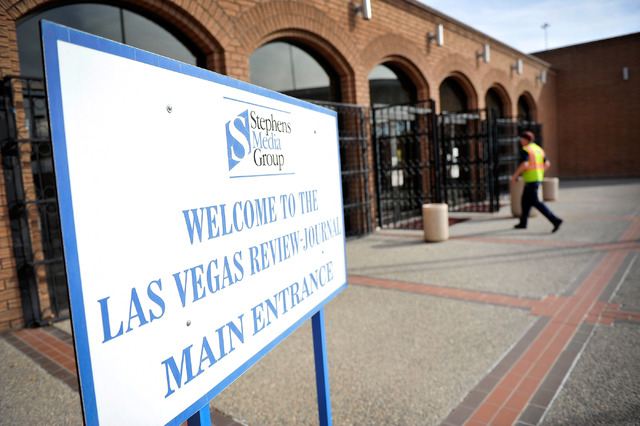 The Las Vegas Review-Journal will join one of the nation's largest publishing companies following the sale of its parent company, Stephens Media LLC, to New Media Investment Group of New York for $102.5 million in cash.
The purchase agreement announced Thursday includes eight daily newspapers and 65 weekly publications in seven states. In addition to the Review-Journal, Nevada publications making the move are the Pahrump Valley Times, Tonopah Times-Bonanza, the Boulder City Review, El Tiempo, Luxury Magazine, the View newspapers and the Las Vegas Business Press.
The Review-Journal, Nevada's largest news-gathering organization, will become the largest newspaper in the New Media group. The Review-Journal has a Sunday circulation of 184,000, and averages 10.5 million Web page views per month.
New Media, with offices in New York City and Pittsford, N.Y., currently operates 133 daily newspapers, 250 paid weekly publications nationwide. New Media's larger holdings include the Providence (R.I.) Journal, the Sarasota (Fla.) Herald-Tribune and the Daytona Beach (Fla.) News-Journal.
New Media, publicly traded on the New York Stock Exchange with the ticker symbol NEWM, is just a year old. It is a part of a company that holds GateHouse Media and Dow Jones Local Media group publications, and has been actively acquiring newspapers in recent months. New Media has spent $457 million on local media properties, including $280 million for the Florida-based Halifax Media Group in November.
Halifax was backed by Stephens Capital Partners, whose CEO is Arkansas billionaire Warren Stephens. The Stephens family owns privately held Stephens Media.
In a statement, New Media CEO Michael Reed said the purchase of Stephens Media gives the company several new markets. He said New Media would introduce "new digital initiatives" in those communities.
"The portfolio is anchored by an attractive set of print publications with a strong community focus, solid readership base and stable advertisers with limited customer concentration," Reed said.
Stephens Media CEO Ed Moss said in a statement that New Media would be able to expand the company's newspaper products.
"New Media is well positioned to build off of our company's successes and lead the organization to new heights with their strong portfolio of print and digital products and services," Moss said. "We have dedicated and talented employees that will prove to be great assets to the outstanding organization that New Media is building."
New Media said it expects the transaction would close by the end of March.
New Media becomes only the seventh owner of the Review-Journal in the paper's 106-year history, and only the third since 1949.
In 1949, the newspaper was acquired by Donald W. Reynolds and became the flagship of his Donrey Media Group. An Oklahoman, Reynolds built Donrey into one of the nation's largest privately held media companies with more than 100 newspapers and television stations.
After Reynolds died in 1993, Donrey was sold to Arkansas businessman Jack Stephens and the company was renamed Stephens Media. Operated as Stephens Media LLC and headquartered in Las Vegas, the newspaper group shed its outdoor and broadcast properties but for decades remained much as Reynolds had left it.
The company entered 2014 with 11 daily newspapers, 64 weeklies, magazines and specialty publications and 100 websites in seven states, plus half-ownership of the Northwest Arkansas Newspapers LLC, publisher of four daily newspapers in that state. The sale announced Thursday does not include the Stephens's share of Northwest Arkansas Newspapers.
Last October, Stephens sold six small dailies and weeklies in Washington state and Hawaii to subsidiaries of the Black Press Group, a Canadian media company.
In 1989, the Review-Journal and Las Vegas Sun established a Joint Operating Agreement, which will continue unchanged after New Media takes over, said Mark Hinueber, general counsel of the Review-Journal.
Contact Howard Stutz at hstutz@reviewjournal.com or 702-477-3871. Find him on Twitter: @howardstutz.