Review of Clark County child welfare system draws state, federal backing
October 24, 2014 - 9:07 am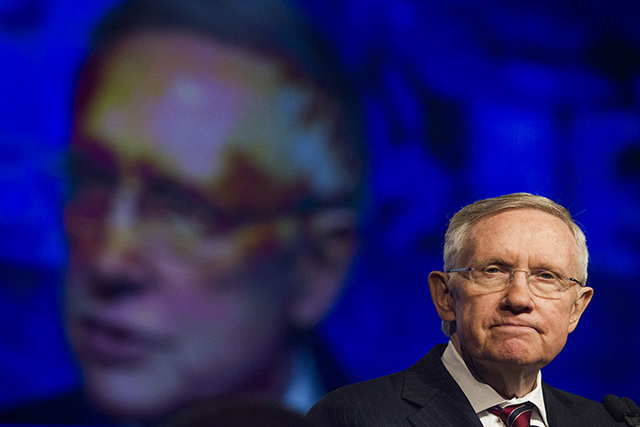 U.S. Senate Majority Leader Harry Reid and Congresswoman Dina Titus pledged federal support Thursday in the push to reform Clark County's child welfare system, now under scrutiny after a child was killed in foster care.
The Democratic politicians said they will ensure a committee appointed by Nevada Supreme Court Justice Nancy Saitta has what it needs to examine shortcomings in the Clark County Department of Family Services and courts. The committee had its first meeting Oct. 7 to start gathering information on what some referred to as a "broken" system.
"Sen. Reid's staff has been in contact with Justice Saitta and committed to help make federal resources available for her efforts as she deems necessary," Kristen Orthman, spokeswoman for Reid's office, said Thursday.
Meanwhile, the Nevada Division of Child and Family Services has requested case files and information on Michell Momox-Caselis from the Clark County Department of Family Services for a review, according to Mary Woods, spokeswoman for the Nevada Department of Health and Human Services.
Michell's death became the latest high-profile case involving the local child welfare system after the 16-month-old was killed in an apparent murder-suicide involving her foster father on Oct. 12.
"An independent child welfare expert is completing the review to ensure a thorough and unbiased review of compliance with federal and state laws, and state and local policy and procedures," Woods said. "The review should be completed within 30 days of the reviewer receiving all of the case information."
Family Services staff will be available to answer policy and process questions from the independent expert reviewing Michell's case for the state, but they will not complete the case review with the expert, Woods said.
Saitta on Thursday said she was "absolutely gratified" that senior elected officials see the importance of the task assigned to the committee.
She said Reid offered to get national charitable organizations, such as the Annie E. Casey Foundation, to provide outside expertise and the U.S. Department of Justice to help with research.
"The assistance at a national level can only enhance the work we hope to do," she said.
The committee could have the opportunity to reach out to experts for models of best practices when looking at reforms.
"It will make our work much more informed," she said.
Reid's spokeswoman said another valuable resource in Nevada is Amy Ayoub, whom Reid appointed to the new National Commission to Eliminate Child Abuse and Neglect Fatalities.
Titus, D-Nev., also has reached out to Saitta and "asked to be informed of any recommendations from the blue ribbon committee that require federal action," said Caitlin Teare, the representative's spokeswoman.
Teare said Titus has been a strong advocate on behalf of Southern Nevada's children and is committed to doing all she can at the federal level to help make improvements.
"Shortcomings in the (Clark) County system have prompted the congresswoman to join the Congressional Caucus on Foster Youth, which works to 'protect and promote the welfare of all children in foster care,' " Teare said.
Rep. Steven Horsford, D-Nev., and Rep. Joe Heck, R-Nev., were unavailable for comment late Thursday.
"I support a third-party review of Family Services' handling of this case, and am eager to receive the results," Clark County Manager Don Burnette said Thursday via a spokesman. "The county appreciates being part of Justice Saitta's committee and we look forward to discussing ideas to improve our child welfare system in Southern Nevada."
Michell was laid to rest Wednesday.
Her foster father, Joaquin Juarez-Paez, 37, of Las Vegas, was found dead in his car in front of the Oasis Vinings apartment complex at 6100 Carmen Blvd., near North Jones Boulevard and Vegas Drive, shortly after 8 a.m. Oct. 12, according to Las Vegas police.
When officers arrived at the apartment and sent Juarez-Paez's wife inside for the car keys, she found Michell dead in her crib.
A second foster child, a 9-month-old baby, was found unharmed, police said. The infant was not related to Michell.
The committee is now gathering information on child welfare model practices from throughout the country, which it expects to discuss at a Dec. 15 meeting. Anyone with concerns or opinions can send them to blueribbonforkids@yahoo.com.
Contact Yesenia Amaro at yamaro@reviewjournal.com or 702-383-0440. Follow @YeseniaAmaro on Twitter.