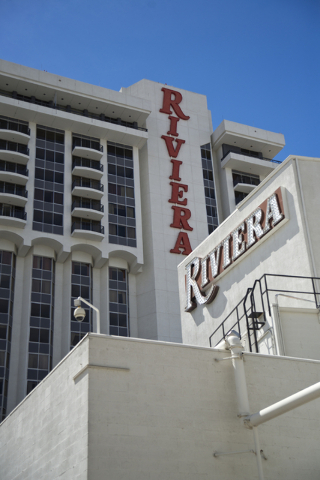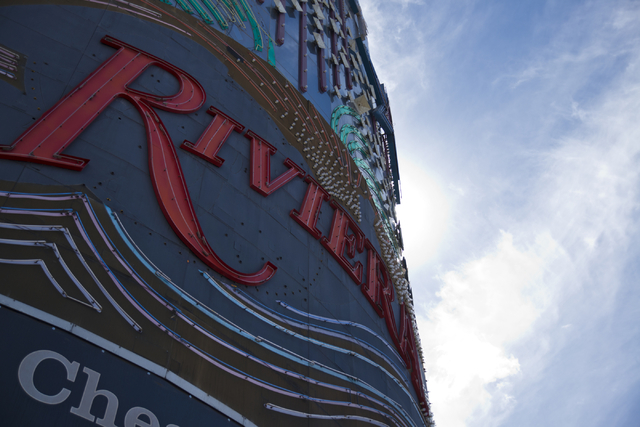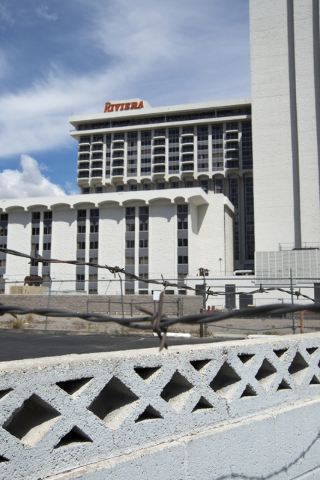 The careworn and condemned Riviera, which opened on this day in 1955, has been called many things over the years. But I'll wager "a hotbed of Strip history worth preserving" is well down the list.
Worth fumigating, yes. But worth saving from a demolition crew?
Officially, the Riviera's historical value is what has motivated Kelden Engel, described in published reports as a Nevada State College student, to attempt to delay the gaudy gambling hall's scheduled destruction later this year. Engel wants to conduct an initiative petition drive. The petition would be the first step toward creating an issue-specific ordinance that would "legally prevent the demolition" of any structures on the property.
If you're like a lot of people, you probably thought the Riviera was already experiencing a self-demolition when it closed in May 2015 after 60 years in business. It was purchased for $191 million by the Las Vegas Convention and Visitors Authority for a planned expansion of the Las Vegas Convention Center.
If by circulating a petition Engel has struck upon a clever way to round up prospective voters or do the bidding of a third party, there may be more intrigue to come. The site-specific petition plan must first pass legal muster. From there, it figures to face more than a little scrutiny from LVCVA attorneys.
But in a presidential election year, with so many canvassers in the field representing so many known and shadowed political interests, drumming up enough help for his signature drive shouldn't be difficult. If he has a few friends, that is.
The Riviera opened April 20, 1955, with a list of owners that included associates of the Chicago Outfit. It went bankrupt after three months. (For those keeping score, the Riv also filed for bankruptcy protection in 1983, 1991 and 2010.) Although its showroom attracted some of the biggest names in entertainment, it often struggled at the bottom line and its management from time to time was suspected of skimming untaxed profits.
In later years, arguably its most interesting controlling interests were Isidore Becker and Meshulam Riklis via AITS Inc., a Boston-based travel company, for $60 million. The ownership and bankruptcy merry-go-round continued thereafter.
Over the years, like a lot of Strip casinos of a certain era the Riviera underwent expansions — internally and structurally. The Strip's first high-rise started as a $10 million, nine-story stunner with 291 rooms. It added casino space, a hotel tower, a parking garage, a convention facility, and so on until it became a jumble of architectural themes and afterthoughts.
Frankly, I suspect it wasn't imploded years ago because no one wanted to waste the dynamite. If it goes as expected later this year, it will join the Dunes, the original Sands, Frontier, Hacienda, Landmark and more in the pile of rubble that was Las Vegas. Cue the Sinatra and buy a round for the house.
The Riviera was a mightily colorful place and generated a certain kind of history that ought to be remembered, but I'm not sure its notorious tenure qualifies it for a spot on the National Register of Historic Places.
If Mr. Engel takes history classes, I propose his professor give him an "A" for effort. If he's carrying the water for someone who might benefit from delaying the convention center expansion, well, let's just say that will eventually come out.
Now, and strictly for research purposes, dedicated Vegas historians want to know what became of the Riviera's immensely popular and oh so classy "No Ifs, Ands, or …" bronze featuring the polished derrieres of the "Crazy Girls" dancers that so subtly graced the front entrance of the casino. For some reason, they thought I'd know.
According to published reports, when last seen the butts were headed to Planet Hollywood Resort.
Start planning your history class field trip today.
John L. Smith's column appears Sunday, Tuesday, Wednesday, Friday and Saturday. Contact him at 702-383-0295 or jsmith@reviewjournal.com. On Twitter: @jlnevadasmith