Royale project stirs LV excitement, doubts
October 26, 2014 - 1:51 pm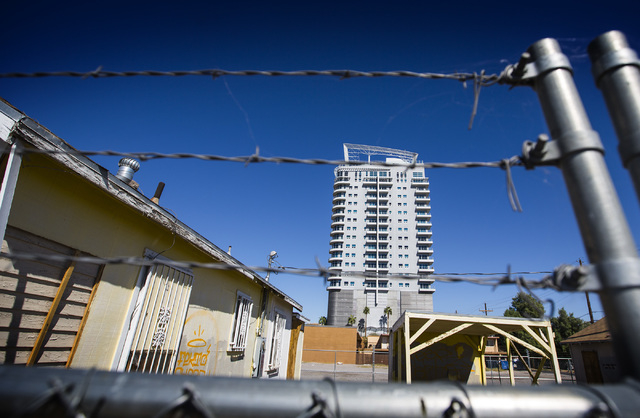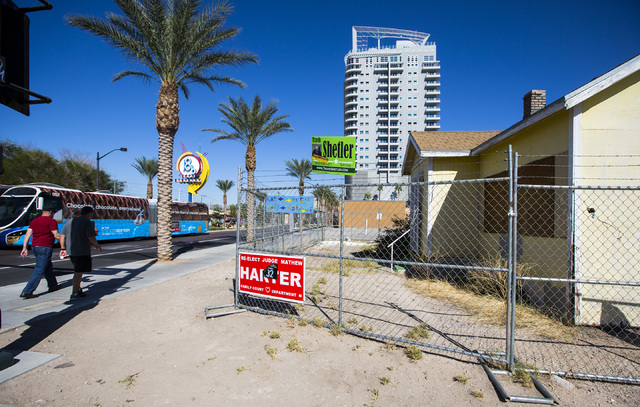 It would be the largest housing project to land downtown since the start of the Great Recession.
At 17 stories, complete with more than 34,500 square feet of office and retail space, the Royale at Casino Center could become the biggest mixed-use development built between Fremont Street and Charleston Boulevard since contractors broke ground on the Juhl in 2008.
The planned apartment-and-shopping complex at Casino Center Boulevard and Coolidge Avenue, which was unanimously approved by planning commissioners on Oct. 14, could bring 281 apartment units and 16,000 square feet of retail outlets to the heart of the Arts District.
The Royale, as fawning planning commissioners have pointed out, might prove a long-awaited catalyst for much-needed new residential development in the city's rapidly revitalizing downtown core.
There's no question among planners that downtown could use the new housing and little doubt among economic analysts that the city's rapidly improving rental market would welcome the new rental spaces.
The only concern, at least among those in the Arts District, is whether developer Barnet Liberman will ever get around to building it.
"He'll never build anything," Arts Factory owner and longtime Arts District resident Wes Myles said of Liberman. "He bought up a lot of properties in Las Vegas a long time ago. … He gets approvals for things, gets entitlements, sells (the property) and nothing ever happens."
LIBERMAN'S TRACK RECORD
Liberman, a veteran New York developer who made his first big splash in Las Vegas real estate with the purchase of five downtown blocks in 2005, has owned and sold off rights to more than one-third of downtown Las Vegas' 8,500 planned housing units.
Reached for comment Monday, he couldn't point to a single housing project of his that's actually broken ground.
In the Arts District, where Liberman once promised to build a 24-story, 1,100-unit condo tower at Charleston Boulevard and Fourth Street, residents have long since grown wary of the developer's ability to build anything but his bank balance.
Mike Peterman, who lives less than a block from Liberman's latest project, said the building would be great for the neighborhood — a boon for nearby Soho and Newport loft residents sick of staring at the blighted, abandoned blocks just south of Hoover Avenue.
But Peterman has his doubts that Liberman is the man to build it, much less build it right.
"It won't get built," he said during a Planning Commission meeting on the project this month. "After about six floors, you have to put in fire safety systems that will take up a lot of the budget. … He's just doing it so he can get the entitlements and sell it."
And if the Royale does make its debut?
"We'd certainly be appreciative of getting rid of that eyesore, the Doll's House, over on Coolidge (Avenue)," Peterman said. "There's just no parking in the area and with the bars across the street, the parking lots are full most every night."
Terry Murphy, a former Clark County administrator and Downtown Las Vegas Alliance board member who presented the project to the planning board this month, said rented parking spaces would be made available to all future building tenants.
She said any additional parking concerns could be partially allayed by Shift, the long-planned ride-sharing service backed by Zappos CEO Tony Hsieh's Downtown Project.
Reached for comment Wednesday, Shift CEO Zach Ware said the service was "launched last week in a small beta" and that he planned to have it ready for regular members — including those living in the Arts District — in the coming weeks.
He agreed the company can help provide a middle ground between the parking concerns of neighbors like Peterman and the needs of developers like Liberman.
"We believe that highly available, on-demand mobility — including cars, rides and bikes — naturally complements residential developments and (we'll) be announcing several large partnerships in that area soon," Ware said. "For developers, a reduction in the cost of building tons of parking in a multi-unit housing project can translate to huge savings that can ultimately make that housing more affordable for residents."
DOWNTOWN HOUSING
Much has been made of the lack of housing in downtown Las Vegas.
Some have blamed Hsieh's Downtown Project, which invested the lion's share of $350 million into new downtown bars, hotels, retail outlets and events venues, setting aside only a fraction of that total for housing.
Others have singled out the Las Vegas Redevelopment Agency for passing along millions of dollars in federal funding and incentives to developers that have only managed to build about one in every 10 downtown housing units that planners had hoped for in 2005.
Developers battered by the recession and bruised by the housing crisis have backed away from a dizzying array of grandiose proposals for condo towers and sprawling mixed-use developments over the past nine years.
Only four major downtown housing developments — the Ogden, Juhl, Soho Lofts and Newport Lofts — have survived the economic downturn. Those four upmarket, mid-to-high-rise towers make up the vast majority of downtown housing stock today. Monthly rents at the Ogden and Juhl fall in the $1,500-$2,500 range, while condo prices at Soho and Newport Lofts run around $200 per square foot.
Las Vegas Planning Manager Doug Rankin said planners are doing all they can to add rooftops downtown, pointing to such projects as a new 140-unit assisted-living complex in Symphony Park up for City Council approval next month.
For now, the 17-story Royale remains the city's best hope for restoring a pulse to downtown housing development.
Until it gets a final OK from city leaders, the man behind the project prefers to remain something of a mystery.
"Let them be skeptical," Liberman said of the project's critics. "I've been doing this for 40 years. There's nothing I can say to people who are skeptical."
Liberman is in line to receive some of Las Vegas' $28 million share of federal new-market tax credits meant to encourage development in low-income neighborhoods.
He declined further comment on the project ahead of a City Council hearing scheduled for Nov. 19.
Contact James DeHaven at jdehaven@reviewjournal.com or 702-477-3839. Find him on Twitter: @JamesDeHaven.