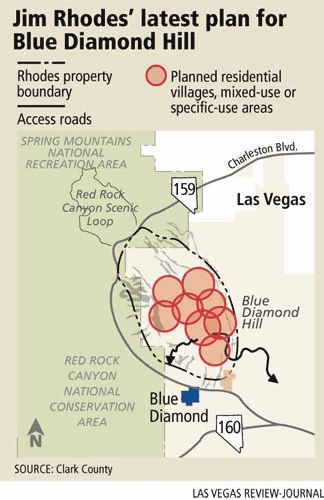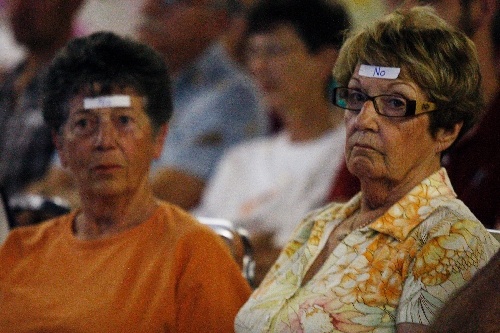 Developer Jim Rhodes' vision for creating a town atop a mesa near the Red Rock Canyon National Conservation Area was made clearer Wednesday to neighbors who vehemently oppose the project.
Ron Krater, Rhodes' planner, gave a detailed description of the proposal to Blue Diamond residents who packed a community center and expressed disdain at every turn.
"This is just the tip of the iceberg — we're going to fight you!" resident Pauline van Betten said, drawing loud cheers.
It was the first public discussion of Rhodes' most ambitious plan yet for 2,500 acres on the former gypsum mining site overlooking Red Rock, an area popular for hiking, picknicking, rock climbing and cycling.
Rhodes hopes to build more than 7,000 homes, multiple villages with a town square, schools, a college campus and light-industrial shops on the site known as Blue Diamond Hill.
The scope surpasses his plan in 2003 for 5,500 homes, which caused an uproar.
Krater met with grumblings, scornful laughter and derisive remarks, reminding him he was in hostile territory.
Signs hanging on a wall declaring "Save Red Rock" and "Keep Red Rock rural" were another hint.
The town's advisory council, which hosted the meeting, voted against recommending the plan to Clark County commissioners, who will review it Aug. 17.
Commissioner Chris Giunchigliani sided with opponents.
"I think there's a question about whether this is the right place to put this," Giunchigliani told Krater.
Away from the microphone, Giunchigliani said the local housing market is overbuilt for at least five years. Also, building a road and piping water to this isolated, hilltop site will be Herculean tasks, she said.
Several residents echoed those concerns.
Krater said a road would be built from Summerlin to the site. An emergency access road, not a main thoroughfare, will run from state Route 159.
The project would be built in phases over three decades, beginning in several years when the real estate market recovers, Krater said.
Some people said they worried that Rhodes might run out of money and leave an unfinished subdivision blighting the hillside and Red Rock Canyon.
"We don't support people coming in, tearing it up and leaving a mess," resident Glen Barrett said.
Eight years ago, county commissioners voted to limit density on Rhodes' land to one home every two acres. The state passed a law mirroring the county's code.
Last year, a federal judge struck down the state law and was preparing to rule on the county's code, prompting county commissioners to vote 4-3 to let Rhodes apply for higher-density use.
A few residents argued that the density would cause light and noise pollution and cram as many as 30,000 people on the hill.
"You like to talk about the Blue Diamond village setting that's comfortable … where people like coming," said Pat van Betten, Pauline van Betten's mother and a longtime resident. "With 7,000 homes, you're not talking a village."
Contact reporter Scott Wyland at swyland@review journal.com or 702-455-4519.