Sale of Review-Journal to New Media closes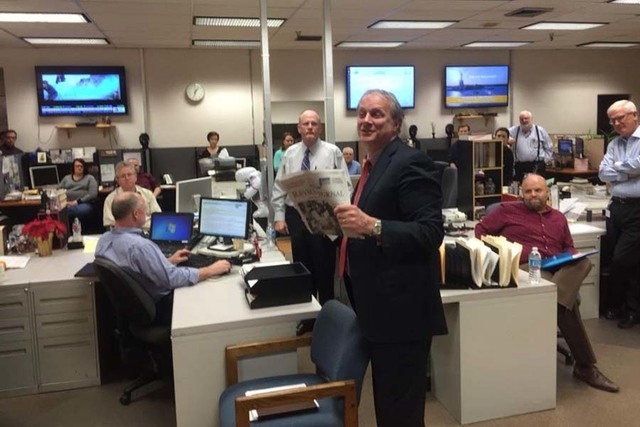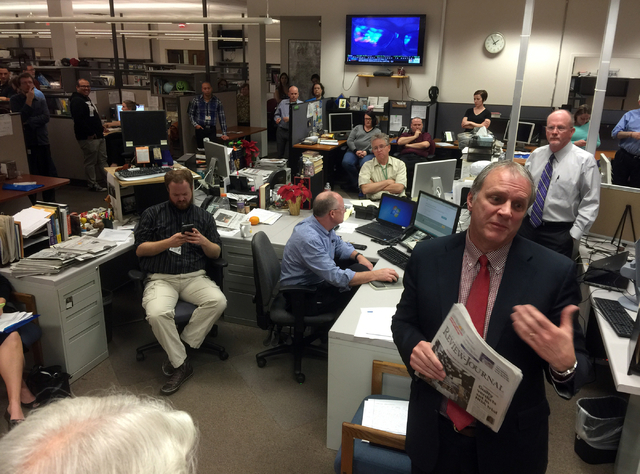 The nation's largest owner of daily newspapers just got bigger.
New Media Investment Group of New York announced Wednesday that it has closed on the $102.5 million cash purchase of the Las Vegas Review-Journal's parent company, Stephens Media LLC.
In addition to the Review-Journal, New Media bought seven other daily Stephens papers and 65 weekly publications in seven states.
In a Wednesday letter to Stephens employees, Kirk Davis, CEO of New Media operating arm GateHouse Media, said the company plans to "begin to fill some of the critical positions that are 'open.' "
"So you may see some recruitment ads starting to run," Davis wrote.
Added Davis: "We have traced your journey over the past few years and have a deep appreciation for what you have accomplished, the changes that have occurred and the opportunities that remain. The ideas and pipeline for new products and services appear rich and that's thrilling. The Review-Journal becomes our largest daily newspaper and its quest to reach its full potential begins right now. We are also excited to begin exploring opportunities with your other daily papers, weeklies and niche products."
Davis also said the company has a "passion" for digital journalism, but it "won't de-emphasize print."
"Simply put, we are 'all-in' on our print and digital commitment, and marketing multimedia offerings effectively to our audience and advertisers. We believe markets are best served by a wide array of product and service offerings that penetrate the local market," he wrote.
A letter to the community from New Media was published today in the Review-Journal.
In an employee meeting Wednesday afternoon, Davis said the Las Vegas market appealed to New Media and GateHouse because retail and population growth here are "healthy," real estate is coming back, and the long-term demographic trends mean future growth opportunities.
Plus, Nevada "is a good state to do business in," he said.
New Media now has 125 daily newspapers — about 9 percent of the nation's 1,380 dailies — and more than 500 community and niche publications in more than 415 markets nationwide.
The Review-Journal, Nevada's largest media outlet, is New Media's largest newspaper, with a Sunday circulation of 184,000 and an average of 10.5 million monthly Web page views.
In addition to the Review-Journal, New Media in Nevada also owns the Pahrump Valley Times, the Tonopah Times-Bonanza, the Boulder City Review, El Tiempo, Luxury Magazine, the View newspapers and the Las Vegas Business Press.
Other New Media platforms include car sales website BestRide.com; a Sunday Select program that helps advertisers reach nonsubscribers; and a 140-employee Center for News and Design in Austin, Texas, where the company has centralized copy editing and layout functions.
Davis said Wednesday that GateHouse is considering opening a second Center for News and Design in Las Vegas, but it hasn't made a decision on the move.
Davis told reporters in the Review-Journal newsroom that there was no "hiring freeze."
"You're not overstaffed in the newsroom, in our experience, but we need to be poised to make investments in new areas," he said.
Davis also said he's "very eager" to meet with executives of Greenspun Media, which produces the Las Vegas Sun as an insert in the Las Vegas newspaper under terms of a joint operating agreement. Through the arrangement, the Review-Journal prints and distributes the Sun.
The Sun last week sued the Review-Journal and its former owner, Stephens Media, in Clark County District Court, alleging that the paper improperly deducted editorial costs from profits before paying the Sun its monthly stipend.
The Sun said it was shorted at least $6 million in the past decade.
"GateHouse and New Media come in with a fresh start, and that means it's an occasion for fresh dialogue," Davis said.
"But we do have to believe, underlying all of this, that we share a common bond, and that is doing well for Las Vegas."
New Media's shares fell 16 cents, or 0.64 percent, Wednesday to close at $24.83 on the New York Stock Exchange.