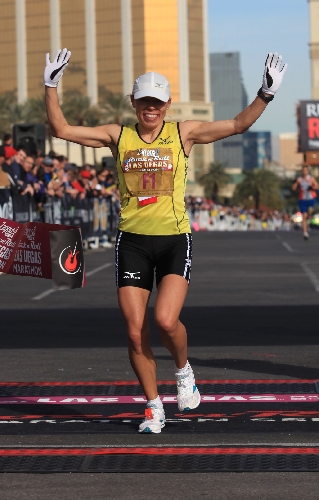 Josh Cox is 35, but he approached the finish line of the Rock 'n' Roll Las Vegas Marathon with the unbridled joy and spontaneity of a 5-year-old on Sunday.
Even after 26.2 miles.
First high-fiving fans, then spreading his arms and whirling around in his finest airplane imitation, Cox completed a brilliant rally to break the tape in a winning time of 2 hours, 25 minutes, 5 seconds. He then raised the tape over his head, as if it were a heavyweight championship belt.
"The crowd was just screaming and going nuts, and I wanted to give them something to remember," Cox said. "I was just floating and flying out there on the back half. I was really enjoying it out there.
"The crowd support was awesome."
And not just at the start/finish area at Mandalay Bay, but throughout the course, which included nearly 11 miles of Las Vegas Boulevard for 28,000-plus runners in the marathon and half-marathon.
Cox finished atop the medals podium by making up a huge gap over the final 10 miles. The San Diego native, who lives in Mammoth Lakes, Calif., trailed Ecuador's Stalin Barros by four minutes.
Barros got lost in the shuffle in the first few miles, pulling away from the marathon leaders, and many thought he was competing in the half-marathon. Cox thought he was in first place at the 12-mile mark when he overtook early leader Zach Nyambaso of Kenya.
"Then one of my training partners said there might be another guy in front of me," Cox said. "And I was like, 'Oh crap, how far ahead is this guy?'
"I stopped real quickly for a bathroom break, then put my head down and started crunching. With all the out-and-backs this course has on the second half, I could see him. He looked pretty good at mile 16, and he was almost four minutes ahead. I just said, 'That's a lot of time. Just take it one mile at a time.' "
And they were fast miles, mostly in the 5:05 to 5:15 range — but he blasted one out in 4:55.
"I got a little carried away there, then got back on my pace," he said.
At mile 22, Cox was still 43 seconds behind. Just a mile later, the race was practically over, with Cox making up all 43 seconds and much more. As he drew alongside Barros, he gave the Ecuadorian a low-five, then took off.
"He really made me work," Cox said. "I extended my hand just as a sign of respect. He was out there all by himself for 22 miles, and that's tough to do. He ran a brave race."
Barros did so probably still dealing with jet lag. He flew in from Ecuador on Saturday and signed up only 15 hours before the 7 a.m. start. It was his first race in the United States.
"It was a little hard, but it was a beautiful race," Barros, 30, said through an translator, adding he appreciated Cox's gesture. "I was surprised. It gave me incentive to keep going. I was so happy about that."
Barros ultimately slipped to third, as Seattle's Steve Dekoker overtook him to take second in 2:31:21, ahead of Barros' 2:31:52. Nyambaso, 43, couldn't keep his early pace and ultimately dropped out.
Dorota Gruca got a measure of redemption and a 40th birthday present all rolled into one, coasting to victory in the women's field in 2:44:36. In 2005 in Las Vegas, the Polish runner was part of a four-runner mad dash to the finish, ultimately settling for third. This time, no such sprint was necessary, as she finished all alone.
"I feel very happy to come back here and win," Gruca said. "It's a wonderful place to celebrate my birthday. I'm gonna have fun and party, for sure."
Then she's going to retire from elite marathoning. Gruca, who lives in Las Cruces, N.M., is getting married on New Year's Eve and hopes to start a family.
"No more running until I get hungry again. I'm not hungry right now," she said. "But I won, so I'm very happy."
Beth Woodward of Orrville, Ohio, was more than 14 minutes back in second place, and Beth Walsh of Encinitas, Calif., who took third here in 2008, matched that effort.
The sun-splashed, wind-free morning proved most beneficial to a gaggle of runners who train with Cox in Mammoth Lakes. Scott Bauhs won the half-marathon in a speedy 1:02:39, with training partner Patrick Smyth second at 1:03:31.
Bauhs, 24, took over about eight miles into the 13.1 mile race.
"I was feeling better. I could feel it," Bauhs said. "I tried to get Patrick to come with me. He's a good runner — his (personal record) is way better than mine — but he just didn't have it today."
The women's half-marathon featured yet another Mammoth Lakes winner, as three-time Olympian Jen Rhines clocked 1:14:57, more than three minutes ahead of Britain's Nicki Archer (1:18:01).
"I was able to tuck in with some of the men in the marathon early on," said Rhines, 36. "I felt really good, and it was really exciting out there. The atmosphere was great. It had that big marathon feel, with people lining the streets, and the mass of runners cheering for us."
With participants running in both directions along the Strip, thousands of average runners and weekend warriors heading north could cheer the elite competitors passing by in the southbound lanes, miles ahead.
Cox was equally impressed with the vibe.
"This is the place where you come for vacation, sit by the pool in the summer, go to the sports book in the winter," he said. "To have the whole Strip shut down for the marathon, and then to be the first guy coming through with this crowd — this is a party. It's not just a road race, it's an event, and that's what makes it special."
Contact reporter Patrick Everson at peverson@reviewjournal.com or 702-383-0353.
2010 Rock 'n' Roll Las Vegas Marathon
Nearly 30,000 participate in Rock 'n' Roll Las Vegas Marathon