Scholarships awarded in memory of 2 Las Vegas police officers — VIDEO
Updated June 7, 2017 - 6:22 pm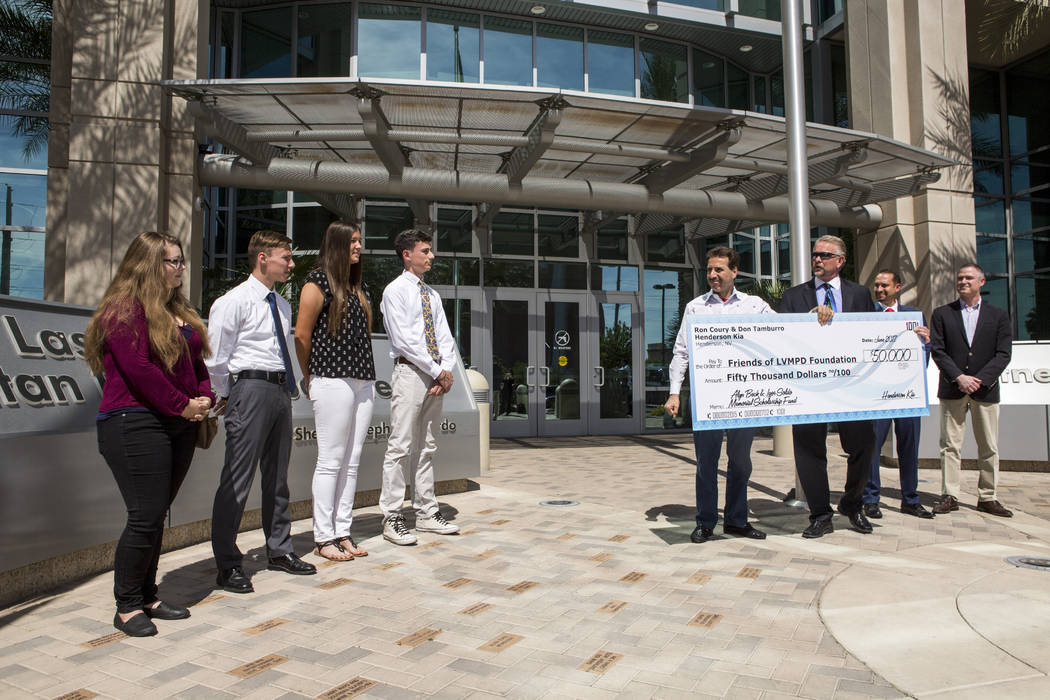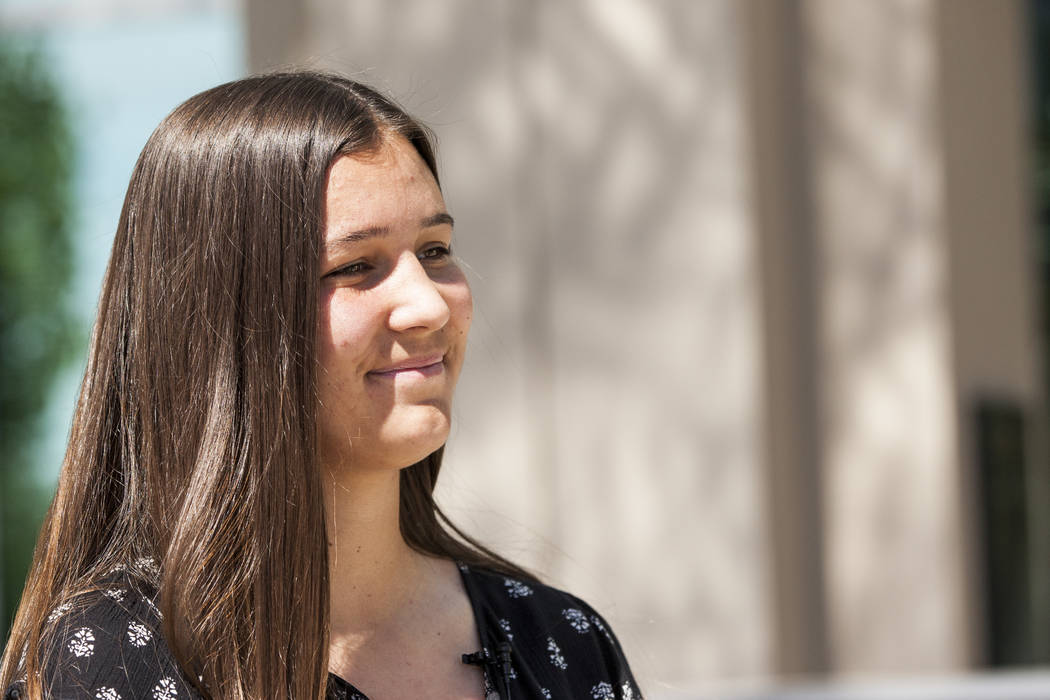 Ten local students were awarded 2017 scholarships in memory of Las Vegas police officers Igor Soldo and Alyn Beck, who were gunned down while on duty three years ago this week.
A handful of the scholarship recipients gathered Wednesday morning in front of Metropolitan Police Department headquarters for a short ceremony. Don Tamburro and Ron Coury, who own Henderson Kia, gave $50,000 to the Friends of Las Vegas Metropolitan Police Department Foundation for the scholarship, now in its third year.
The students, who are all children of police officers, each will receive $5,000.
More than 50 students, who either are headed to college or already are enrolled, applied for the scholarship. Applicants were judged on their grades, community involvement and an essay.
"It's an amazing honor, being able to represent the LVMPD and officers like Beck and Soldo and people like my father, who have always inspired me to help others," scholarship winner Jordan Nogues said of her dad, officer Rick Nogues. "Just the courage and bravery that he has to just go out and help people despite what's going on, it really really touches my heart."
Nogues, 18, is graduating Saturday and preparing to study to be an orthopedic surgeon, starting at Arizona State University.
Soldo and Beck were ambushed and killed as they ate lunch at a northeast valley Cici's Pizza on June 8, 2014. The shooters, a husband and wife, entered an east valley Walmart afterward and fatally shot civilian Joseph Wilcox before they were killed in a shootout with police.
Alyssa Dentler-Kellogg, 19, said she wrote her essay about all the ways police officers, including her mom and stepfather, officers Gwenevere and Johnathon Conover, have helped and inspired her over the years. The College of Southern Nevada student said whenever she got into trouble as a youth, police officers were the ones to set her straight with advice and guidance.
The students told the Las Vegas Review-Journal they were honored to receive the memorial scholarship for Soldo and Beck, whose deaths made them fear for their parents.
"Both the officers who were killed at Cici's Pizza had families as well. I really empathize with that," Dentler-Kellogg said. "It terrifies me that one day I might lose my mom, because she's so important to me."
David Word, 18, is graduating Saturday and heading to Brigham Young University before going on a mission with The Church of Jesus Christ of Latter-day Saints. He said he plans to serve in the Army after college and may pursue a career in law enforcement.
Word said he wrote his essay about how being the son of Metro officer Jon Word has taught him to respect others and appreciate the police.
"It's kind of driven me toward the path of my career choice in the military," he said. "I want to give back to the community."
Officers at the Northeast Area Command also planned to honor Wilcox and his family Wednesday with an intimate wreath-laying ceremony at the substation, said Capt. James LaRochelle, whose son Diego is also one of this year's memorial scholarship winners.
Contact Wesley Juhl on wjuhl@reviewjournal.com and 702-383-0391. Follow @WesJuhl on Twitter.
Ten students receive $5,000 scholarships
Bryan Callaway, Alyssa Dentler-Kellogg, Cassidy Gray, Diego LaRochelle, Jadyn Nogues, Sam O'Brien, Michael G. Pence III, Amelia Rodriguez, David Lewis Word, and Gabrielle Telavera won the awards, thanks to their grades, community involvement and personal essays.