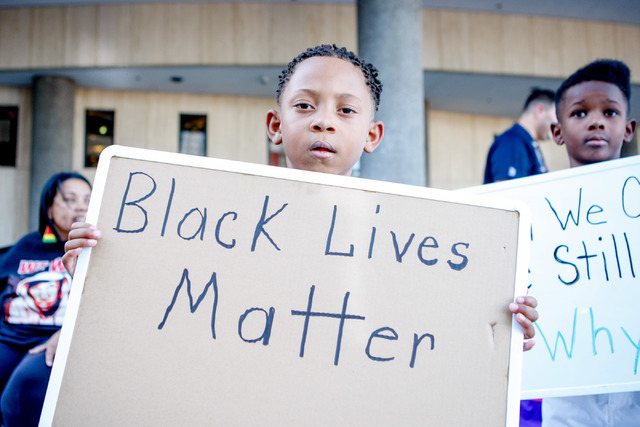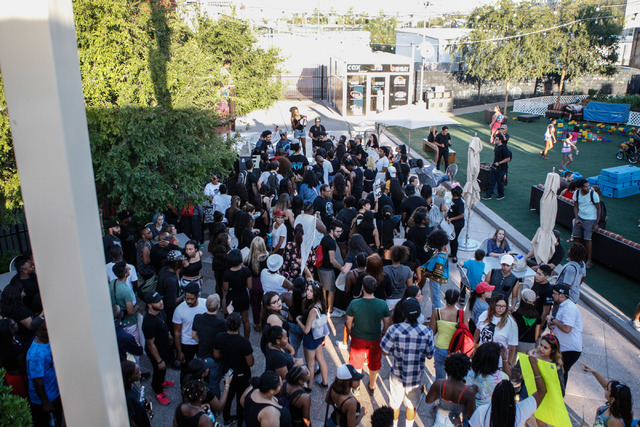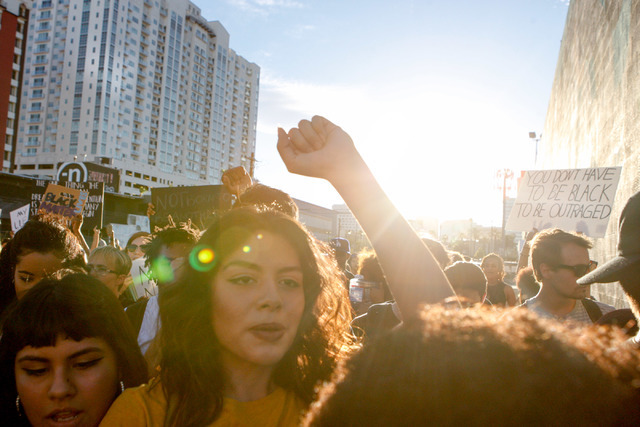 For the second consecutive weekend, Black Lives Matter protesters took to the streets of downtown Las Vegas on Saturday.
The march began at 400 Stewart Ave. where about 200 protesters gathered about 6 p.m. The group drew a diverse crowd, and speakers with megaphones said the march was organized to draw attention to recent police killings of black men.
"Hands up, don't shoot," the crowd chanted in call-and-response style as it began to march across Stewart Avenue toward Fremont Street.
Gina Brown, 26, brought two of her young children to her first protest. "I have kids that we have to look after, and it really does matter for us," Brown said, adding her cousin was shot and killed by police in August.
Shaniece Hicks, a 16-year-old Rancho High School student, said it's important for students her age to participate in such protests.
"I came to be with my people and let everyone know that our lives matter, too," Hicks said. "And it starts with ourselves."
Hicks said she was protesting to bring awareness to the recent police killings.
"I hope to see less black lives being taken away, and more justice," she said.
Tyree Moore, a 16-year-old Desert Oasis High School student, called the protests a good experience. "We are the voice," Moore said.
As the protesters marched through Fremont Street, they were met mostly with signs of support and solidarity. Pedestrians on the packed mall raised their fists and joined in the chants.
After passing through the Fremont Street Experience, the crowd briefly entered Downtown Container Park, while organizers made speeches and security officers watched warily.
When the marchers crossed through traffic, horns honked rhythmically while drivers cheered.
Other drivers, however, were of a different mindset.
"You're not going to change anything!" one woman yelled to the crowd that cut her off while she sat behind a green light.
"No justice, no peace, no racist police," one organizer said over a megaphone as the marchers assembled at the Lloyd D. George Federal Courthouse. The megaphone was passed among speakers, who called for an end to what they said were racist police shootings across the country.
Hicks said she just wanted her community to be heard.
"I want the black voice to no longer be silent, and for people to hear us," Hicks said.
Contact Christian Bertolaccini at cbertolaccini@reviewjournal.com or 702-383-0381. Find @bertolaccinic on Twitter.