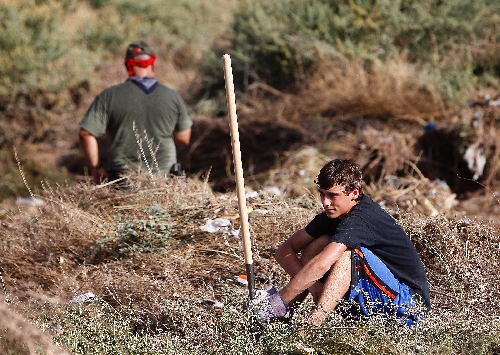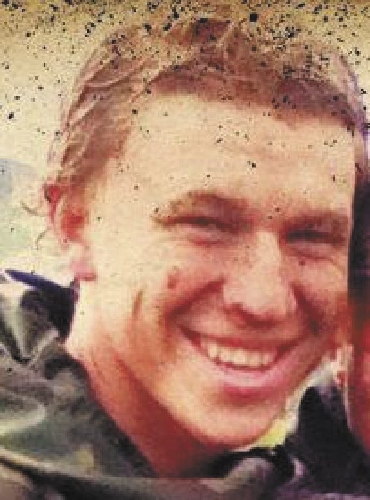 As the sun began to dim Thursday night, Charlie Mootz was searching the wetlands near Sam Boyd Stadium for signs of his 17-year-old son, William.
Mootz was among more than 200 volunteers out looking for his youngest child, the Green Valley High School teen who was slated to begin his senior year Monday.
Instead, William Mootz went missing Wednesday morning when he fell into the fast-moving rapids of the Pittman Wash in Henderson, near Stephanie Street and Sunset Road, behind the Target at Whitney Ranch Center.
"It's tough. … As a parent, you just dread those calls that come like this," Charlie Mootz said Thursday night. "I'm trying to stay calm."
Mootz said he still is unsure how his son fell into the waters of the wash.
He said his son was with two friends, and they apparently jumped a fence and were throwing things into the wash.
Henderson and Las Vegas law enforcement authorities suspended their search at 6 p.m. Thursday.
Their search for the teen won't resume until Monday because muddy and soggy conditions have made much of the search area inaccessible.
By Monday, it is thought the search area will have dried out.
Search dogs and Las Vegas police helicopters will be used when the search resumes, Henderson police said.
Two 911 recordings from an eyewitness who told authorities Mootz had fallen into the wash were released by Henderson police Thursday.
Michael Harms focused his camera on the rapid-moving water in the Pittman Wash when he saw someone flailing his arms sweep past him as the rapids flowed northeast.
Harms called 911 and told a dispatcher what he saw.
"I was filming it, and I saw him go by," Harms told the dispatcher.
"I tried following him as best I could, then he went around the bend, and he was gone. You could see his arm waving in the water."
Harms said Mootz zipped past him about 40 mph.
On Thursday, the search for Mootz began about 6 a.m. near the stadium.
Henderson police spokesman Keith Paul said about 40 personnel with Henderson police and fire departments and public works, with Las Vegas police, had helped in the search for Mootz.
Paul said authorities continue to hope their search will be successful.
"We had hoped to find him yesterday," Paul said. "And now we're continuing to hope that we'll find him."
After Harms' 911 call, a swift-water rescue team from the Henderson Fire Department was dispatched to search where Mootz was thought to have fallen in and along the path he was last seen traveling in the water.
The Pittman Wash empties into the Las Vegas Wash and was filled with storm runoff when Mootz disappeared.
Paul said Thursday's search focused on where Mootz fell into the wash, near Sunset and Stephanie, to the area near Sam Boyd Stadium, by Broadbent Boulevard, a stretch that covers two miles.
He said two construction trucks moved about 15 tons of dirt and debris in the flood control channels to make sure Mootz wasn't caught up along that route.
Metropolitan Police Department air units made multiple trips between that area and Lake Las Vegas, a five-mile distance.
Detectives and firefighters searched the area around Lake Las Vegas by foot throughout the day.
Paul called Thursday's efforts a "methodical search."
Mootz's disappearance in the wash is reminiscent of when 33-year-old Melanie Sutton went missing in March 2007 in the Las Vegas Wash near Hollywood Boulevard.
She was last seen with her boyfriend in the area and entered the wash about 3:30 a.m.
Police were unsure whether she fell or intentionally entered the wash.
Her body was discovered a year later on an island in the wash less than a quarter of a mile from where she had been reported missing.
Wednesday's storms dumped nearly 2½ inches of water in Henderson near U.S. Highway 95 and the Las Vegas Beltway, causing a lot of flooding on the streets and nearly overflowing washes.
Harms, who called 911 and sparked the chain of events that led to Mootz's search, told the dispatcher he was "shook" when he saw the teen struggling for his life in the water.
"I hope you guys find him and get him out," he said.
Charlie Mootz said his son was an avid outdoorsman who enjoyed playing with remote-control cars, riding dirt bikes, hunting and fishing.
Mootz said William, the youngest of four children, recently returned from a caribou hunting trip with his grandfather in Alaska.
Charlie Mootz said he was touched by the number of volunteers who showed up Thursday, and he expects about as many to resume their search today .
He said his son had dreams of owning his own automobile mechanic shop.
Mootz added that just because his son hasn't turned up yet doesn't mean he isn't alive.
He said his son was a great swimmer and a Boy Scout who knew how to handle inclement conditions.
"We won't give up till we have him," Charlie Mootz said.
He said that as a child his son had a medical condition doctors said he might not survive.
"He struggled when he was a young boy, and we've been told he wasn't going to be with us," Mootz said. "He fought hard and didn't give up then. He's not giving up now."
Review-Journal reporter Mike Blasky contributed to this report.Contact reporter Antonio Planas at aplanas@reviewjournal.com or 702-383-4638.
First 911 Call:
AC_FL_RunContent( 'type','application/x-shockwave-flash','data','https://www.reviewjournal.com/media/audio/mp3small','FlashVars','MFILE=https://www.reviewjournal.com/media/audio/2012/911_mootz_call1.mp3&MSTART=no','width','131′,'height','30','movie','https://www.reviewjournal.com/media/audio/mp3small','classid','clsid: D27CDB6E-AE6D-11cf-96B8-444553540000′,'codebase','http://download.macromedia.com/pub/shockwave/cabs/flash/swflash.cab#version=8,0,0,0′ );
Second 911 Call:
AC_FL_RunContent( 'type','application/x-shockwave-flash','data','https://www.reviewjournal.com/media/audio/mp3small','FlashVars','MFILE=https://www.reviewjournal.com/media/audio/2012/911_mootz_call2.mp3&MSTART=no','width','131′,'height','30','movie','https://www.reviewjournal.com/media/audio/mp3small','classid','clsid: D27CDB6E-AE6D-11cf-96B8-444553540000′,'codebase','http://download.macromedia.com/pub/shockwave/cabs/flash/swflash.cab#version=8,0,0,0′ );