Seeking 'safe staffing': Hospital nurses, workers say they're overtaxed
Updated May 26, 2023 - 5:26 pm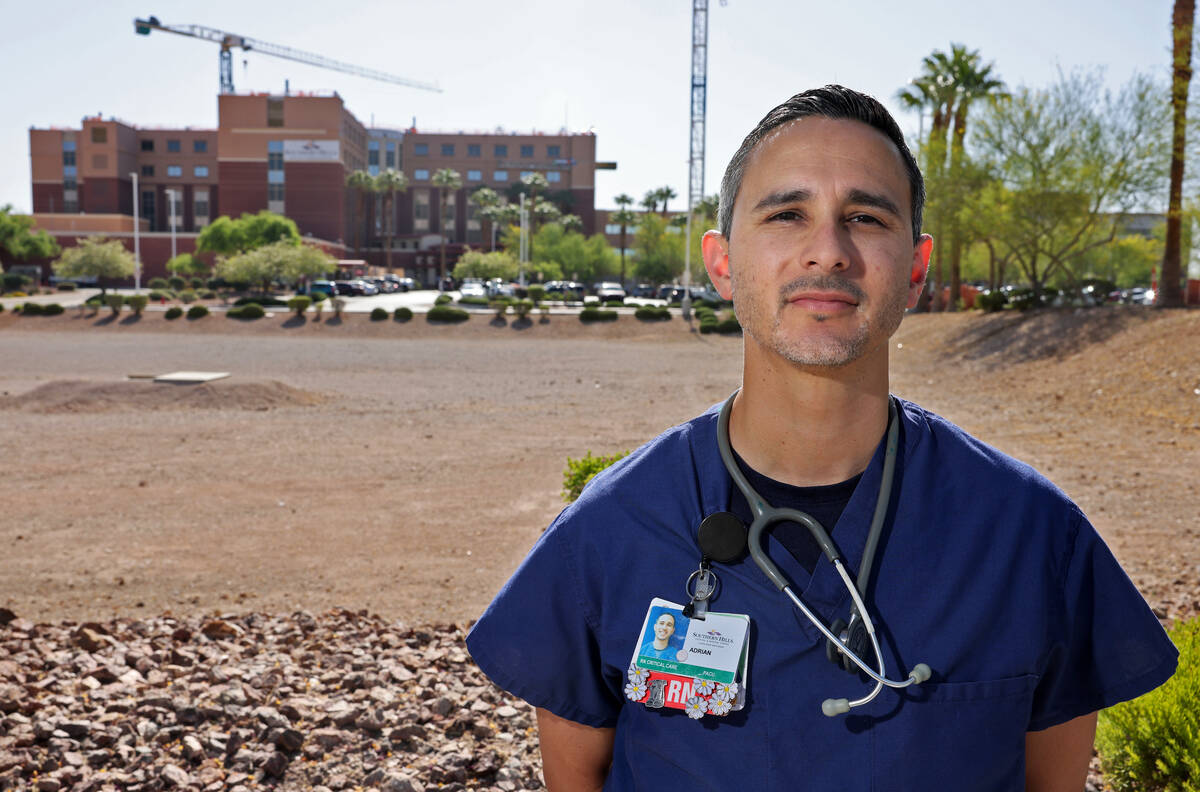 With their contract due to expire next week, nurses and other hospital employees within the Sunrise Health System are speaking out against what they say is understaffing that overtaxes workers and imperils patients.
Hospital workers who were called frontline heroes during the pandemic say they continue to grapple with staffing shortages, despite the end of the COVID-19 public health emergency.
"When the world shut down and stayed home, we went to work," said Adrian Martinez, who for 11 years has been a registered nurse at Southern Hills Hospital and Medical Center in the southwest Las Vegas Valley.
"We picked up shifts and did what we had to do. That was our moment; we grasped it," he said, despite the terrifying possibility of bringing COVID-19 home to their families.
"And now that we're not in the midst of the pandemic, we don't feel like you're treating us like heroes," Martinez, who worked in the intensive care unit during the pandemic, said in an interview Thursday.
Hospital administration disputed the allegations in a statement: "At Sunrise Health System, we believe a strong culture of respect and collaboration among our colleagues is critical to our mission. We value all members of our care teams and we provide a safe environment for our patients."
An extension of the union contract covering 4,700 workers at Sunrise, MountainView and Southern Hills hospitals expires on Wednesday. HCA Healthcare, which owns the Sunrise Health System, and SEIU Nevada Local 1107 have been in contract negotiations since February.
Potential for harm
Union members at the bargaining table said they continue to negotiate for improved staff-to-patient ratios, including adding staff specifically assigned to providing break relief.
Nurses often don't take their allotted breaks because of staffing shortages, said Martinez and Mike Forson, a pediatric intensive care unit nurse at Sunrise Hospital and Medical Center.
About some of the sickest babies he cares for, Forson said, "They can literally code or die from just being upset crying for an extended period of time. … We forgo lunches because our kids are that sick."
In addition to a 30-minute lunch break, the nurses are supposed to get two 15-minute breaks per day while other members of their unit cover their patients in addition to their own. But Forson said in his 15 years at the hospital, he'd never seen anyone take a full 15-minute break.
When staff are overworked, they can't provide the highest level of care, the nurses said. "There's no harm that's come, but the potential is there," said Forson, a former Air Force medic.
"The reality is, against the backdrop of a national nursing shortage, exacerbated by a pandemic and continuing patient surges, our staffing is safe, appropriate, and in line with other community hospitals and applicable regulations," the Sunrise Health System's statement said. "Our ongoing aggressive recruitment initiatives continue to be effective."
The system's three Las Vegas hospitals in 2022 added 843 registered nurses and 1,689 other employees, according to the statement.
Hospital patients call 9-1-1
Molly Everett, a PBX operator stationed at Sunrise hospital, said she has a unique window into issues of staffing shortages. She fields calls for all three local HCA hospitals as well as five of the corporation's California hospitals.
About every hour she'll receive a call from a patient using the phone in their room to complain that no one has responded to their call light, she said.
"Because it's so short-staffed, I get phone calls from the patients in the room telling me that they're sitting there in their urine and they're sitting there in their feces," Everett said. "It's been an hour, they pushed their call button, and nobody's coming to see them. They're angry and they're frustrated, they're upset and they're scared."
As often as weekly, she said she receives a call from an emergency responder after a patient has used their cell phone to call 9-1-1.
'Bullying community hospitals'
SEIU representatives contend that HCA, with profits of more than $16 billion in the past three years, can afford pay increases that would bolster staff recruitment and retention. Pay increases are among the issues that are still being negotiated.
Negotiators will return to the bargaining table on Tuesday. If a contract deal isn't reached, the union has planned a rally at Sunrise hospital that will begin at 3:30 p.m. Wednesday, when nurses and other health care workers will "speak out for safe staffing and quality care," organizers said.
The Sunrise Health System administration said, "The labor union has a history of attacking and bullying community hospitals with misleading information and staged events designed to garner media coverage, especially during contract negotiations. … We expect a variety of labor union tactics like this."
Contact Mary Hynes at mhynes@reviewjournal.com or 702-383-0336. Follow @MaryHynes1 on Twitter.