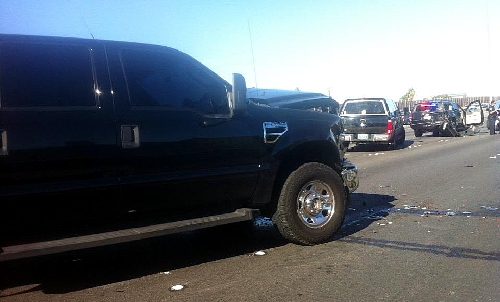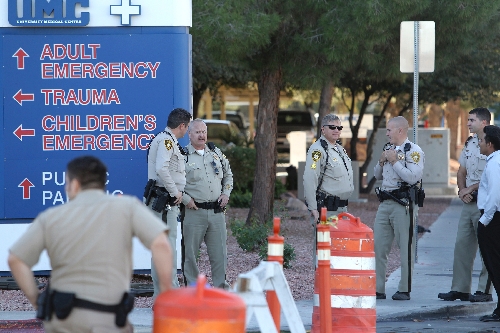 An investigation is ongoing into what caused Friday's chain-reaction crash involving U.S. Senate Majority Leader Harry Reid, who was rushed to the emergency room at University Medical Center by his security detail, a Nevada Highway Patrol spokesman said.
The 72-year-old Democrat from Nevada was released from the hospital about two hours after the 1:10 p.m. pileup on northbound Interstate 15 at Sahara Avenue, and officials with his office said he suffered rib and hip contusions but was otherwise unhurt.
They also said some of his staff and security detail had minor injures.
"I can't really tell you when the investigation will be completed, but, gosh, I would hope by the end of next week," Highway Patrol Sgt. Kevin Honea said. "If this was four Nissan Altimas, we'd be finished by now, and I probably wouldn't be getting any calls on it."
As it was, dozens of investigators kept at least two northbound lanes of the busy freeway closed for 4½ hours, causing long backups through the afternoon as they combed the site "for every detail" and conducted what Honea called "forensic diagramming" to reconstruct the mishap.
Skid marks were being measured to determine the speed at which the vehicles were traveling, Honea said.
If any citations are issued, it won't happen until after the investigation is completed, the Nevada Highway Patrol said.
Earlier Friday, Reid delivered the keynote address at the dedication of the National Atomic Testing Museum near the UNLV campus. He was traveling to editorial board meetings at Spanish-language newspapers when the accident occurred, his office said.
The Highway Patrol said six vehicles were involved: two U.S. Capitol Police vehicles, two Las Vegas police SWAT protection detail vehicles and two private vehicles not associated with Reid's caravan.
"Senator Reid was taken to University Medical Center Hospital by his security detail as a precaution, and walked in on his own," Reid officials said in a statement. "Senator Reid was wearing his seat belt at the time of the accident."
Reid's wife, Landra, was speaking at a Michelle Obama rally at the time of the accident and appeared unaware of the incident. She joined her husband at the hospital immediately after her speech.
In March 2010, Landra Reid suffered a broken neck and other injuries when the car she and daughter, Lana Barringer, were riding in was rear-ended and crushed by a tractor-trailer in heavy traffic about 15 miles south of Washington, D.C.
Despite being bruised and sore, the five-term senator appeared as planned Friday night at a celebration of life honoring community leader Bob Forbuss at The Smith Center.
Reid moved slowly, as if he were in pain. He said he told the crowd he bucked his doctor's advice to show up for his friend Forbuss, a stalwart Democrat who died in August.
Shortly after Friday's crash, the Regional Transportation Commission of Southern Nevada shut down its live video feed from a traffic camera near the scene. The RTC operates traffic cameras around the valley as part of its Freeway and Arterial System of Transportation alert program, but the camera feeds are sometimes turned off at crash sites.
"If we think it needs to be suppressed, it can be shut down," said Kevin, a FAST alert traffic technician who declined to provide his last name.
The crash occurred on a stretch of road that is all-too-familiar to tow trucks and emergency vehicles.
In February the Review-Journal reported that Nevada Highway Patrol troopers respond to an average of 15 accidents during a 24-hour period on northbound I-15 around Sahara Avenue.
In 2010, the paper conducted an informal study on that stretch of freeway and found that 38 percent of 140 freeway accidents listed in the RTC's alerts occurred on I-15 at or near Sahara. Of those collisions, 87 percent happened on northbound I-15.
The Nevada Department of Transportation at the time blamed the new exit-only lane at Sahara and said motorists at the last second try to merge left to get out of that lane.
Another theory is that as the left-hand express lanes end on I-15, vehicles traveling at a high rate of speed are trying to exit at Sahara.
Vehicles also enter the freeway from Spring Mountain Road while motorists are trying to exit on Sahara, creating a merge-fest.
The solid white line on the Spring Mountain onramp seems extraordinarily long and is illegal to cross, so motorists have a short distance to move onto I-15 before finding themselves in those exit-only lanes.
At 7:12 p.m. Friday, RTC sent a FAST traffic alert about another accident on I-15 northbound near Sahara. The alert read: "Right lane blocked. Expect delays."
Review-Journal writers Tom Ragan, Joe Hawk, Lawrence Mower, Henry Brean and Keith Rogers contributed to this report. Contact reporter Mike Blasky at mblasky@ reviewjournal.com or 702-383-0283.