Seniors take the softball field with laughs in Las Vegas
September 30, 2014 - 7:49 pm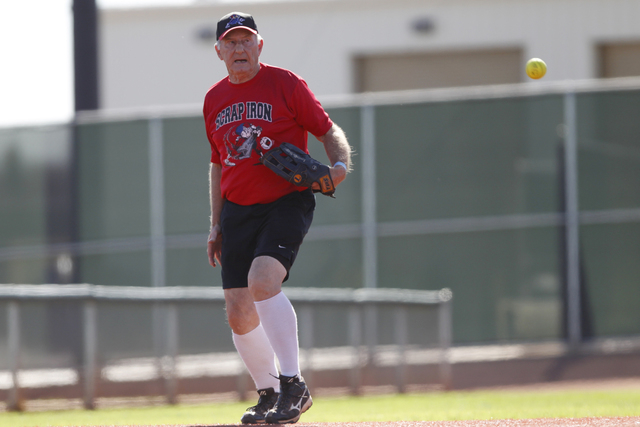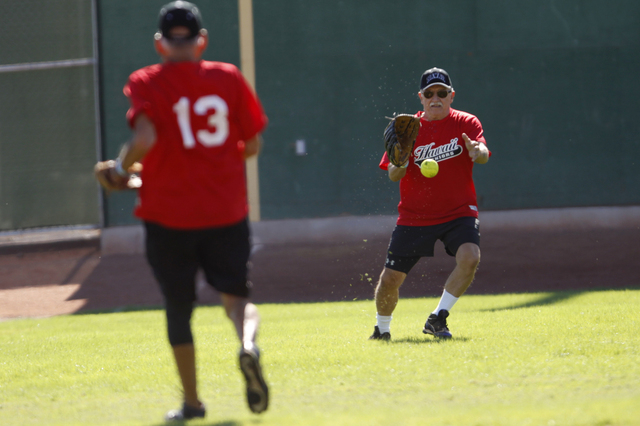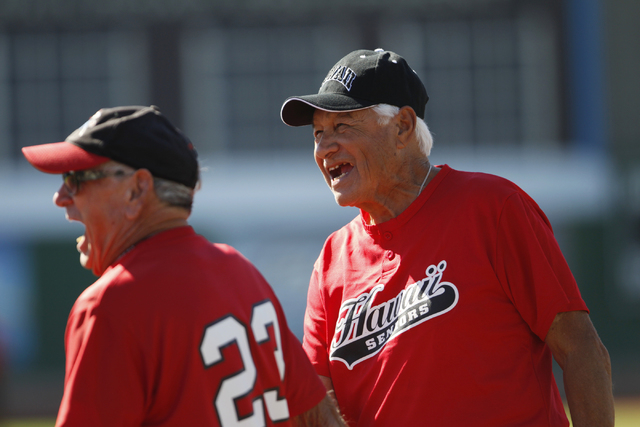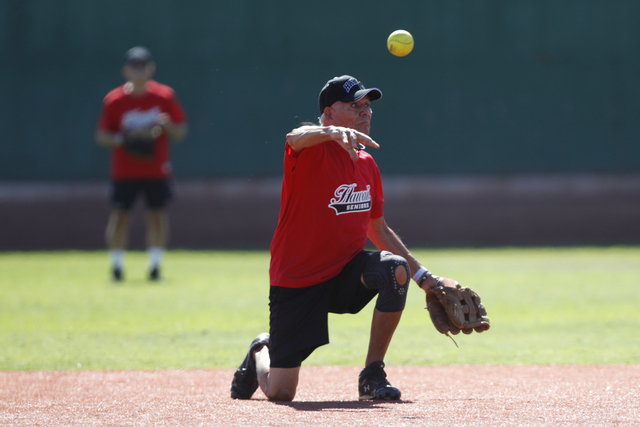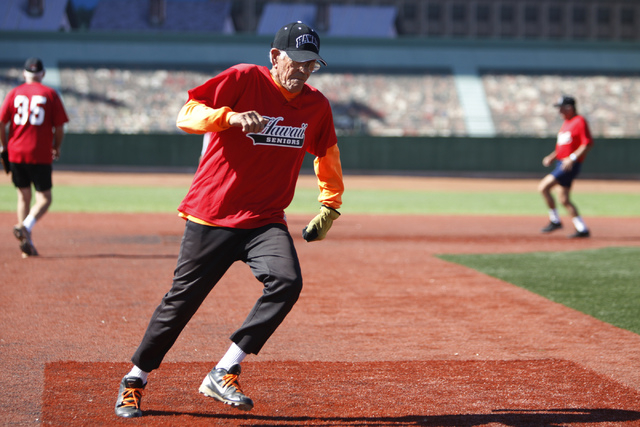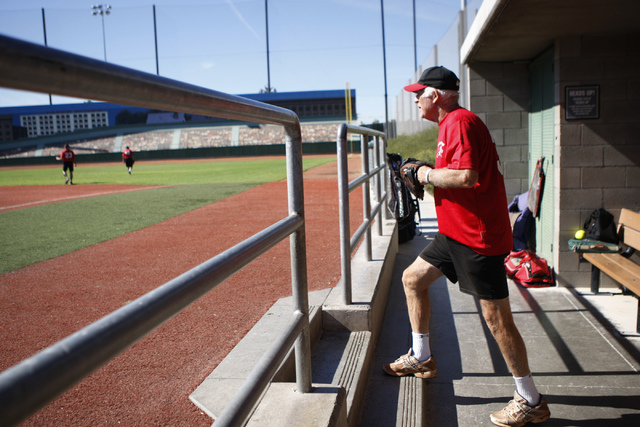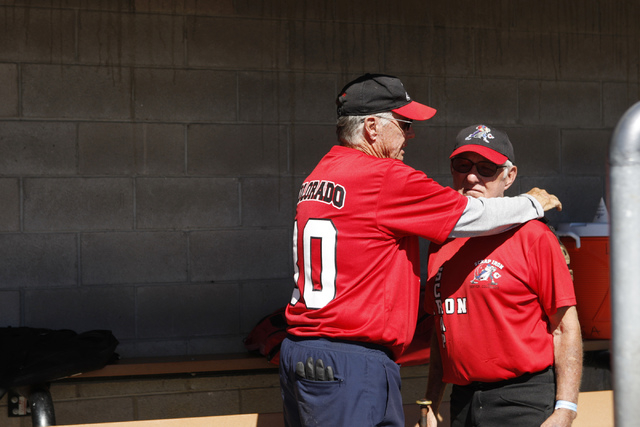 Don't tell this slow pitch softball player he can't run.
Freddy "Fast Freddy" Mattos , at a spry 78 years young, couldn't stand still before he took the field with his team Tuesday in Las Vegas. He jogged to the scoreboard and back to first base, his youthful grin and even breath unchanged.
And then he ran a warm-up sprint around the diamond before the first pitch. Just for good measure.
"Does he ever stop running?" a woman in the bleachers at Big League Dreams, near the intersection of Washington Avenue at Pecos Road, wondered aloud.
He doesn't.
Mattos, who plays for the the Gray Berets men's team from Scrap Iron, Colo., was in town for the World Masters Championship. The club is among 506 men's and women's teams from 40 states, the U.S. territory of Guam and four Canadian provinces that will play more than 1,700 games by the end of the 10-day tournament.
The tourney, put on by the Las Vegas Senior Softball Association and Senior Softball-USA, is being held at 12 sports complexes throughout the valley and goes through Thursday.
Mattos' spunk isn't new. A doctor told him 56 years ago that a back problem would keep him from being an athlete.
"I told my doc, 'You're not talkin' to me. You must be talking to someone else because that isn't gonna happen to me,'" said Mattos, who is playing on an 80-and-up team under special rules for this tournament. "I mean if you let it defeat you, it will. You just can't let it beat you mentally."
He has since run 38 marathons and "thousands" of 5K and 10K races, he said.
The Berets went on to beat the Hawaii Seniors 19-9 following a win over the Chiefs of Redwood City, Calif., for the top seed in the 80-plus division.
But it isn't all about winning. These seniors play with a sense of humor.
After a member of the Berets arrived at third base horizontally, his teammates had some commentary.
"Was that a slide or a fall-down?" one player yelled from the dugout.
A Hawaii Senior poked fun at one of his teammates who struck out.
"You didn't pull something did you?" he said with a laugh.
As the white-haired teams lobbed light-hearted jabs back and forth, outfielders hollered, correcting the umpire on the number of outs the other team had.
"You guys are so helpful," the 30-something ump said as he grinned through his solid black beard.
While it was fun for most, athletic feats for some octogenarians can come with wistful reminders of days gone by.
Wes Horen , 80, said playing ball just isn't as much fun when you're not so competitive anymore.
Horen, a Gray Beret recruited from Sun City, Ariz., has played baseball and softball since before he was in junior high. He started playing slow pitch when he was 47 and has eight championship rings from past World Masters Championships.
"I have guys come up to me here that I haven't seen for years, and the first guy says, 'Well, how many have you hit out already?'" Horen said. "I says, 'I haven't hit one past the short-stop.' But he remembers how I used to play. That hurts, to say 'none' to your old buddies."
But for still others, the ballfield is an extension of a happy, senior romance.
Richard Skinner, 83, started playing senior softball when he was in his 50s. The retired computer industry worker traveled with his wife from Independence, Mo., to play with the Gray Berets.
Skinner's wife, Donna Dean, shared a kiss with him before he stepped onto the field and got a base hit.
"Good hit, sweetie!" Dean, 79, cheered from the bleacher seats. And she repeated every time her husband went to bat.
For this pair, softball keeps old age at bay.
"It's either this or sitting in front of the TV waiting to die," Skinner said. "And we're not ready for that, are we babe?"
Contact Kimber Laux at klaux@reviewjournal.com or 702-383-0381. Find her on Twitter: @lauxkimber.