Shirley Linzy, director of Adelson Clinic, dies at 66
September 21, 2017 - 7:35 pm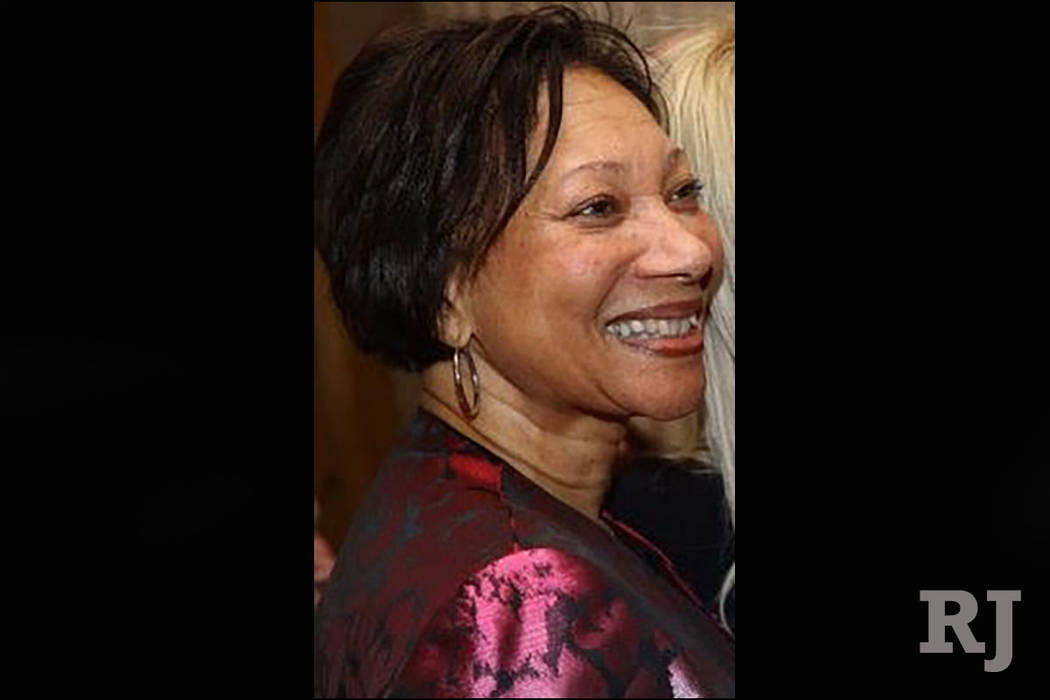 Shirley Linzy liked a challenge.
"She thought she could do anything," her husband, James, said Thursday afternoon, adding that his late wife of 40 years was "just Shirley."
"She always did things I didn't think she could do."
After a monthlong battle with multiple myeloma, Linzy, the clinic director and supervising nurse at the Adelson Clinic for Drug Abuse Treatment and Research, died Sept. 12. She was 66.
Despite setbacks at a young age, Linzy earned a doctorate in nursing and worked in public health in her hometown of Chicago and in Las Vegas. Born to an impoverished family on Chicago's west side, Linzy took care of her five younger siblings until age 15, when she became pregnant and dropped out of school.
By 21, she was a single mom to three kids working odd jobs.
She worked at a McDonald's for some time, bringing a free sandwich from lunchtime home to the kids, until she finally decided to go back to school and follow her dream of becoming a nurse.
It was during that time she met Linda Stubblefield, now 64, who would grow to become her best friend.
"We did all the things girls do," Stubblefield said. "We had a good time, we laughed, we giggled."
And later in life: "We called each other asking about each other's gray hairs."
Stubblefield continued: "We were living here (in Chicago) in a kitchenette apartment in a courtway building," she said. "We used to just sit and talk to each other about how we were going to succeed."
Succeed she did. Linzy went on to work as a public health nurse for Cook County in Illinois and later for Clark County. She helped develop a community college program for licensed nurse practitioners.
Linzy joined the Adelson Clinic on Maryland Parkway in 1999, before it began treating patients. She supervised nurses and counselors and found her passion in researching methadone, an opioid medication.
"Shirley impressed me immediately in the interview, given the wealth of knowledge she had acquired as a nurse on the hard streets of Chicago," Dr. Miriam Adelson, who founded the Las Vegas clinic with her husband, Sheldon Adelson, said in her eulogy of Linzy at local services Saturday.
"I recognized her as a rare authority on a problem that few doctors understood," she said of Linzy.
"Shirley quickly became a pillar of our clinic and of the wider world of addiction-disease treatment. After two years as our nurse-in-charge, she became the clinic director. … I cannot imagine the clinic without her," Miriam Adelson said Saturday. "I dread to return there and find it without my Shirley."
Linzy discovered she had multiple myeloma in August. She finished three chemotherapy treatments before she ended up in the hospital with a perforated colon and later, pneumonia.
Her husband was at her bedside when she died Sept. 12 around 8 a.m. With the help of their children, he began planning services shortly after.
"It was something that, as a family, we hadn't done before. It was just a very devastating blow."
James Linzy said he'll miss his wife's companionship most. Between traveling, work and relaxation, the two were inseparable — even though on their first date, 42 years ago, he stood her up.
"She was such a pretty girl, when she said yes, I thought she was kidding."
"So we made another date. We decided to go to dinner," he said.
They met at a restaurant in downtown Chicago, inside the First National Bank building. She ate lobster; he ordered steak. After that, James Linzy said he was done kidding around.
The Review-Journal is owned by Dr. Miriam Adelson and Sheldon Adelson, founders of the Adelson Clinic for Drug Abuse Treatment and Research.
Contact Jessie Bekker at jbekker@reviewjournal.com or 702-380-4563. Follow @jessiebekks on Twitter.
Shirley Linzy is survived by her husband, three children, five siblings and six grandchildren.
Her service was held Sept. 16 at Davis Funeral Home in Las Vegas.