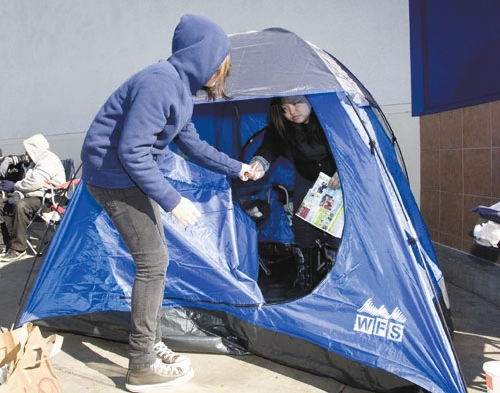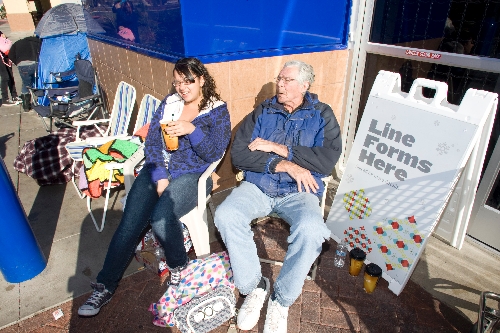 Retailers' expectations are always high for "Black Friday," and this year the start of the holiday shopping season is being watched with extra care for signs of an economic rebound.
But Danielle Toro, who was first in line and camping out with her grandfather, Nicholas Bond, at the Best Buy on Rainbow and Lake Mead boulevards, wasn't thinking about macroeconomic trends. She just wanted to be sure her family got the four laptop computers they wanted.
"I'll do whatever it takes to help my family out," said Toro, who has been trading shivering shifts with family members since early Wednesday to keep the prized spot.
They were noticeably cold Thursday evening, but it was worse in the wind the day before, Bond said.
"Today's been a breeze, considering yesterday," he said.
Competition is keen this year among retailers trying to outdo one another with special hours, sales and even doing business at a time when they're traditionally closed.
Toys 'R' Us, for example, opened at 10 p.m. Thursday to get a jump on Black Friday. Other stores took advantage of the dearth of open merchants on Thanksgiving Day itself to give customers an extra-extra-early chance to spend their holiday money before the turkey was even served.
It was the first time Sears had been open on Thanksgiving Day, said Maryetta Weasa, manager of the Sears store at Meadows mall.
"It's actually been kind of nice spending time with our customers," Weasa said. "Everyone's in a great mood."
The store has been preparing for Black Friday since September, she said, which is when merchandise starts being shipped and plans made.
"We make sure that everything's on the floor, ready for the customer," she said. "Everybody's working. It's our Super Bowl."
Old Navy opened on Thanksgiving last year as an experiment, and the retailer liked the results so much that most stores opened again this year, said District Manager Laurie Davenport.
Customers "don't have to shop in such a frenzy," she said. "The comment that I'm getting today is, 'It's so much nicer to shop.' We're such a family-oriented store, it's an opportunity for them to get in a little bit of shopping without the massive amount of people on Black Friday."
The phrase "Black Friday" is a reference to the day when merchants who have been operating in the red for most of the year start turning a profit, reflected as black ink on their balance sheets.
Historically, though, it has been the last few Saturdays before Christmas when sales peak, but recent statistics suggest that's changing.
From 1996 to 2001, Black Friday consistently ranked in the middle or toward the bottom of the top 10 holiday season sale days, according to the International Council of Shopping Centers.
From 2006 to 2009, Black Friday has been the No. 1 holiday shopping day for both customer traffic and sales, according to ShopperTrak, a firm that monitors traffic in retail and other industries.
Contact Alan Choate at 702-229-6435 or achoate@reviewjournal.com.
Black Friday shoppers
Black Friday shoppers