Sister of slaying victim dies in Utah ATV crash
September 4, 2011 - 1:07 pm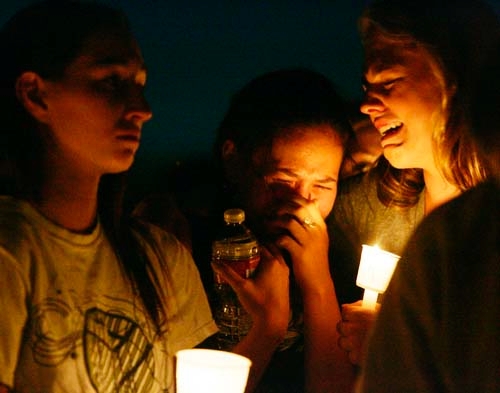 Tragedy has again struck a Las Vegas family.
Less than six months after her brother, Michael, was gunned down in Las Vegas, 16-year-old Christina Portaro died Saturday in an ATV accident in Brian Head, Utah.
The Faith Lutheran Junior/Senior High School junior was riding down a gravel road when she lost control of the vehicle, a witness said.
Portaro, whose helmet came off in the accident, suffered severe head trauma in the accident that took place about 7 p.m., according to Iron County Utah police. She died at the scene.
Chandler Young, who was riding behind Portaro on a separate all-terrain vehicle, said her friend lost control of her ATV when she appeared to be trying to text on her cellphone.
"We were going down a hill. I was behind her about 20 feet, and she was texting with her right hand on the phone, and her left hand was across her body on the throttle, trying to steer," Young said in an inter­view with the Las Vegas Review-Journal.
"She lost control. Her left hand pulled the whole ATV, and made the ATV turn really sharp. …
"When she tried to steer with her left hand across her body, she immediately lost control. She was going pretty fast. She had a helmet on, but it was unfastened. … She was flung off on the right side of the road."
After the accident, Young said she immediately went to Portaro's side and used her friend's cellphone, which remained intact, to call 911 and the girl's mother, who arrived before emergency responders.
Portaro, who was bleeding, appeared not to be breathing and to be "completely knocked out."
Motorists and other people on ATVs immediately tried to resuscitate the girl — as did emergency responders when they arrived — with no success.
Young said she had seen Portaro text while operating an ATV before, but this time they were on a hill and going fast. The teens had been driving around the mountain resort for about 90 minutes before the incident.
Police in Utah's Iron County said they had heard rumors that Portaro had been texting but had not confirmed it.
On Sunday, Faith Lutheran Principal Scott Fogo and counselors met with groups of students in the afternoon.
"This is a close community of students and faculty," Fogo said of the private school that includes about 740 students in high school grades.
"We'll mourn together, and we'll get through this together," he added.
Sunday night, more than 100 of Portaro's classmates, parents and teachers gathered for a candlelight vigil in the park across the street from the school.
The school's automated phone system alerted students and parents of the tragedy Sunday morning.
On Tuesday grief counselors will be available to talk to students, and they'll keep an eye on them for the next several weeks.
"It's not uncommon for a kid who's struggling (with grief) to have a delayed response," Fogo said. "We'll be extra watchful."
Fogo also believes the students, including Portaro's volleyball teammates, will live up to the school's name.
"This school is based on this hope we have in our faith," Fogo said. "We understand she's in heaven, and if there's one good thing we can take from this tragedy, it's knowing that."
Fogo noted that parents Richard and Cynthia Portaro are "very strong Christians." Ronald Portaro, Christina's uncle, said the family is grieving in seclusion at their Brian Head condominium.
Fogo coached Michael, who was a star football player at Faith Lutheran before he graduated in 2006, and brother Joe, who graduated last year and is a backup quarterback for the University of Nevada, Las Vegas.
Michael, a 22-year-old aspiring rapper, was fatally shot outside the Tenaya Creek Brewery on Tenaya Way near Cheyenne Avenue the night of March 30.
He was selling tickets to his upcoming concert. According to police, he was killed in a crime of opportunity by 22-year-old Brandon Javon Hill, who then stole his car. Hill, jailed at the Clark County Detention Center, has denied any involvement in Portaro's death.
Fogo described Christina as a fun-loving person with a "hilarious sense of humor." He said she was the glue that held together the Lady Crusader team.
"She was lively and fun, and she didn't regret anything" Young said of the girl she described as her best friend. "I don't think we've ever been together and not laughed, even when we were arguing or bickering.
"She was like my sister," added Young, a sophomore at Faith Lutheran. "I don't know what I'm going to do without her."
City Editor Mary Hynes contributed to this report. Contact reporter Doug McMurdo at dmcmurdo@reviewjournal.com or 702-224-5512.