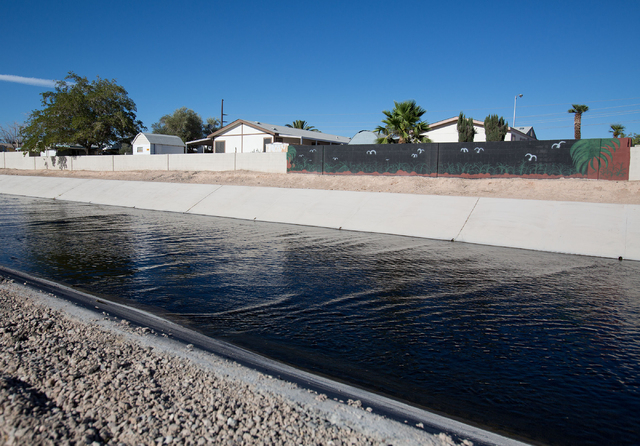 Cindy Sherwood has waited years for a half-built project she can't see.
The round, 4½-foot diameter, 4½-mile Sloan Channel pipeline — meant to carry treated wastewater out of the flood channel and away from North Las Vegas' treatment plant — dips under­ground where it runs behind her Sunrise Manor home.
Once built, the second half of the pipeline will re-emerge and snake its way three miles south to the Las Vegas Wash on its way to Lake Mead.
It's been almost four months since Clark County construction crews started the project. They just recently wrapped up work in Sherwood's neighborhood
It will be another eight months before the pipeline is finished and ready to pump effluent.
Until then, as much as 20 million gallons of the city's treated effluent will flow down the Sloan on a daily basis, turning the concrete flood channel in Sherwood's backyard into a stinky, bug-infested swamp.
For the better part of a year, city bulldozers still will have to dredge up channel-bound sewer water in an effort to keep algae blooms and swarms of harmless, mosquito-like midges at bay.
Meanwhile, Sloan's neighbors will do what they've done for the past three years: curse the barbecue-disrupting bugs and those who brought them.
"There's so many of them," Sherwood's daughter, Cori, said Friday. "They get up in a swarm and get up in the trees, and it looks like a tornado."
The good news is that the pipeline, while not yet carrying effluent, seems like it is already making a difference.
Maybe it's the construction noise, or just the promise of a future solution, but Sherwood and others said this summer has been relatively calm on the insect front so far.
City officials said Sloan has seen only one major algae bloom this year but couldn't guarantee that the midges would stay away for the rest of the summer.
Unfortunately, that bloom coincided with widespread mechanical failures in the city's dredging fleet, giving the channel's midges a week to breed and build into a familiar black cloud while mechanics fixed the bulldozers.
Deputy utilities chief Randy DeVaul said construction on the pipeline itself has gone on without any similar glitches.
"It's on schedule and on budget," he said of the project. "(Contractors) haven't put in any time extensions as of yet."
Ideally, DeVaul said, contractors will be able to run every above-ground portion of the pipeline along county easements parallel to Sloan, instead of intermittently running pipe in the middle of the flood channel.
As it stands, he isn't too worried that unfinished parts of the pipeline will get swept away if flash floods strike, as they sometimes do during monsoon season.
"(Flooding) is not going to be an issue," DeVaul said. "The engineers spent a lot of time going over that.
"If (the pipeline) is in the middle of the channel, it's pinned to a concrete box."
The city has agreed to pay $15 million to fund the projected cost of the Sloan pipeline and any change orders that might arise during its construction.
That figure doesn't include thousands of dollars the city already has spent on dredging and other efforts to clean up the channel, including a failed initiative to dump thousands of midge-hungry mosquito fish into the spillway.
The project is a pricey solution to a long legal and political saga that began after plans to funnel North Las Vegas' treated waste through an underground Clean Water Coalition pipeline unraveled in 2004. The coalition, a consortium of various valley entities, dissolved in 2012.
That left the city with blueprints for a gleaming new $225 million wastewater treatment plant but nowhere to send its treated sewage.
City leaders opted in 2001 to complete the plant and discharge effluent down Sloan Channel over loud objections from county commissioners and more than a few Sunrise Manor residents downstream.
Those complaints began to die down by November, after city and county officials announced a deal to put the city on the hook for pipeline construction costs.
Mark Campbell, Cindy Sherwood's husband, has attended dozens of hearings and town hall meetings on the project over the past three years.
Now all he has to do is wait.
"I'll be happy with (the pipeline) once they start using it," Campbell said Friday. "Of course I wish they didn't have to build it in the first place, but it was getting them to do it that was the hard part.
"I'm not normally a political activist, but when it's in your backyard you have to do something about it."
County spokesman Dan Kulin said pipe has been installed from Lake Mead Boulevard almost to Carey Avenue. He said work is ongoing on Nellis Air Force Base, with construction crews set to break ground between Owens and Stewart avenues later this year.
Motorists should expect lane closures at most cross streets near the channel between Judson and Sahara avenues as crews continue to work their way south.
Contact James DeHaven at jdehaven@reviewjournal.com or 702-477-3839. Find him on Twitter: @JamesDeHaven.