Small plane crashes at northwest Las Vegas golf course
November 2, 2017 - 6:31 pm
Updated November 2, 2017 - 11:33 pm
A small plane ended up in a pond during an emergency landing Thursday evening at a private golf course in northwest Las Vegas, police said.
First responders were called about about 5:40 p.m. about the landing at the golf course Painted Desert Golf Club, 5555 Painted Mirage Road, near Lone Mountain Road and U.S. Highway 95.
FAA spokesman Allen Kenitzer said a Beechcraft Travel Air plane "crash landed" on the golf course. "The aircraft was on final approach to the North Las Vegas airport when they reported they had lost their #1 engine," Kenitzer said in an email.
Two occupants were reported out of the plane at the course, Las Vegas Fire Department spokesman Tim Szymanski said. He pointed out the crash happened during a busy time of day, and pilots are taught to land their planes where they can do the least amount of damage in emergency situations, such as highways or fields.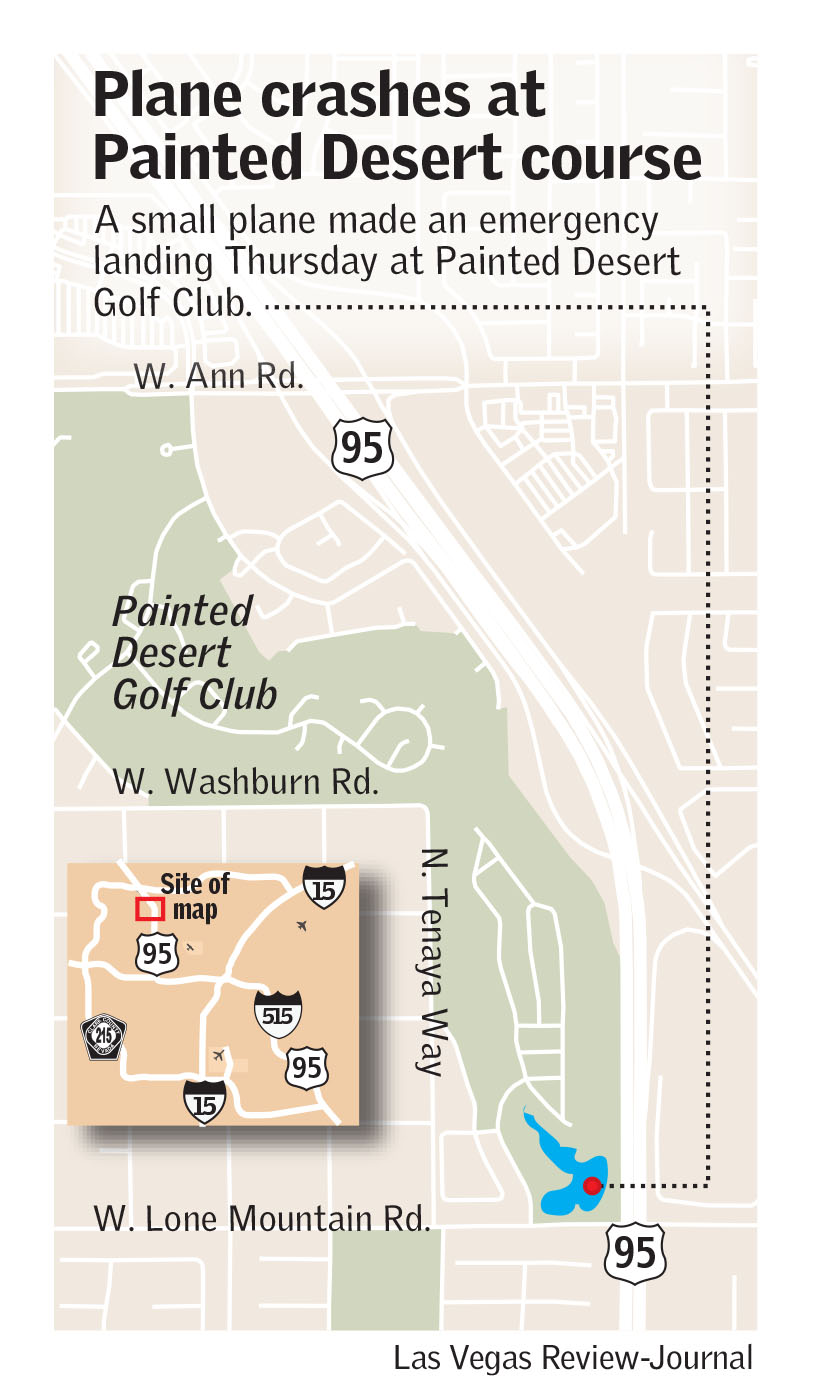 "This was probably the best possible place that they could've brought this aircraft down, and it's a commendable job what they did," Szymanski said.
The two suffered minor injuries and were taken to University Medical Center, Metropolitan Police Department spokesman Jay Rivera said.
Szymanski later tweeted the pilot reported the engine out and the plane was going to make an emergency landing, adding the pilot then reported they were in the water. He said the two occupants got out on their own and met paramedics at a nearby address.
A witness, Joe Ippolito, told the Las Vegas Review-Journal that he saw two men swim away from the plane.
He said he heard "some type of sputtering, a little bit of a thud" while standing in his driveway. He then saw the plane's tail enter the pond at the course.
"I go, 'Where's the rest of the airplane?'" Ippolito recalled saying to himself.
He said he had hoped the tail was attached to the airplane rather than parts of the plane breaking up in the air.
Ippolito, 68, said he saw what appeared to be skid marks and debris on the course near the pond before the sun set Thursday night.
A handful of people gathered on a Lone Mountain Road bridge over U.S. Highway 95 to gawk at the scene. Among them was Pablo Duran, 38, a neighbor who was sitting on the ledge with his legs hanging over the side.
Duran didn't see the crash, but he heard the sound, which he described as sounding like a crash on the highway.
"The only difference, we don't hear any tires," Duran said.
It wasn't clear Thursday night from where the plane was coming.
Roadways were not affected by the crash, police said.
The FAA and the National Transportation Safety Board will investigate the incident.
Contact Mike Shoro at mshoro@reviewjournal.com or 702-387-5290. Follow @mike_shoro on Twitter.
Small aircraft DOWN in a lake off golf corse PAINTED DESERT at US95/Ann Rd, 2 occupt's OUT minor inj's being treated by @LasVegasFD PIO1

— Las Vegas FireRescue (@LasVegasFD) November 3, 2017