Snyder focus: UNLV academic reputation, medical school
September 19, 2014 - 5:19 am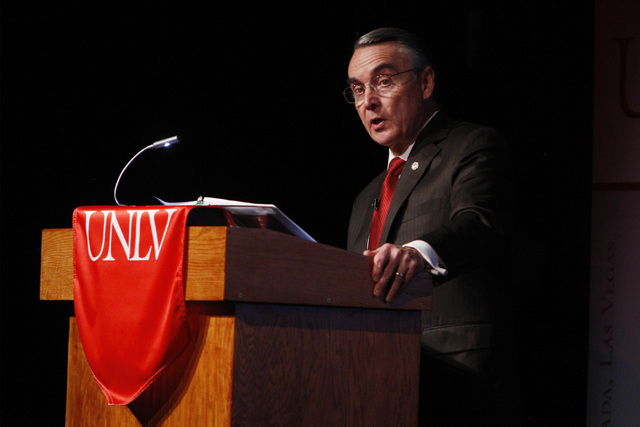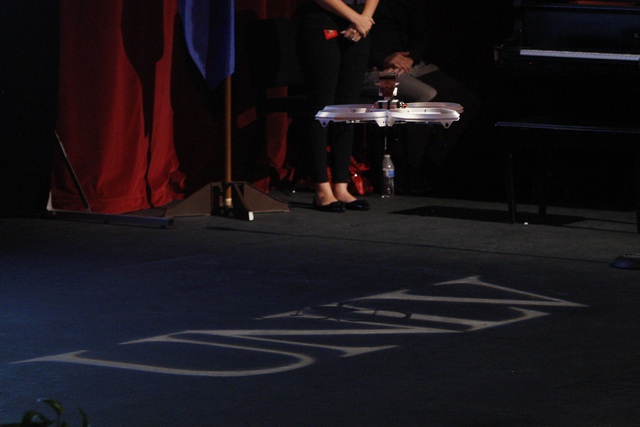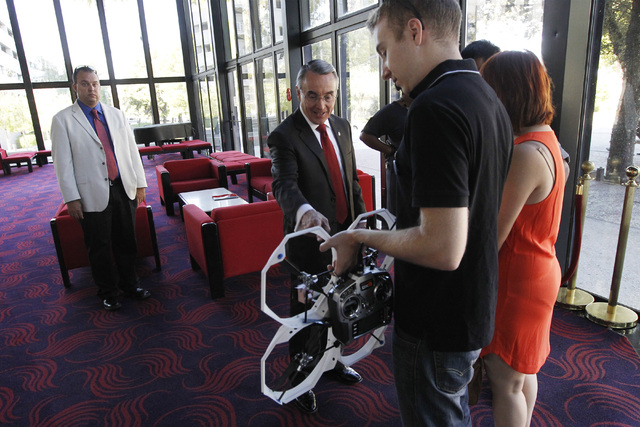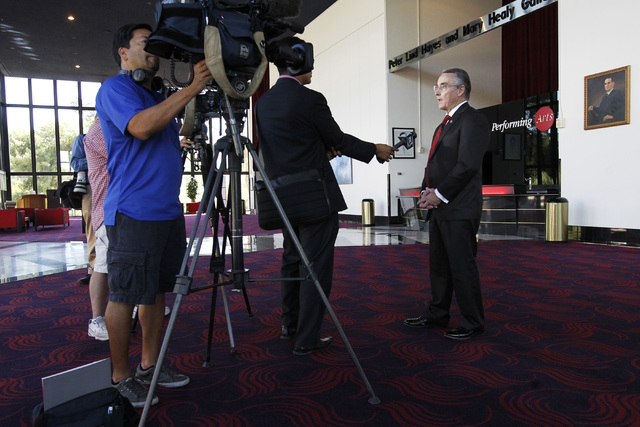 UNLV President Don Snyder remains focused on growing the university's academic reputation and creating a medical school so that 20 years from now the school will be "an academic brand name," he said during his first State of the University address Thursday.
Snyder, who has led UNLV since the Nevada System of Higher Education Board of Regents appointed him interim president in February, added that while he recognized the need for an on-campus stadium, that project will remain on hold.
He made the comments during an hourlong speech before a packed auditorium at the Judy Bayley Theatre on campus.
Synder's vision echoed that of his predecessors, focusing on the need to become a tier one Carnegie Research university, the highest designation from the Carnegie Foundation for the Advancement of Teaching.
"What we know about tier one universities is that they can double or even triple the economic impact of a region: When UNLV becomes tier one, we expect that our economic impact will go from $1.5 billion to as much as $4.5 billion. That will affect all of us — not just here on campus, not just in Las Vegas, but throughout Nevada and beyond," Snyder said.
Snyder added that tier one universities have grants and contracts totaling at least $100 million, twice that at the University of Nevada, Las Vegas, and award more than 200 doctorate degrees per year.
Snyder said 50 of the 75 tier one schools have medical schools.
Following his speech, Snyder said he believes the governor and the legislative leadership understand the need for a medical school at UNLV. Studies have shown Las Vegas is the largest metropolitan area in the nation without its own medical school.
And Snyder is also holding off on the stadium project — which could cost an estimated $523 million — for at least two years.
UNLV is seeking $26.7 million to get the medical school started.
He also noted the governor and Legislature approved the planning funding needed to build a new $57 million hotel college.
"We are raising private funding and are moving forward toward obtaining the state support for that building in the 2015 legislative session," he said.
As part of UNLV's growth, Snyder plans to increase faculty and the number of graduate students. He said faculty can expect an influx of help in seeking grants and other financial awards for their work.
"The increase in grant funding that I just mentioned will help to fund critical support positions, will restore operating budgets and will help us invest in technology solutions to, for example, help us monitor the status of our work and projects," Snyder said.
Snyder also highlighted some of the work being done at UNLV. That's when a drone from Skyworks Aerial Systems — a startup company founded by students Greg Friesmuth and Jinger Zeng — came buzzing into the auditorium and landed on the stage.
He recognized engineering professors Brendan O'Toole and Mohamed Trabia, who have worked with 4-year-old Hailey Dawson. Hailey was born with only a thumb and pinkie on one of her hands. O'Toole and Trabia have worked with her and her mother, Yong Dawson, to develop a robo-hand for the child.
Afterward, Regents Allison Stephens, Ron Knecht and Cedric Crear called Snyder's address hopeful and visionary, saying they supported his efforts toward those goals.
Meanwhile, the hunt for a new president is ongoing. Snyder, who cannot be considered for the position, said he is satisfied with his role as a bridge to the next president. Snyder, a former member of the UNLV Foundation's board of trustees and dean of the William F. Harrah College of Hotel Administration, said, "I've been a part of this university for 27 years. I will always be involved here."
Contact Francis McCabe at fmccabe@reviewjournal.com or 702-224-5512. Find him on Twitter: @fjmccabe