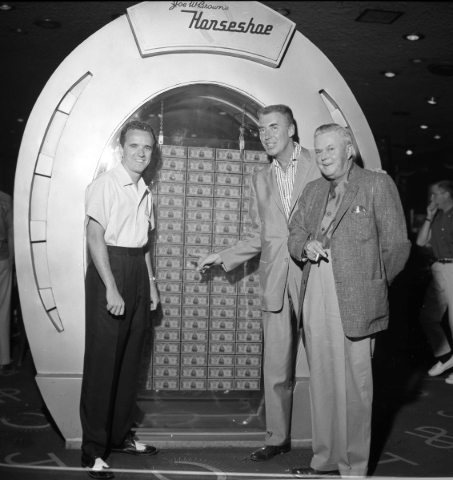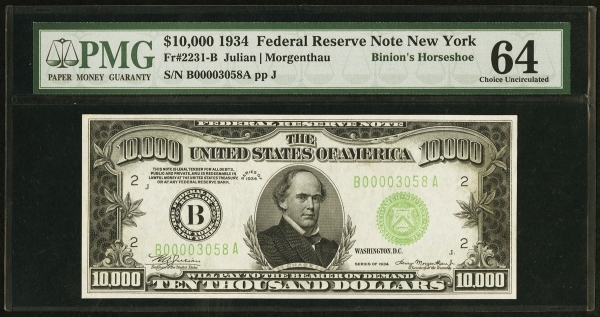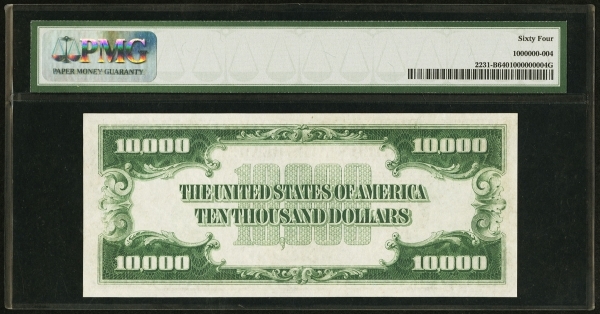 Are you desperate to own a rare piece of Las Vegas history? Are you willing to pay a lot more for it than the government says it's worth?
You're in luck.
A $10,000 bill once used to decorate the entrance to Binion's Horseshoe is up for auction. But don't forget your wallet. The bidding, which closes this afternoon, has already hit $188,000.
"They're what we call a 'trophy note' in a collection," said Dustin Johnston, director of currency sales for Dallas-based Heritage Auctions. "With only about 200 to 250 known in existence, you're looking at a pretty rare piece of American history."
The Binion family kept 100 $10,000 bills in a horseshoe-shaped case at their downtown property for nearly 50 years. More than 5 million people are said to have had their pictures taken in front of the million-dollar attraction before the hotel-casino was sold and the display taken down in the late 1990s.
Coin dealer Jay Parrino bought the entire collection in 1999 for an undisclosed sum — less than $10 million was all he would tell the Las Vegas Review-Journal in 2000 — and individual bills have sporadically hit the market since.
Heritage Auctions is selling this banknote as part of a convention of coin and currency collectors in Tampa, Fla. As of Thursday, it had accounted for almost 2,700 page views and seven bids on Heritage's website.
The $10,000 bill features a picture of Salmon Chase, who was Abraham Lincoln's Treasury secretary before becoming chief justice of the U.S. Supreme Court.
It was the largest denomination banknote ever issued to the public, but the government stopped printing it during World War II. It was mostly out of circulation by 1969, when the Nixon administration ended distribution of notes with a face value of $500 or more.
Binion's was one of the few places to see a $10,000 bill in person.
Before the display was dismantled, Johnston said, the position and serial number of each banknote was carefully recorded — information collectors can now use to find out exactly where in the horseshoe their note appeared.
"They can point to it on a postcard," he said.
It's a little hard to feel sorry for anyone who's holding a $10,000 bill, but apparently not everyone who has one is aware of its true value. Johnston said about once a year he gets a call from a bank where some poor sap has just deposited a $5,000 or $10,000 bill instead of offering it for sale to collectors.
That can be an expensive mistake. In 2015, a banner year for the Binion's banknotes, four were auctioned in separate sales that fetched between $112,500 and $188,000.
With one day to go, the bidding on this latest $10,000 bill had already surpassed a pre-auction estimate of $125,000 to $175,000.
Figures like that are tough to swallow for one widely known collector of Vegas memorabilia.
"I don't believe it," said former Lt. Gov. Lonnie Hammargren, whose central-valley mansion can barely contain all his accumulated artifacts. "Any time I try to sell something to someone, I don't get that much for it."
— Contact Henry Brean at hbrean@reviewjournal.com or 702-383-0350. Follow him: @RefriedBrean