Spontaneous New York-New York 9/11 shrine lives on at UNLV as historical collection
September 11, 2016 - 6:20 am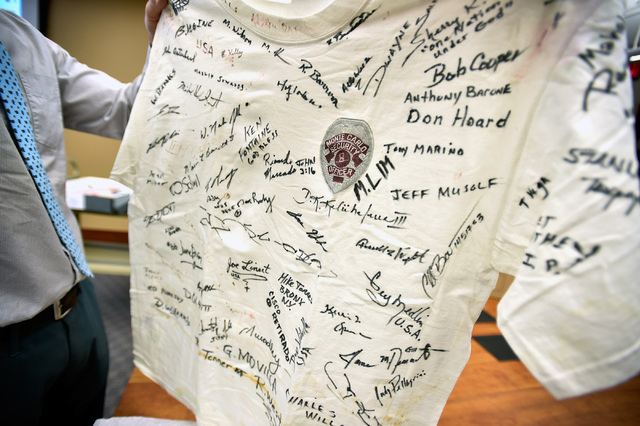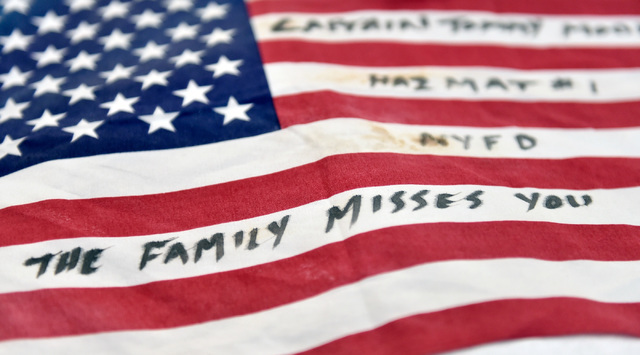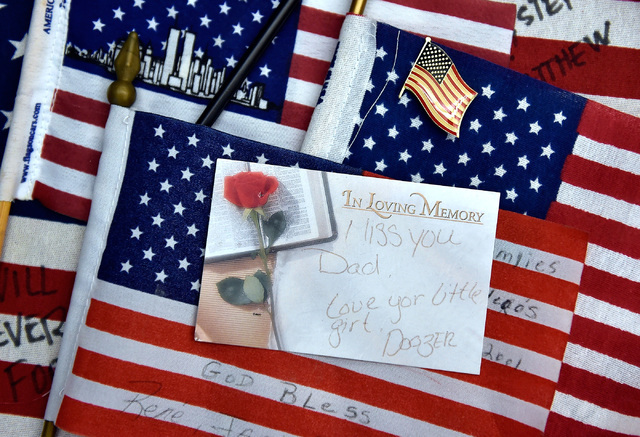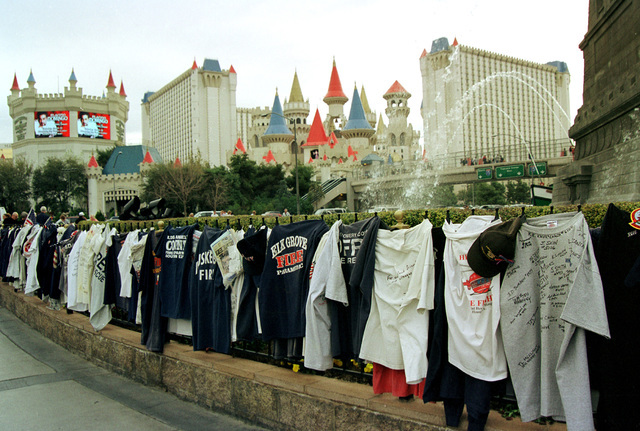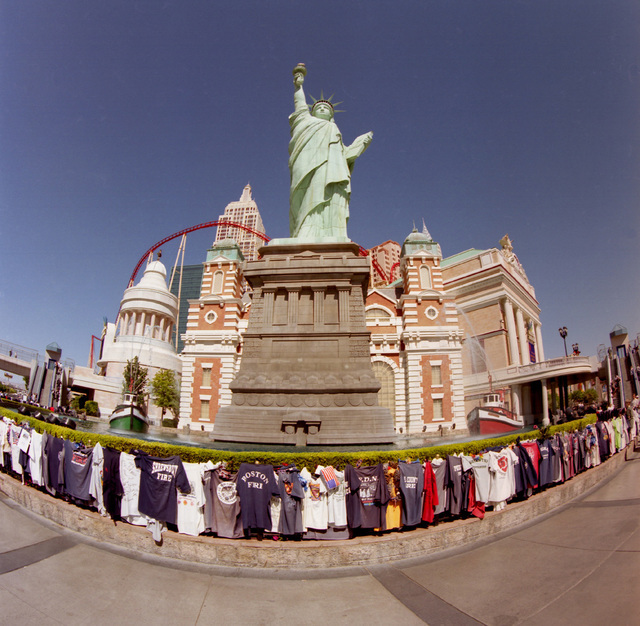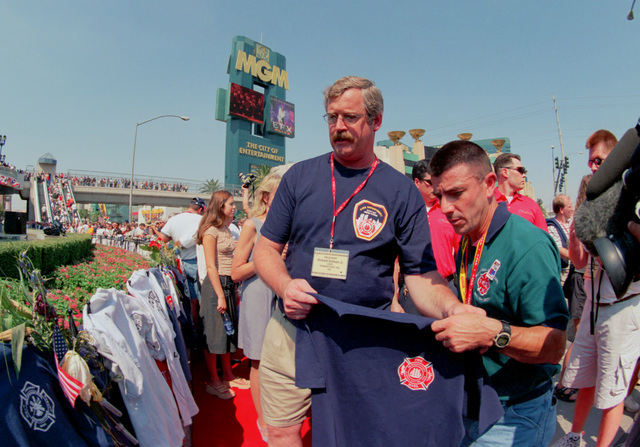 In a climate-controlled storage room at the heart of UNLV's Lied Library, a historic collection of sympathy and solidarity fills 491 boxes.
Lift the lid on any one of them, and 9/11 comes pouring out as though the past 15 years never happened.
Box 482 contains framed pictures and poems, a stuffed bear dressed in firefighter gear, a dream catcher and the embroidered uniform patches from police and fire departments across the country and around the world.
A white envelope holds a stack of laminated prayer cards, each printed with the smiling face of a fallen New York City firefighter. The one exception, smaller than the rest, is a prayer card for two young women, arm-in-arm, with matching cheekbones, olive skin and raven hair. They are Judy Fernandez and Maritess Santillan, 27-year-old cousins who went to work at the World Trade Center one morning and never came home.
SPONTANEOUS SHRINE
In the days following the Sept. 11, 2001, attacks on New York and Washington, valley residents and visitors from out of town hung photos, flags, notes and T-shirts from the wrought-iron fence in front of Las Vegas' version of New York-New York.
The impromptu public shrine 2,500 miles from ground zero lingered for years, serving as a gathering place for annual events held to mark the tragedy.
Today, nearly every scrap that was left in front of the resort can be found in Special Collections at the UNLV library, where everything has been carefully collected, cataloged and tucked away in boxes.
The New York-New York 9/11 Heroes Tribute Collection features almost 6,000 items, nearly all of them T-shirts from first responders.
If lined up end to end, the boxes of tributes would stretch nearly the length of three football fields. "There's a lot of material there," said Michelle Light, director of Special Collections at UNLV.
In December 2002, New York-New York built a row of glass and granite cases in front of the resort's faux Statue of Liberty to display items from the original memorial on a rotating basis. But visitors continued to leave tributes of their own, and UNLV continued to catalog them.
The practice largely stopped in 2013, when the display cases were removed as part of the $100 million makeover that produced The Park between New York-New York and Monte Carlo.
A commemorative plaque now marks the spot where the shrine sprang to life 15 years ago today. The only original items on public display are in the small cases MGM gave to the valley's police and fire departments.
No one is sure who first started the memorial or when.
"I think it was that morning," said David G. Schwartz, director of the Center for Gaming Research at UNLV. "If not the morning, by that afternoon."
GROWING SIGNIFICANCE
It seemed like an unlikely — even ridiculous — place for the community to express its grief: on Nevada's busiest street corner, right in front of a half-size Lady Liberty and her cartoonish tableau of New York icons.
But as the tribute quickly grew, it began to feel like hallowed ground. "Clearly this meant something to people," Schwartz said.
Schwartz joined the UNLV faculty in January 2001. Ten months later, he got a call from an official at MGM Resorts, New York-New York's parent company, looking for help with the memorial.
Schwartz soon found himself curating one of the university's most unusual collections, one that required him to learn the proper way to archive a T-shirt.
"I had to do a lot of research," he said with a laugh. "It's a little out of what we do, but it was such an exceptional time."
The shirts are now folded nicely, wrapped in acid-free tissue paper and stacked a dozen or more to a box.
Many of the shirts have holes in them where they were hung from the fence at New York-New York. A few have burn marks on them, possibly from candles lit and left at the spontaneous shrine.
Most of the shirts are from fire departments the world over. Some carry handwritten tributes to those killed in on 9/11. Some bear the signatures of everyone from a given firehouse or department.
These were not spur-of-the-moment gestures. People carried these things to Las Vegas with purpose and foresight, Schwartz said. "I think it shows solidarity."
Others, perhaps overcome by the sight of the memorial, left behind whatever they had in their pockets at the time.
A highway patrolman from California and a state trooper from Colorado impaled their business cards on the wrought-iron fence. A California firefighter added her expired membership card from the International Association of Fire Fighters.
Among the items archived in Box 482 is a snapshot from April 27, 2005, of showgirls, possibly from Fantasy at the Luxor, posing with an autographed American flag.
Another photo in the same box shows Debbie Mannetta and her two young daughters not long before the 31-year-old woman died at the World Trade Center.
People also left flowers at the memorial, but after 15 years only the cards remain. "Miss you, Daddy," reads one. "You are always in my thoughts. Your little girl Suzie."
Some of the items are faded or water-stained from the time they spent outside in the elements.
ENDURING COLLECTION
Schwartz said MGM and New York-New York deserve credit for preserving what people left behind. "They could have just thrown it out," he said.
Instead, MGM has covered all the costs associated with the collection, including the hiring of a student to catalog every item, transcribe every note and describe every shirt and flag.
"It took at least a year, maybe more," Schwartz said.
MGM Resorts spokeswoman Jenn Michaels said there was never a question about whether the shrine was worth saving.
"Our visitors were moved to do something, say something, and this location gave them a way to do that in a way that felt very meaningful to them," she said in an email. "We wanted to recognize and preserve the movement, because it was such an important moment in time and such a meaningful way of showing support."
A guide detailing all the items in the collection is available online.
The entire collection is open and available upon request to anyone who wants to look at it. The curators of Special Collections at UNLV only ask that people sort through the boxes with the proper care and respect.
Schwartz said he expects the T-shirts and other totems to be studied by someone in the decades to come, as future scholars and researchers probe questions about the early 21st century we haven't even thought to ask yet.
"That's why it's so interesting," he said. "Smarter people than me, more thoughtful people than me will know what to do with these things."
And with each passing year, the collection's historical significance should only grow.
"I'm seeing the first students who don't remember this," he said, motioning to the boxes around him. "They don't remember this happening."
Contact Henry Brean at hbrean@reviewjournal.com or 702-383-0350. Follow @RefriedBrean on Twitter.
Guide to New York-New York Hotel and Casino 9-11 Heroes Tribute Collection by Las Vegas Review-Journal on Scribd
RELATED
Memories still fresh for Las Vegans who watched 9/11 unfold