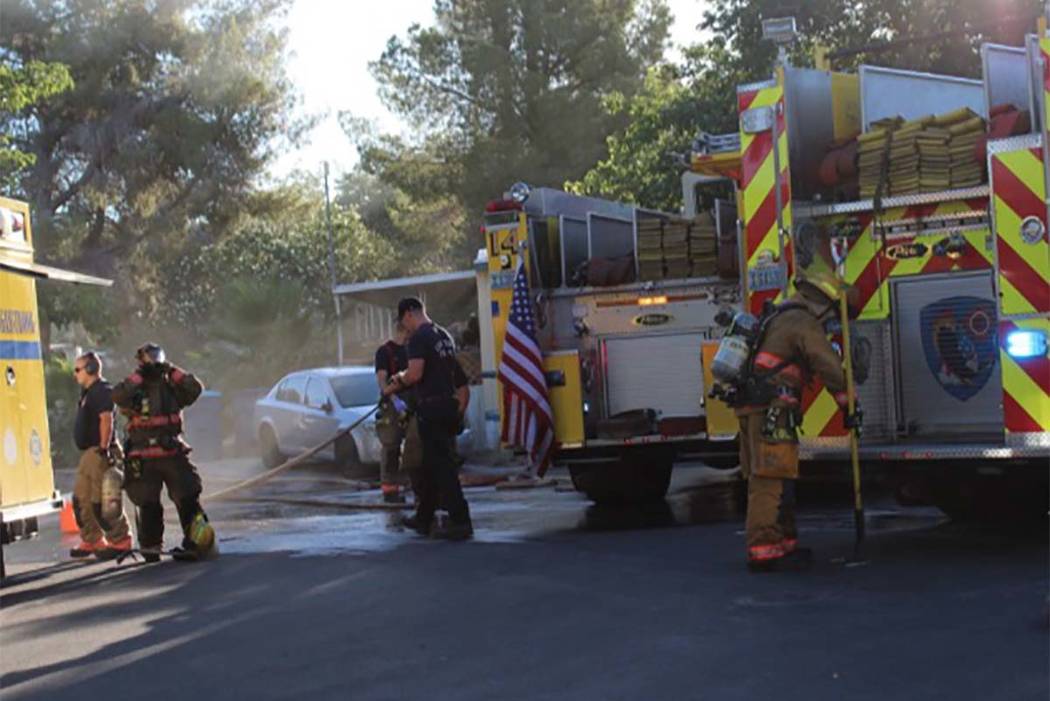 The Clark County Fire Department said squatters might be to blame after a Wednesday morning fire destroyed a mobile home in the east valley.
The fire was called in about 6:10 a.m. at the Miracle Mile mobile home park on Boulder Highway near Sahara Avenue, according to CCFD Battalion Chief Christopher Blackburn.
No injuries were reported, and firefighters quickly extinguished the blaze despite a lack of fire hydrants in the park. Blackburn said crews had to rely on the water in their trucks because the only other source of water, a type of spigot called a Jones valve, didn't provide adequate water pressure.
Neighbor Rob Mignault was coming home from his overnight shift with Walker Towing when he saw the smoke coming from the park.
Mignault raced down a side street in the park and found a pillar of smoke and flames coming from the trailer one lot away from his home.
"We're all very lucky," Mignault said. "Thank God it wasn't windy."
Mignault and his wife went from trailer to trailer in their cul-de-sac and woke up neighbors to get them out of their homes. He said one of his neighbors tried to help out by spraying the blaze with a garden hose.
"What a way to get off work," he laughed.
The fire was out within half an hour. Blackburn said it was likely caused by squatters.
The trailer that caught fire has been vacant since the former resident died in December, Mignault said, and squatters are a constant problem in the park.
"We try to chase them off, and it's working bit by bit," he said.
Contact Max Michor at mmichor@reviewjournal.com or 702-383-0381. Follow @MaxMichor on Twitter.
3642 Boulder Highway, las vegas, nv