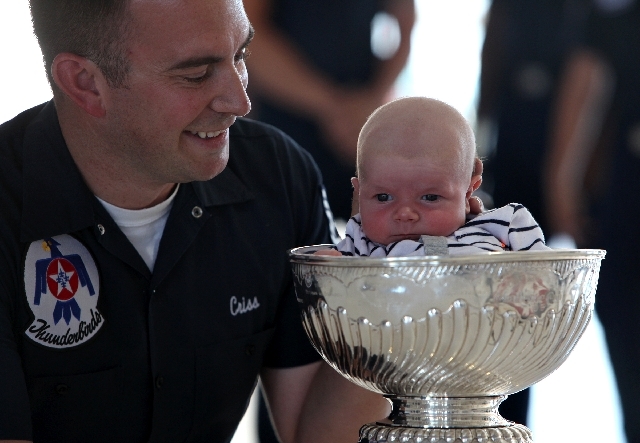 Their ages declare their adulthood, but a few seconds with this legendary piece of silver known as the Stanley Cup and they giggle and laugh and smile like tykes gripping their first toys.
Take 55-year-old Tony Lang, a Las Vegas real estate broker wearing a Chicago Blackhawks sweater who couldn't help letting out a kid-like squeal Monday night after posing next to North America's most magical sports trophy at the Gold Spike in downtown Las Vegas.
"It's surreal," Lang said moments after a photographer snapped a photo of the middle-aged man and the Cup. "It's a trophy of legends. It's the most awesome trophy in history."
It was Blackhawks owner Rocky Wirtz who brought so much hockey joy to Las Vegas when the beverage company owner arrived on a private jet at 4 p.m. to share professional hockey's holy grail with Wirtz Beverage Nevada employees, military personnel at Nellis Air Force Base and industry contacts at the Bellagio.
The Cup is staying less then 24 hours in Sin City, but that cylinder of silver with player names of every NHL championship team engraved on its side left a trail of joy in its wake.
"If I took it out of its case and placed it on the Strip, it would stop traffic," Wirtz said. "It has magnetism."
Wirtz brought the Cup to the Gold Spike to show his support for downtown Las Vegas and revitalization initiatives such as the Life Is Beautiful festival. Wirtz Beverage is a sponsor of the three-day art, music and culinary festival.
From Tony Hsieh, the Zappos.com chief executive/downtown developer, to 20-something downtown employees like Brittany Destree who works at a fashion incubator for young designers called the Stitch Factory, the cool hipniks were buddying up with the Cup.
Hsieh donned a red Blackhawks sweater with star player Pat Kane's number 88 on the back. Asked whether he was really a Blackhawks fan, the downtown developer uttered, "I am now."
Rehan Choudhry, Hsieh's friend and founder of the Life Is Beautiful festival, said Wirtz's business culture is consistent with Hsieh's Downtown Project, which is revitalizing the downtown core.
"We believe we can do great things together," Choudhry said. "This is just one of thousands of things we can do together."
The Cup is making a whirlwind tour of Sin City. From Signature Flight Support at McCarran International Airport, it was hustled to the Nellis base, where airmen enjoyed the silver visitor.
Then it was transported to the Gold Spike, the former downtown hotel recently added to the Downtown Project's property portfolio. The Cup ended the night at the Bellagio, hanging with another great icon — the casino-hotel's fountains and hundreds of fans.
The Cup has an early morning today , off to a Wirtz Beverage center in North Las Vegas for a 5 to 9 a.m. photo session. Then Wirtz, the Cup's handler and Blackhawks video and photo staffers jet to Reno for a round of photo opps with Wirtz company employees in Northern Nevada.
"We can do a lot of fun stuff, but this is the highlight," said Blackhawks fan Benny Burton, a 40-year-old bartender hanging with his fellow UNLV grad and pal Michael Skenandore at the Gold Spike. "We won the Cup, and my blood is still pumping."
Contact reporter Alan Snel at asnel@reviewjournal.com or 702-387-5273.