State approves $2.1 million for troubled Rawson-Neal Psychiatric Hospital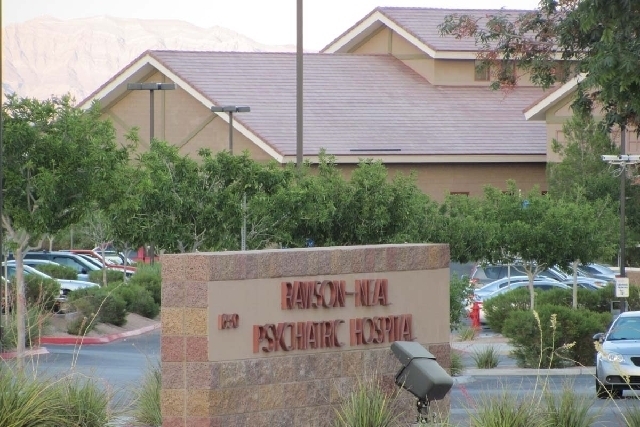 State lawmakers funneled $2.1 million to improve conditions at troubled Rawson-Neal Psychiatric Hospital in Las Vegas on Tuesday, only to find that a second state hospital in Northern Nevada is being sued over wait times for admitting patients referred by criminal court.
"I'm extremely frustrated that we are here. That we feel like we are in crisis," said Sen. Debbie Smith, D-Sparks, chairwoman of the Legislature's Interim Finance Committee, which approved releasing the funds to the state hospital during a special meeting in Carson City. "We just have to acknowledge the fact that we need more money."
Rawson-Neal lost its accreditation and was hit with a federal lawsuit in the aftermath of allegations of patient dumping and improper record keeping earlier this year. Scrutiny of the Las Vegas hospital became intense after Rawson-Neal discharged James F. Brown, 48, to Sacramento, Calif., in February with no support or family waiting for him.
At Tuesday's meeting, which was videoconferenced to Las Vegas, lawmakers learned that the Clark County public defender's office has filed a lawsuit against Lake's Crossing Center over the significant increase in the wait list for admissions to the maximum security facility in Sparks where the mental competency of offenders referred by the court system is evaluated. In November, the wait list averaged six people. In July, the average number of people awaiting admissions went up to 36.
The lawsuit was filed in June. State officials met with representatives from the public defender's office in mid-July to discuss lawsuit settlement options. It was determined the real problem is the lack of such services in Clark County, said Mike Willden, director of the Nevada Department of Health and Human Services. Lake's Crossing is now the only state facility that conducts such evaluations in criminal cases.
"Long-term, we need a forensic solution in the south," Willden said.
TARGETED IMPROVEMENTS
The funds approved for Rawson-Neal are from a $4 million contingency account that had been set aside for improvements at the Las Vegas hospital. The $2.1 million will help Southern Nevada Adult Mental Health Services, which oversees Rawson-Neal, reduce the backlog of mental patients crowding valley emergency rooms, a population that increased by 83 percent from April to July.
It will also fund the hire of 11 additional staff members for the mental health services agency and 12 contract employees, Willden said. A building on the Rawson-Neal campus will be remodeled to provide up to 22 additional beds, and a "drop-in center" will be opened to help decrease the number of patients going to valley emergency rooms.
"I think it will make a difference," said Sen. Mo Denis, D-Las Vegas, of the $2.1 million. Budget cuts that state mental health services had to absorb in the last few years and difficulty in hiring mental health professionals have contributed to the problem, he added.
Most of the slated Rawson-Neal improvements are the same as those highlighted in investigations by federal officials and suggested by two national experts hired by the state.
The improvements also will help Rawson-Neal regain accreditation from the Joint Commission, an independent organization that issued Rawson-Neal a preliminary denial of accreditation in July, which state officials chose not to appeal. Gov. Brian Sandoval then requested the special meeting of the Interim Finance Committee to expedite the release of the already budgeted funds.
REGAINING ACCREDITATION
On July 29, state officials filed a new application for accreditation, Willden said. It typically costs around $30,000 to apply for accreditation.
Mary Woods, spokeswoman for the Nevada Department of Health and Human Services, said Rawson-Neal will receive an unannounced inspection from the Joint Commission after Dec. 9.
"It's going to take a whole evaluation of the system" to get Rawson-Neal back on track, said Assemblywoman Maggie Carlton, D-Las Vegas. If the state wants a good mental health system, then it has to pay for a good mental health system, she added.
Lawmakers tabled a second proposal to renovate an old psychiatric hospital in Las Vegas to relieve Rawson-Neal and Lake's Crossing for consideration later this month. Legislators worried that approving the proposed renovation would divert $3 million in funds now earmarked for other Lake's Crossing projects deemed critical for patient safety.
Officials at the state's Department of Health and Human Services were asked to bring back a different proposal at the committee's Aug. 29 meeting.
Contact Yesenia Amaro at yamaro@reviewjournal.com or 702-383-0440.