State has inexpensive trees for sale for conservation purposes
October 10, 2011 - 12:59 am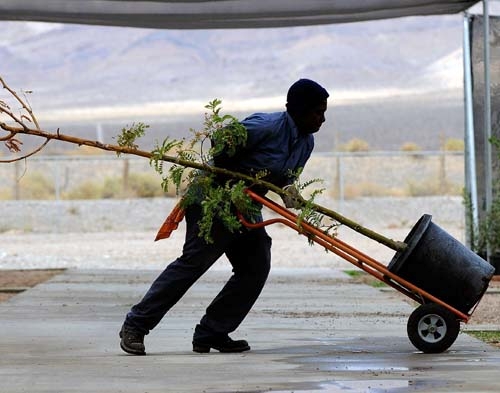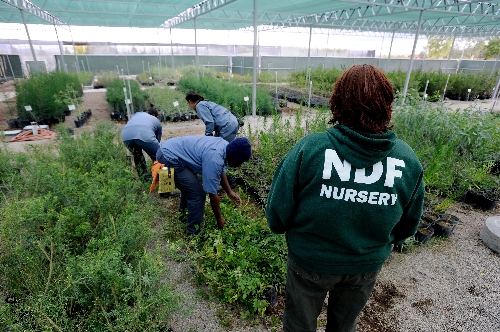 CARSON CITY — Want to buy some trees and plants real cheap?
How about a 15-gallon acacia or desert willow tree for $15.
Or perennials for $2 and shrubs for $5?
Those and more desert greenery will be offered for sale Oct. 15 at two little-known nurseries operated by the Nevada Division of Forestry in Las Vegas and the Reno-Carson City area.
But there's a catch. To purchase anything from either nursery, you must swear the plants and trees you buy are for conservation purposes, and own at least one acre of land, a regulation that has not always been enforced.
Under the forestry division's rules, plants must be used for such things as erosion control, water conservation, wetland replacement, wildlife habitat, wind breaks and reforesting of burned areas.
That doesn't mean the nurseries sell only ugly, utilitarian plants. Wild and hedge roses, flax and globe mallows also are sold — for a few dollars each.
HOW THE PROGRAM WORKS
The nurseries were established in 1957 by the state to provide plant materials native to the Mojave Desert, Great Basin and Sierra Nevada to private land owners and public agencies.
The goal was to offer tree seedlings, shrubs, seeds and plants that could be used for conservation purposes at a time when the state population was much smaller and there were few private nurseries.
The state's two nurseries also have been charged with developing ways to better grow endangered plants, such as the Las Vegas buckwheat, now available at the nursery in northwest Las Vegas near Floyd Lamb Park.
"We are trying to get the right plants into the Las Vegas Valley," said Amy Dunn, manager of the Las Vegas nursery. "You are getting plants adapted to the desert, not something shipped in. It is best to buy something grown outside here and hardened off."
Master gardeners will be on hand at the annual plant sale to help people find the right plants.
Too often newcomers buy plants that use too much water, or grow them under power lines, Dunn said.
Most of the plants sold in the Las Vegas nursery are native species grown from seeds. Many use little water. Customers receive guide sheets that tell how tall the plant will grow, how long it will live and what its water needs are.
The nursery's staff includes a dozen female inmates from the Jean Conservation Camp who are paid $2 per hour. Inmates from the Southern Nevada Correctional Center also work there.
Using inmate labor has not caused any problems.
"We take care of the customers," Dunn said. "They don't do the selling and talking. A lot of these girls never have had jobs before. It teaches them how to work. After they are here awhile, they take pride in their work."
Because of Las Vegas' usually frost-free climate, the nursery even grows about 30 percent of the stock for the state nursery in Northern Nevada. Plants sold there are more adapted for the Great Basin and Sierra Nevada.
NO TAXPAYER SUPPORT
Scott Sisco, the administrative services officer for the Division of Forestry, said the two nurseries receive no state support and their $340,000 annual budgets are based on projected sales.
But Dunn said it has been hard to stay afloat since the beginning of the recession in 2007.
"Our economy is so bad that we are struggling to stay open," Dunn said.
"No one wants to buy plants for the houses they are losing. Our sales reflect the housing boom and bust. Governments also are just not throwing money around to buy plants anymore."
Her nursery sells about 100,000 plants a year, with 70 percent of sales going to the U.S. Forest Service and Bureau of Land Management and to agencies such as the Southern Nevada Water Authority.
Bronson Mack, a water authority spokesman, said his agency has purchased creosote bushes, desert willow, Gooding willow, mesquite and other plants for planting in the Las Vegas Wash.
The water authority continues to replace non-native species in a 12-mile stretch of the wash with plants native to the desert.
NO MERCHANT COMPLAINTS
With such low prices, one would expect private nurseries might cry foul.
But Dunn said she never has heard a private nursery owner complain the nurseries are unfair competition.
"I don't think it is an issue," Sisco added.
Maybe that's because the nurseries remain largely a secret.
Even though they were started generations ago, their existence remains unknown even to some people in the plant industry.
"I am not familiar with them, or how they operate," said David Dabner, president of the Nevada Landscape Association.
None of five private nursery owners in Las Vegas returned repeated phone calls seeking comment.
And legislators didn't raise any objections to the programs during state budget hearings in the spring.
At those hearings, state Forester Pete Anderson said the very existence of the nurseries depends on improved sales. Anderson said more plants are being grown and sold through contracts with government agencies.
Contact Capital Bureau Chief Ed Vogel at evogel@reviewjournal.com or 775-687-3900.
LAS VEGAS STATE NURSERY
The Las Vegas State Tree Nursery will be open from 9 a.m. to 3 p.m. Saturday for its annual plant sale. Its regular hours are 9 a.m. to 3 p.m. Tuesday through Friday. It is at 9600 Tule Spring Drive, with free access through Floyd Lamb Park.