State to juggle simultaneous road work on Tropicana and Flamingo next summer
February 26, 2015 - 7:06 pm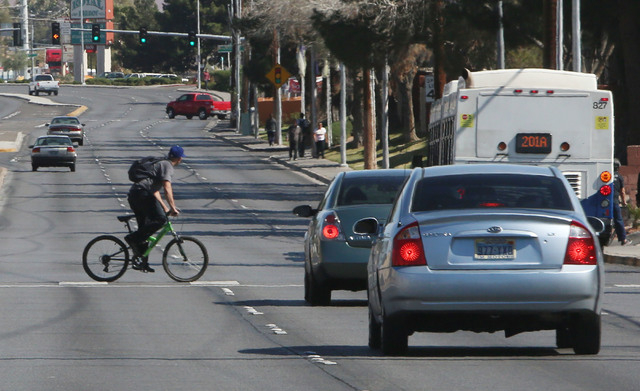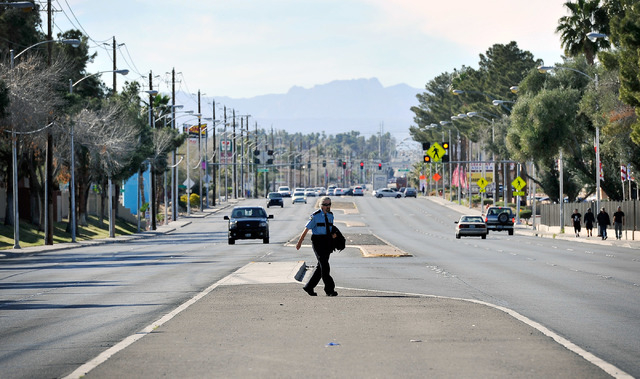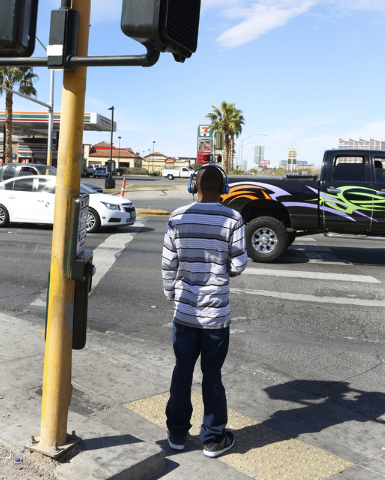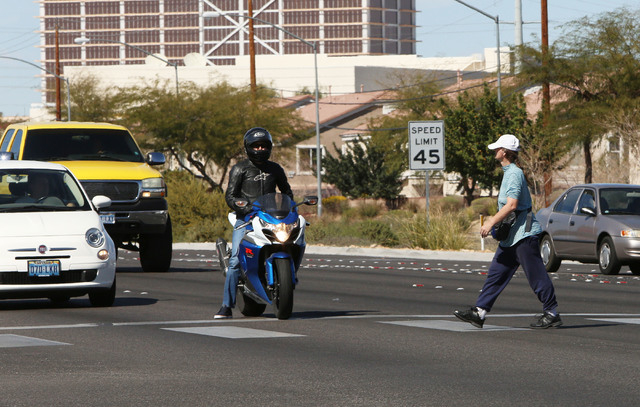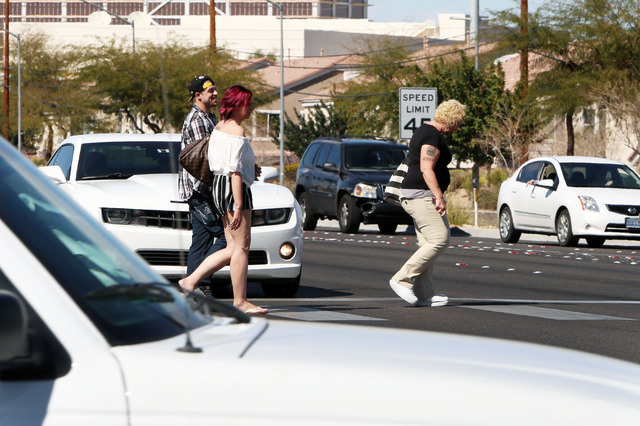 When Nevada Transportation Department contractors start work on a project designed to make Tropicana Avenue safer for motorists and pedestrians in the fall, they will be required to coordinate efforts with workers on a parallel project a mile away.
Chris Petersen, senior road designer for the department, said at a Wednesday public meeting the contractors will be directed to minimize the time lanes are restricted for traffic flowing the same direction on Tropicana and on Flamingo Road.
Both Tropicana and Flamingo are major east-west thoroughfares.
The first phase of a multi-year Tropicana improvement program will affect traffic on 4 miles between Eastern Avenue and Boulder Highway. NDOT is expected to advertise bids in the summer with work starting by fall.
The estimated $7 million project will include installation of channeled left-turn lanes and widening some sidewalks to comply with the Americans With Disability Act.
The second phase, which isn't expected to begstartin until fall 2016 and could take two seasons to complete, will involve more sidewalk widening and other pedestrian safety measures.
For now, Transportation Department officials are focused on the first phase, which will add median barriers to prevent motorists from making left turns from side streets onto Tropicana.
"When we studied the traffic in 2013, we (found) a number of drivers who were frustrated when they tried to turn left from one of the side streets onto Tropicana," Petersen said. "What would happen is after waiting for a break in traffic, a driver would look for a smaller opening and take a chance, thinking, 'Oh, he'll see me, I can make it.' "
Instead, there were collisions and sideswipes. Median barriers will force motorists to make a right turn from the side street and drive to the next intersection to make a U-turn.
The department said that between July 2009 and June 2012, there were 235 traffic accidents, 181 injuries and five fatalities on Tropicana between Eastern and Boulder Highway.
Transportation Department spokesman Tony Illia said engineers opted to take on the Tropicana project at roughly the same time as a major repaving and bus lane refurbishment on Flamingo Road.
The Flamingo project is being driven mainly by the Regional Transportation Commission of Southern Nevada, which last week had its own public meeting to explain the details of what will be a 14-mile project.
The Flamingo project will be staggered so there will be two 3½- to 4-mile sections under construction at a time, one east of Interstate 15 and one west.
The project runs from Grand Canyon Drive to Jimmy Durante Boulevard, which is about a mile east of Boulder Highway. Las Vegas Paving has been awarded the contract for the Flamingo project.
Petersen said the Tropicana contract requires the bid winner to coordinate with Las Vegas Paving to avoid having lane restrictions in place on Flamingo and Tropicana at the same time because they would serve as alternative routes when the work is underway.