Station Casinos times fireworks to radio playlist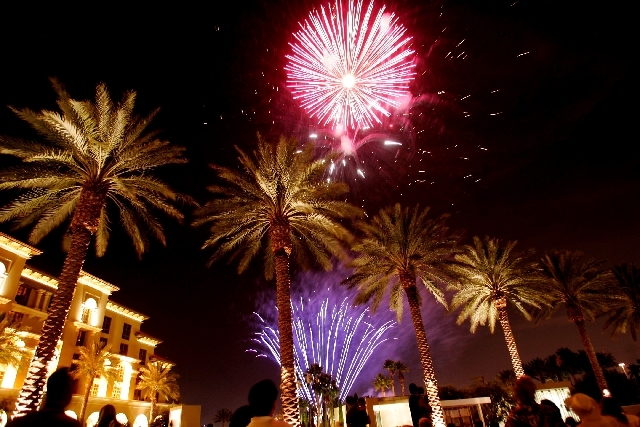 Twelve technicians spent four days and 530 man hours to choreograph and design Thursday's 10.3-minute fireworks display at Red Rock Station and Green Valley Ranch.
"Every shell is timed for a specific moment," said Jeff Schneider, chief pyrotechnician. "It's not about how many shell cases you have on the ground, but what you have in the sky."
Fireworks by Grucci's free, synchronized shows timed to 11 songs on 102.7 FM and 96.3 FM will start simultaneously around 9 p.m.
"At the 4:35 mark, red heart patterns will be in the sky during 'All You Need is Love,' " Schneider said. "Both Green Valley Ranch and Red Rock will start and finish together." Schneider said the excessive heat — temperatures are expected to hit 113 degrees — does not affect the fireworks show, but Nelson emphasized the importance of trying to stay cool.
Green Valley Ranch will have a water station for patrons to use, but everyone can bring their own drinks in a plastic bottle.
Las Vegas police asked citizens to report suspicious activity this weekend. Although police aren't investigating any credible threats, Capt. Chris Jones said police resources were "stretched thin" with about 70 events across the valley this weekend.
Jones said people should report any activity, such as someone who drops a bag and walks away, or someone who doesn't appear interested in the event.
"Remain vigilant," Jones said. "If you see anything suspicious, we would rather you call us and be wrong than to not call us and have something happen."
Both venues have carved out a public viewing area for guests. The Paseo Verde garage roof will be available for those at Green Valley Ranch, and the northeast surface parking lot at the corner of Charleston Boulevard and Pavilion Center Drive will be available for those watching at Red Rock.
"From the time they packed up from last year's event, they've been preparing for this year's event," Nelson said. "It's taken several months to put this show together."
Reporter Mike Blasky contributed to this report. Contact Steven Slivka at SSlivka@reviewjournal.com or 702-383-0264.
Related Story
Valley skies will sparkle July Fourth with multiple fireworks shows