Stavros Anthony announces candidacy for Las Vegas mayor
January 20, 2015 - 4:24 pm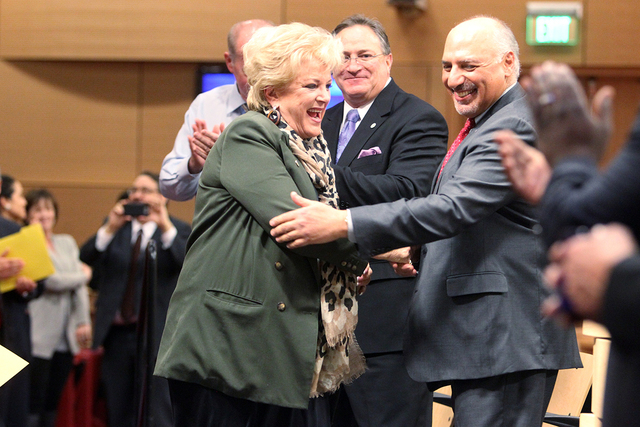 Mayor Carolyn Goodman's first re-election opponent is her right-hand man.
Mayor Pro Tem Stavros Anthony on Tuesday announced he will run against the mayor in the Las Vegas municipal election this spring.
Rumors of Anthony's candidacy had swirled around City Hall in the weeks since the Ward 4 councilman found himself on the losing end of a divisive 4-3 vote to move ahead with a publicly subsidized 24,000-seat, $200 million downtown soccer stadium.
Anthony, a vocal opponent of spending some $56.5 million in city funds to help pay for the project, has helped fellow council members Bob Beers and Lois Tarkanian collect signatures in an effort to put the issue alongside his name on the June ballot.
City Hall last week announced that he and other stadium subsidy foes would need an extra 6,000 signatures to put the stadium up for a public referendum, a move Anthony said finally pushed him into the mayoral race.
"I think the tipping point was not allowing the public to vote on this, because the people wanted to vote on this," the former Metro officer said.
Tuesday's announcement comes four days before signatures collected in support of a stadium funding ballot initiative are due to the city clerk.
Anthony plans to build his mayoral campaign around the issue whether or not it makes it to the ballot box.
"The platform is going to be the stadium, parks and allowing people to vote (on the stadium)," he said. "That, and spending more time focused on neighborhoods.
"I think people are so against the stadium that they'll vote for me."
Anthony's bet — that people dislike the stadium more than they like Goodman — might at first appear to have long odds.
The mayor, together with husband and former Mayor Oscar Goodman, have made political careers out of being Las Vegas' most enthusiastic cheerleaders for downtown redevelopment and neither has ever shied away from using public money to do it.
Goodman's re-election bid also benefits from unrivaled name recognition and a campaign war chest roughly 91 times the size of Anthony's.
Meanwhile, Anthony — who is already using some of those campaign funds to support the anti-stadium subsidy ballot initiative — has been a quiet but steadfast opponent of public development subsidies since he was first elected in 2009.
Six years later, he figures the tides of public opinion have turned in his favor, but admitted his first mayoral campaign could be a choppy ride.
"It's going to be tough," Anthony said. "Obviously people know the Goodman name. … But I think I have the votes."
Goodman, who backed Anthony's 2013 re-election campaign, said she was neither hurt nor surprised by Tuesday's announcement.
Public outcry over stadium subsidy deals has led to the ouster of mayors and public officials in other cities. For example, Miami-Dade County Mayor Carlos Alvarez was recalled after he helped approve $490 million to help build a new Miami Marlins ballpark in 2011.
But Goodman doesn't see the upcoming election as a referendum on the stadium issue so much as a referendum on the city's future.
The first-term mayor would like to see Las Vegas land both professional hockey and soccer franchises over the next few years. She hopes Anthony has equally ambitious plans.
"My reaction is I'm doing everything I can to move the city forward," Goodman said. "I really have nothing to say. … I worked very hard to get him elected and I hope he wants to move the city forward.
"The only thing I can tell you is that he told me several months back I was doing such a great job, he wouldn't want (to run)."
Anthony, a registered Republican, has raised $1,500 in campaign funds since the start of 2014, according to his latest election filing.
Goodman, a registered independent, raised almost $137,000 over that same time period.
Powerful outside opponents of the downtown stadium project, including Boyd Gaming and the Culinary Union, could help Anthony take a big bite out of that fundraising gap.
Donating to his campaign could be seen as a last refuge for those groups should an oft-touted anti-stadium subsidy initiative fail over the weekend.
Goodman campaign manager Bradley Mayer recognized the possibility of monied stadium opponents lining up behind Anthony, but said it's not the kind of development that could sway the race.
"Money is the lifeblood of politics," Mayer said. "So (Anthony's) going to have to raise money from people who share common ground.
"You run scared or you don't run at all."
Anthony campaign manager and fellow stadium subsidy foe Lisa Mayo-DeRiso said Anthony won't need as much money as Goodman in order to beat her, nor will he need to get a stadium subsidy initiative alongside his name on the ballot.
The stadium, Mayo said, is already creating its own political weather — a potential storm for Goodman that she thinks Anthony would be foolish to miss.
She figures the stadium could also cast a shadow on re-election bids soon to be launched by other stadium backers.
Mayo said she tried to recruit Adriana Martinez to run against Councilman Bob Coffin in Las Vegas' Ward 3. Martinez, a campaign manager and former community liaison to Councilwoman Tarkanian, lost a 2011 bid for Coffin's seat by fewer than 250 votes.
Mayo reports she has several other promising prospects to run up against Coffin and Ward 5 Councilman Ricki Barlow, but declined to name names ahead of a filing period that will start Jan 27.
Candidates for municipal races will have until Feb. 6 to file with the city clerk's office.
The primary will be April 7, and the general, if needed, June 2.
Review-Journal writer Ricardo Torres contributed to this report. Contact James DeHaven at jdehaven@reviewjournal.com or 702-477-3839. Find him on Twitter: @James DeHaven.