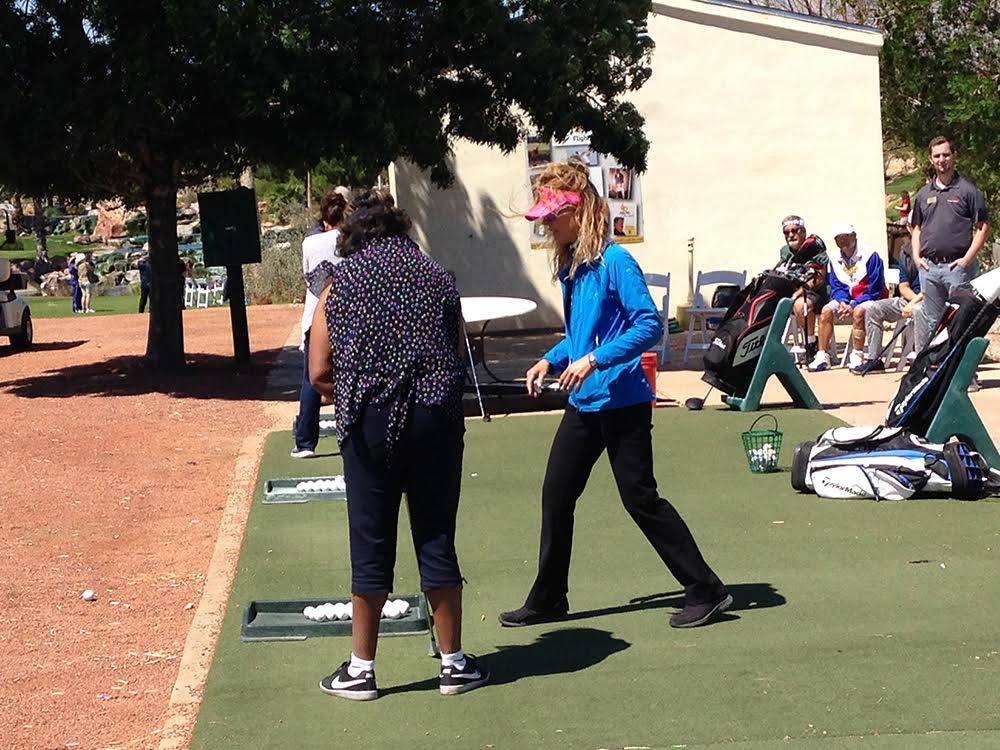 Van VanBlake of Summerlin was a serious golfer before he suffered a debilitating stroke.
"I was totally paralyzed on my left side. … I didn't know what had happened," he said.
VanBlake since has regained about 80 percent of his mobility. He and about 50 other stroke survivors congregated April 21 at Angel Park Golf Course, 100 S. Rampart Blvd., as part of Saving Strokes, a program through the American Heart Association and American Stroke Association.
Some were diehard golfers before their strokes; others had never played. VanBlake, 75, said he'd been training for the 2012 Rock 'n' Roll Las Vegas Marathon and Half Marathon by walking three hours every day. One morning as he got out of bed to train, he collapsed.
VanBlake was rushed to the hospital, where it was determined he'd had a stroke.
"I couldn't believe it," he said. "I'd done everything right, everything I was supposed to do to prevent those kinds of problems … but I had one."
VanBlake said he still plays golf and joked, "It's just not very pretty."
Saving Strokes is part socialization, which was good because wind was delaying proceedings at the golf course. Participants told their stories as they waited for things to calm down.
Adam Alberico was there with his service dog, Westley, who springs into action at the sign of body tremors. The dog will nose-tap a sensor on Alberico's wrist, which sends a signal to a 24-hour call center. Alberico's stroke occurred while he was on the job, typing intake information at the emergency room at Summerlin Hospital on Jan. 24, 2014. A co-worker noticed his confused state and he was whisked to the emergency room.
Alberico's stroke left him with speech and cognitive issues, including the inability to remember names and his past. His solution: tattoos. On his left arm is the date of his stroke. Another tattoo gives the time of the half-marathon he did post-stroke: three hours, three minutes and seven seconds.
"I wanted to prove to myself that I could do things after my stroke," he said proudly, then pointed to another tattoo.
It showed he'd been a firefighter, played hockey and worked in the medical field. His voice turned soft and he said, "So, every day I look at it and remember who I was."
Wayne Tao, 67, had his stroke in November. His wife, Ann, is his caregiver and explained for him.
"He was on his way to work when kid ran a red light and hit him," she said. "He had brain bleeds but (during an angiogram) had a stroke. … He was pharmacist and now, he can't work."
After the delay at Angel Park Golf Course, things got going. Those in wheelchairs were given escorts, who stuck out because of their lab coats or scrubs.
Others used canes or walkers to get to the waiting golf carts. Chairs ringed the putting green where Tom Utsler, a PGA pro from Eagle Crest Golf Club, greeted them. He assured attendees that this portion of the game did not require strength or athletic ability.
"You're just rolling the ball," Utsler told attendees.
VanBlake had another idea.
"Just set it down and let the wind move it along," he joked.
At the driving range, Patti Parker left her wheelchair and oxygen tank to shakily try her hand at hitting the ball. An attendant helped her stand as Parker used one hand to wield the club. She tapped more than swung. The golf ball rolled at an angle, going 5 or 6 feet — worthy of celebration as Parker had suffered not one but four strokes. The first was in 2003.
"I thought I was going to die," she recalled and told how, these days, she tries to do more each day.
"I just want to get back to my normal life," she said.
Contact Jan Hogan at jhogan@reviewjournal.com or 702-387-2949.
Saving Strokes growth
The program got its start in Sacramento, California, in 2001, with 26 participants. It's now in Nevada, Arizona, California, Idaho, Hawaii, Oregon, Montana, Utah and Washington and sees more 1,000 participants each year.
100 S. Rampart Blvd.