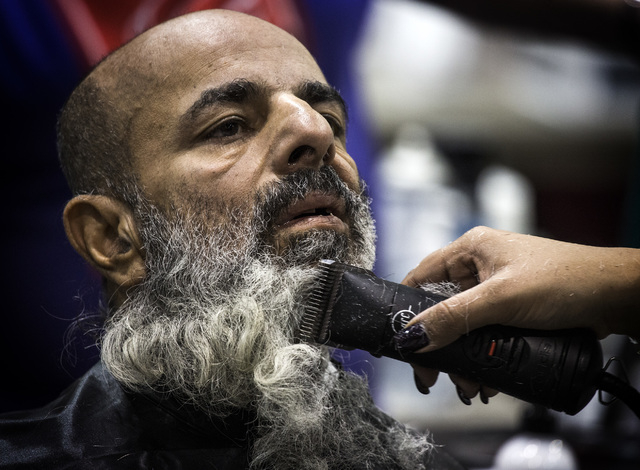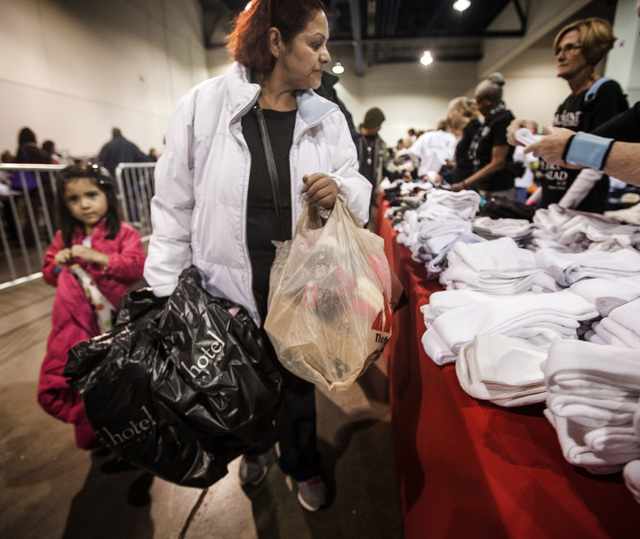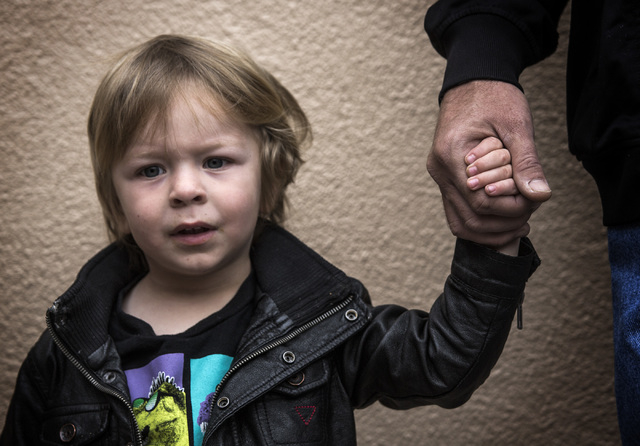 Sehida Maldonado carried several bags full of free clothes as her 4-year-old daughter trailed behind her on Wednesday.
The 44-year-old mother was among the 2,900 people who were homeless, or at risk of becoming so, that lined up at Cashman Center in the early morning hours to seek crucial services at the annual Project Homeless Connect.
Maldonado's husband was deported to Mexico three years ago. She is now living with her sister and raising three children on her own.
"This will help us people who have nothing," she said, adding that she got free sweaters, jackets, socks and shampoo.
The event was coordinated by the Nevada Homeless Alliance in partnership with the Southern Nevada Regional Planning Coalition's Committee on Homelessness' Regional Initiatives Office.
It provided access to free clothing, food, grooming services, mental health counseling, pet services, and job training to those in need.
About 130 different community organizations participated, said Stacy Sutton Pollard, executive director of the Nevada Homeless Alliance.
About 200 volunteers signed up to help about a week ago, she said.
Last year's event drew some 3,000 people, and the goal this year was to serve about the same, Pollard said. "I honestly hope that they get meaningful connections to the services they need."
Las Vegas was one of six U.S. cities that saw the largest increases in rates of children living in poverty between 2005 and 2013, according to the Annie E. Casey Foundation, which based the assessment on data from the 2013 American Community Survey. Las Vegas saw a 75 percent increase in its child poverty rate between 2005 and 2013.
Southern Nevada also saw a 28 percent increase in its homeless population from 2013, with a total count of 9,417 homeless individuals in 2014, according to the Southern Nevada Homeless Census & Survey released in May.
Daniela Gutierrez, 28, held her son Francisco, who is almost a year old, as she waited in line for services. The single mother of three lost her job about a year ago and is now living with her mother.
"It's been a big struggle," she said.
Joe Anderson, 45, is in a similar situation. He lost his job and is raising his 2-year-old son Darythe on his own.
"I've been applying for jobs, but I haven't had any luck,"said Anderson, who is currently receiving housing assistance.
Lacy Cain, 22, came to Las Vegas four months ago to start fresh after breaking up with her partner in Texas.
"I came here to live with a friend and I ended up homeless," the young woman said as she fed her 2-month-old son Romeo.
Her partner is taking care of their 1-year-old son Jonah, and she is now receiving help from the Southern Nevada Children First program. She is working toward a GED certificate.
"I'm blessed," she said. "Even when life is a struggle, I'm making it."
Contact Yesenia Amaro at yamaro@reviewjournal.com or 702-383-0440. Find her on Twitter: @YeseniaAmaro.