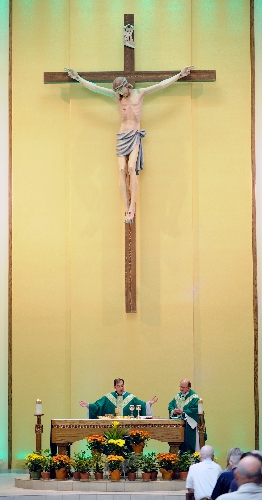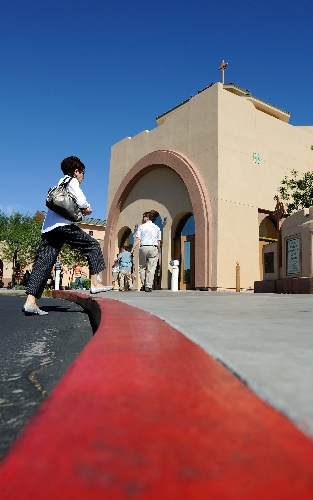 St. Elizabeth Ann Seton Roman Catholic Church members learned Sunday that their pastor — who admitted stealing $650,000 from the parish — will not be back.
The parishioners wept.
"I hope you can all understand why Monsignor Kevin McAuliffe can no longer be pastor," said a letter from Bishop Joseph Pepe to the congregation at Sunday Mass. Many had begged for their leader's return amid the months-long federal investigation into fraud allegations they hoped were false.
The outpouring of emotion came not from feelings of betrayal, but for the suffering of their priest, they said.
"I feel hurt for him. That's where my tears come from," said Gloria Devlin, who has attended the church since before its chapel was built in the early '90s. "It's not hurt or betrayal or anything for me. It's for him. All these tears and anguish are for him. Something desperate had to have driven him to this. I'll pray for him every day."
McAuliffe pleaded guilty in federal court Friday to three counts of mail fraud in connection to stealing from several parish funds, including the church mission, gift shop and votive candles, from 2002 to 2010. He faces a maximum sentence of 20 years in prison and a $250,000 fine on each count. He also agreed to pay $650,000 in restitution. His sentencing hearing was set for Jan. 6.
BISHOP ASKS FOR PRAYER
Pepe's letter, the first detailed explanation to worshippers since the FBI started investigating in late May, asked that they support and pray for the monsignor while relying on their faith to find forgiveness. The church will dedicate its holy hour to prayers for McAuliffe at 7 p.m. Tuesday.
Pepe, who read the letter himself at morning Mass, straightforwardly outlined the pastor's guilty plea and explained that new procedures would help prevent future financial theft in the church.
McAuliffe, 58, had been a pastor at the Summerlin church since 1997 and was second only to the bishop in the Las Vegas Diocese. The priest is credited with leading the parish of about 7,000 families to become one of the largest Roman Catholic churches in Nevada, building its school and heading charitable outreach programs and ministries.
Even with McAuliffe's admitted wrongdoings, many reeled in disbelief Sunday. His name still topped the church bulletin as head pastor.
"This man's life and soul was this church," said Patricia Ehrenberg, who has been an active member of the parish for nearly 20 years. "How can you look at everything we have here and believe he stole from the church? I just can't believe it."
Others said that before McAuliffe pleaded guilty, they were convinced the allegations were a misunderstanding that would quickly be resolved.
"I'm believing it more now that we've heard a letter from Bishop Pepe, but it's still hard to believe," Devlin said. "We still love him very much."
While Pepe's letter conceded that parishioners likely felt "deeply hurt and even betrayed," members instead expressed sadness and worry for their beloved pastor.
"I feel very sorry for him," Ehrenberg said. "We need to pray for him."
CALLED A TEST OF FAITH
The members said they would be strong in their belief in God as they move forward. The standing-room-only crowd at Sunday's noon Mass seemed to be a testament to that faith.
Interim Pastor James Jankowski, who read the letter on Pepe's behalf at the after­noon services, said the congregation had "remarkable resilience."
"Your faith has been stellar," Jankow­ski said, noting that reading the letter was the hardest thing he has had to do. "I sincerely apologize for what Monsignor Kevin has done. It tarnishes the church. It tarnishes the priesthood. It can weaken our faith."
He said he hoped the incident served as a reminder that members could only put their full trust in God.
"I think we all have to remember regard­less of who we are or what we do, there is evil in the world. He may be a priest, but he's human," said Mary Elizabeth Low, who has attended the parish for 10 years. "I think we're a very large community and we'll stand together. It's not the priest, but the people that make the church. And who are we to judge?"
She said while she thinks the situation could be a large test of faith for some, she is hopeful the church will move forward.
The Las Vegas Diocese has already worked past a previous incident when the Rev. William Kenny was reinstated as pastor of Christ the King Catholic Community. He had been relieved of his duties in 2007 when it came to light that a sealed lawsuit centered on allegations that Kenny spent more than $300,000 of a parishioner's money.
PARISHIONERS WANT TO KNOW WHY
U.S. Attorney Daniel Bogden said in an email last week that he couldn't discuss what McAuliffe did with the money, or if he even knew the answer to that question.
"I would feel a sense of betrayal if we get the truth that it was taken for bad or personal gain, but I just know that's not it," said Aldo Aguirre, a parishioner of more than a decade. "I do want the plain truth, though. If we ever find out, there will be a sense of closure on this very sad chapter for all of us parishioners at St. Elizabeth's."
Some parishioners worried that McAuliffe's thin frame pointed to a medical condition for which he used the money. Others questioned whether he took funds to help someone else in need. They said the priest drove an old beat-up Cadillac and donned worn-out boots, shrugging off the possibility he stole for personal gain. They felt the vast amount of time he spent at the church ruled out lavish vacations or a gambling addiction.
While parishioners were firm in their belief the money wasn't used for evil, it's a question they want answered: Where did it all go?
"There's an incredible sense of sadness and loss for not having our great leader here," Aguirre said, wiping away tears before they could fall to his cheeks. "Forgiveness is what we do. We'll forgive him, but the question is still there: Why?"
Contact reporter Jessica Fryman at jfryman@reviewjournal.com or 702-383-0264.