Summit explores issues relating to homeless youth in Southern Nevada
November 2, 2017 - 9:02 pm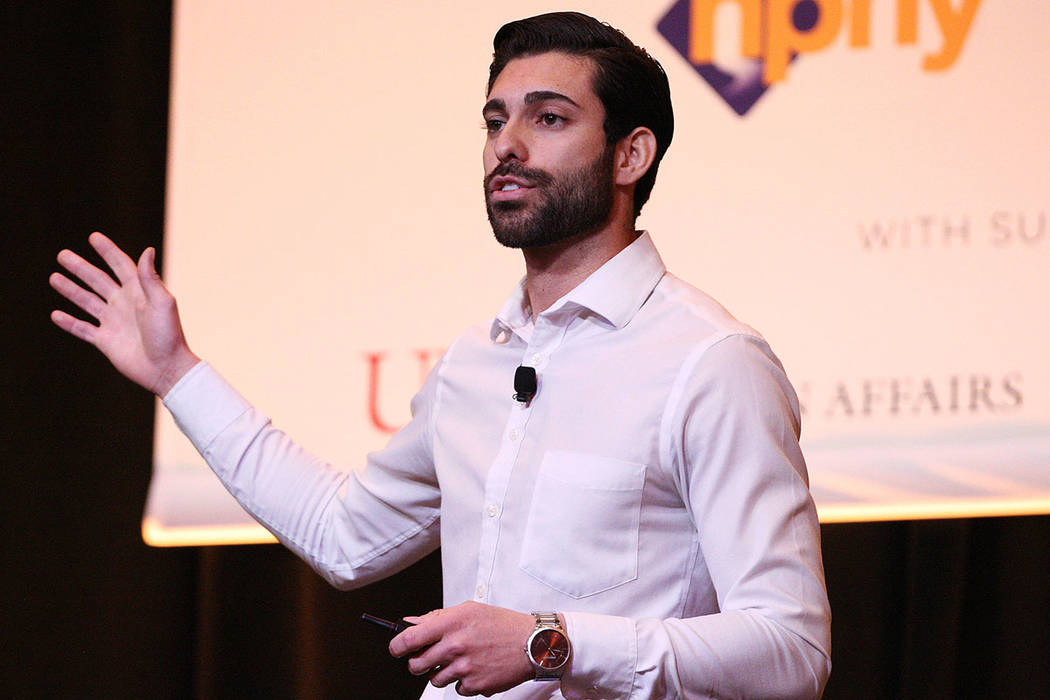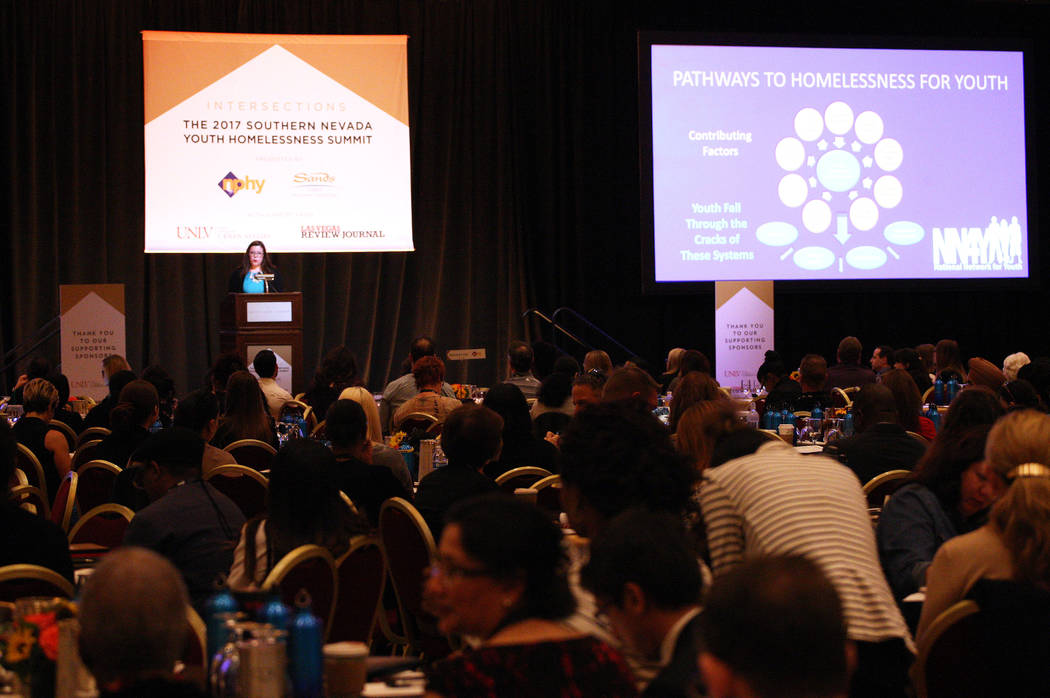 Giuseppe Pizano was on the streets at 14. For several months during his freshman year, he slept on the top of the press box on his high school bleachers.
In the morning, he washed his hair and brushed his teeth in the water fountain. At school, he ate free and reduced breakfast and lunch. For dinner, he took what food he could from 7-Eleven.
On Thursday at The Venetian, Pizano recounted his experiences as a homeless youth in Las Vegas as part of the inaugural Intersections: The 2017 Southern Nevada Youth Homelessness Summit.
The event, which will be annual, was presented by Las Vegas Sands Corp. and Nevada Partnership for Homeless Youth, with support from the UNLV Greenspun College of Urban Affairs and the Las Vegas Review-Journal.
Throughout the day, local and national experts spoke about the state of homeless youth in Southern Nevada and the United States, while highlighting the way to move forward and sharing insight through videos.
Afterward, focus group sessions explored the intersections between homelessness and other community issues, such as human trafficking, education, immigration and LGBTQ issues. They invited the community's actions and experience in helping develop an "attack plan" against youth homelessness.
"The first part was about learning; the second part is about action," said Arash Ghafoori, executive director of Nevada Partnership for Homeless Youth. "What we want to do is start looking at the root causes of this issue."
The plan will be unveiled at the 2018 summit.
More than 300 people came to the Summit, which also included a private screening of "Lost in America," a documentary on youth homelessness nationwide. Rotimi Rainwater, who worked on the film, spent four years documenting the lives of homeless youth.
He interviewed Calub, a homeless teen in Denver who came to be on the streets because his father couldn't accept that he was transgender. A homeless teen who was sexually assaulted by her own father. A young girl from Tampa who was sex trafficked.
"It was a moral obligation," Rainwater said of the film. "Youth homelessness isn't just an urban problem. It's everywhere."
In fact, an average of 13 homeless youths die a day, he said.
Recent U.S. Department of Housing and Urban Development data show that Clark County had ranked third nationally in the number of unaccompanied homeless children and youth living on the streets and in shelters. Nevada ranked first nationally in the rate of homeless youths living unsheltered.
When Pizano, who's now a motivational speaker, became homeless, he was still a gawky, insecure teenager. He had just moved to Las Vegas and was starting a new school as a freshman. On Thursday, he recalled walking back from attending his first Powder Puff flag football game. The day before, he had gotten into a fight with his mother. He hadn't been home in 24 hours.
When he approached his house, he reached to open the gate. The door was locked. As he walked around the house, each step got heavier and heavier. He cupped his hands over his eyes, looking inside the windows. Everything was gone. His entire house, empty. He took a step back to compose himself.
"This is real," he thought. "My mom actually abandoned me."
He threw his backpack over his shoulder and made his way to the only other place he knew: his high school.
And, he said Thursday, his life was changed by the Nevada Partnership for Homeless Youth, which provided him a shelter and the means to figure out where he wanted to go to college and what he wanted for his future.
"There is a kid just like me out there right now," he said. "Maybe, just maybe, we can help them realize their full potential."
The Las Vegas Review-Journal is owned by the family of Las Vegas Sands Corp. Chairman Sheldon Adelson.
Contact Briana Erickson at berickson@reviewjournal.com or 702-387-5244. Follow @brianarerick on Twitter.
Other highlights of Summit 17:
— A state of the union on youth homelessness by the UNLV Greenspun College of Urban Affairs
— A review of the national policy landscape by Darla Bardine, J.D., Executive Director of the National Network for Youth (NN4Y), the United States' largest public education and policy advocacy organization devoted to homeless youth