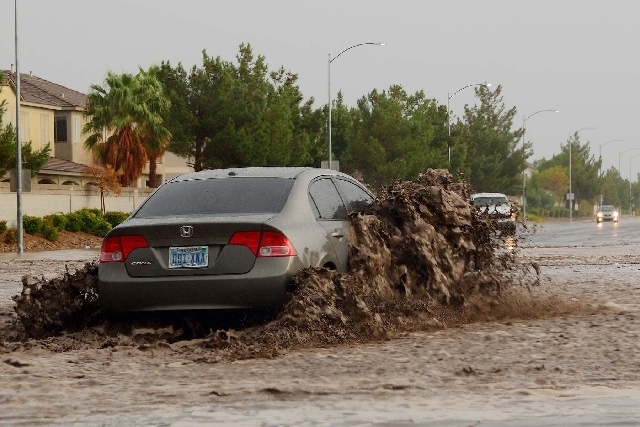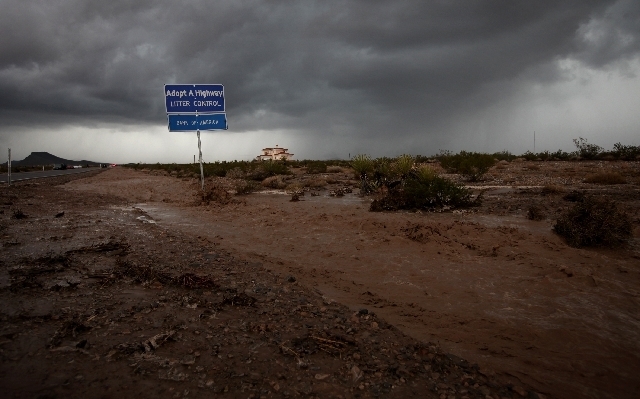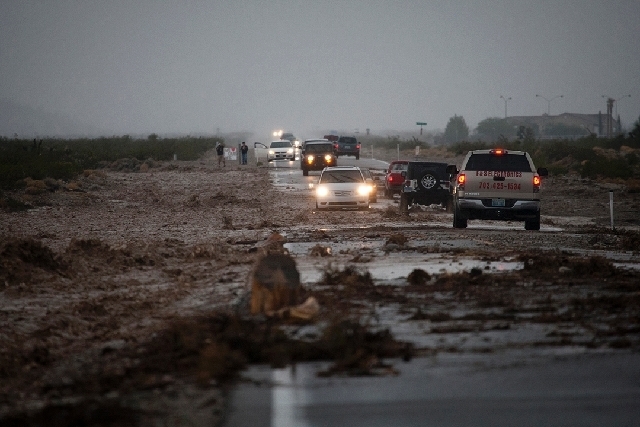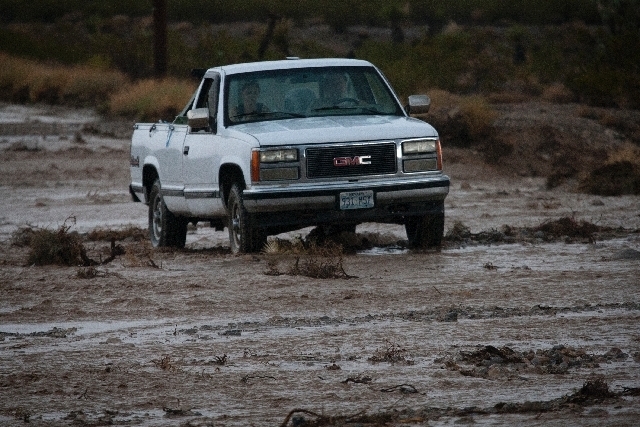 Jeana Churchill just wanted to take her Little Caesars pizza home on Sunday night, but instead she ended up rescuing a family stuck in violent floodwaters in the northwest valley.
Churchill was driving home in the area of Grand Teton and Buffalo drives when she noticed a family and their light blue Hyundai Sonata stuck on the median from the ravaging floodwaters.
Rather than turn away, Churchill pulled her Dodge Ram 2500 pickup with an 8-inch lift near the vehicle while a red Dodge pickup did the same.
"The water was flowing too fast. We just grabbed them and got them home," Churchill said. "I told them, 'This is a bad idea, but what are you gonna do?' "
According to Churchill, it looked as though the family became stranded by waters while trying to turn into a subdivision. She said the family had been stranded for more than two hours before anyone helped them.
Churchill said that she took the grandma and the groceries, while the other pickup loaded the daughter and two grandchildren, and got them all safely home.
"It's someone's grandma," she said. "It's scary to think that someone's grandma is out there."
The storm brought more than 2 inches of rain to parts of Las Vegas and also thrashed through Mount Charleston, leaving one adult and one child in need of rescue on Sunday afternoon.
Fire dispatchers were called at 2:39 p.m. after an adult and two children were trapped in their car on Scottie Street, right off Grand Teton Drive, about four miles from U.S. Highway 95.
Firefighters said floodwaters worsened as they made their way up Kyle Canyon Road and as they approached Scottie Street, they noticed a car that had water reaching the bottom of the car doors.
"This was not a piece of cake by any means," Las Vegas Fire Department spokesman Tim Szymanski said. "If we didn't get them out of there right then, nobody would've been able to."
Rescue personnel used personal flotation devices and ropes to rescue the two people from the car.
They were taken down to their relatives waiting on U.S. 95 at Kyle Canyon Road, according to Szymanski.
Road conditions worsened as crews left the scene. Units blocked off Kyle Canyon Road at U.S. 95 until the Nevada Highway Patrol arrived to take over traffic duties to prevent people from driving in floodwaters.
Kyle Canyon Road was shut down to all vehicles, and was only accessible by helicopter, according to Highway Patrol spokesman Jeremie Elliott.
Flooding shut down U.S. 95 at Horse Drive in both directions , Elliott said.
Much of the Southwest felt the power of the monsoonal storm Sunday. Flash flooding shut down U.S. 95 near Laughlin, and at least one swift water rescue was performed in Laughlin.
A total of 18 swift water rescue calls came in on Sunday, Szymanksi said, but no injuries were reported from the storm.
Kyle Canyon Road recorded 2.32 inches of rain while Floyd Lamb State Park got 2.68 inches, according to the National Weather Service. Intense flooding was also seen at Red Rock Canyon National Conservation Area on Sunday evening, the National Weather Service said.
A 50 percent chance of rain will hover over the valley throughout the week, according to the weather service.
Contact reporter Colton Lochhead at clochhead @reviewjournal.com or 702-383-4638. Follow him on Twitter @ColtonLochhead. Contact reporter Steven Slivka at sslivka@reviewjournal.com or 702-383-0264.
RELATED VIDEOS
Sunday flood at Fort Apache and Brent Lane
Flood footage courtesy of Michael Herb