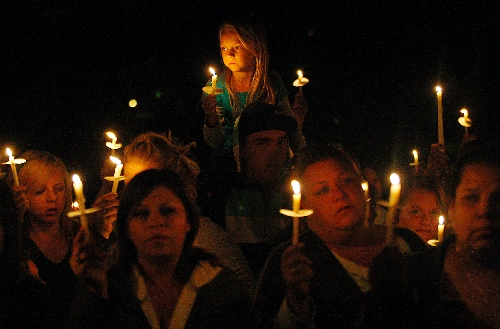 The lyrics of Justin Bieber's pop hit "Baby" blared through the sound system on Friday night at Eldorado Park . Some of the more than 200 in attendance danced, others giggled. The song may have seemed out of place for another candlelight vigil, but here, mixed with tears, it somehow fit.
The song is 5-year-old Alyssa Mowery's favorite, and her family hoped she could hear it, a tune of support toward her recovery from a crosswalk crash that has kept her in a medical-induced coma.
Her 6-year-old sister, Rain Mowery, was treated for a fractured skull and released Sunday. Their 6-year-old friend, Amelia "Mia" Decker, died Monday from injuries she suffered in the accident.
The candlelight vigil was held a week after the deadly North Las Vegas crosswalk crash that rocked the community. The service overlooked the crosswalk at Camino Eldorado and Bent Arrow Drive where the three girls were crossing when they were struck by a car on Oct. 21.
Protesters at the accident site have called for more visible crosswalks and begged drivers to slow down. Support poured in through teddy bears and flowers at a makeshift memorial and in comments on a Facebook wall dedicated to the girls.
The Mowery sisters' father, Pat, called the support "overwhelming."
"I wasn't expecting any of this," he said after the vigil, as he held Rain on his hip.
The 6-year-old chimed in to say all the kids in her class sent her a note, and students from another school sent one too. But more than anything, she wants her little sister to come home.
"She's been crying every day, asking for her sissy to come home," their mother, Christin, said, noting the girls used to make jewelry and loved to play with their dolls together.
The sisters have wild imaginations, always playing make believe, she said.
"I want everyone to pray Alyssa wakes up and she's that same sweet, creative little girl."
That's just what the community did Friday night during the vigil, which focused on prayer for the families. To signify that support, each lit a candle of the person next to them. Hundreds of candles glowed under the starlit sky as family, friends and complete strangers cried and sang "Amazing Grace."
"You can't just stand back and do nothing when the community needs you," said an emotional Jamie Hollis, who lives nearby. "I'm a mother, and this just broke my heart."
Several members of the girls' families also spoke at the ceremony, expressing their gratitude for all the support.
Christin Mowery recalled the first time she met Mia, a girl full of "spunk." Christin had told Mia that Alyssa and Rain needed to go inside the house, to which Mia replied: "They're not going inside because we are playing."
Mia's mom, Michele Terry, followed, adding that she could tell a million stories about her daughter, each that would make the crowd laugh.
Of one thing, Terry was sure: Her daughter wasn't just looking down at the ceremony, but instead telling God she was going to the park, to play.
Contact Jessica Fryman at jfryman@reviewjournal.com or 702-383-0264.