Suspended Family Court Judge Jones pleads guilty in $2.6M fraud scheme
September 17, 2014 - 4:23 pm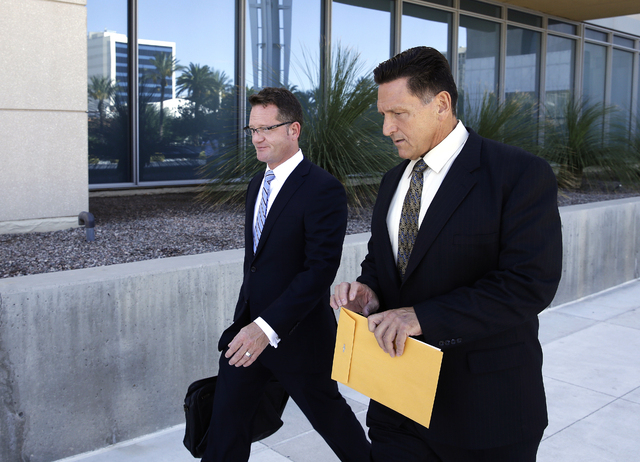 Suspended Family Court Judge Steven Jones pleaded guilty in federal court Wednesday to one felony count of conspiracy to commit wire fraud in a $2.6 million investment scheme.
A total of 19 other conspiracy, fraud and money laundering charges against Jones stemming from the decade-long scheme are being dismissed.
As part of his deal with federal prosecutors, Jones agreed to resign from the bench and surrender his law license to the State Bar of Nevada. His term runs out at the end of the year, and he is not running for re-election.
Assistant U.S. Attorneys Steven Myhre and Daniel Schiess said in court that Jones was delivering a letter of resignation Wednesday to Gov. Brian Sandoval. The letter later was received by the governor's office.
Jones also agreed to pay a still-undetermined amount of restitution to victims of the scheme.
When U.S. District Judge Jennifer Dorsey asked Jones how he wanted to plead to the conspiracy count, Jones simply said, "Guilty."
Jones, who remains free on his own recognizance, and his lawyer Robert Draskovich refused to comment as they left the courtroom.
His guilty plea closed the book on a long-running investigation by the FBI's public corruption squad in Las Vegas.
"Defendant Jones knowingly used his office to lull victims into a false sense of security about investments he knew were scams," Nevada U.S. Attorney Daniel Bogden said after the plea. "No one is above the law, especially a person holding the office of judge."
Prosecutors agreed not to ask for more than 27 months behind bars for Jones at his Jan. 26 sentencing. Jones could have received a dozen years in prison had he been convicted during his trial at the end of the month.
His four remaining co-defendants — Thomas Cecrle, 57, Mark Hansen, 56, Terry Wolfe, 59, and Constance Fenton, 70 — also pleaded guilty before Dorsey on Wednesday.
Cecrle, the judge's former brother-in-law, is considered the central figure in the scheme. He pleaded guilty to the same conspiracy to commit wire fraud charge. So did Hansen and Wolfe. Fenton pleaded guilty to one count of conspiracy to commit money laundering. All of the other defendants are free pending their Oct. 26 sentencings
Last month, co-defendant Ashlee Martin, 30, pleaded guilty to one count of conspiracy to commit money laundering under a pretrial diversion agreement.
Jones, 56, first elected to the bench in 1992, and his five co-defendants were charged in a 20-count federal indictment in October 2012.
The indictment alleged that between September 2002 and October 2012, the defendants persuaded people to lend them money under the guise of quick repayment with high interest rates. The defendants indicated they needed the money to secure valuable property and water rights, including land on the Strip.
In his 15-page plea agreement, Jones admitted that he used his judicial office to further the investment scheme, which ended in 2012.
At least 22 victims were swindled out of more than $2.6 million, the agreement said.
Jones admitted in the plea agreement that he let his name be associated with a phony water rights project Cecrle was promoting to help draw in money from unsuspecting investors.
"The objective of the scheme and artifice were to induce victims to invest money in fake projects, convert the proceeds of the investment to their own use and purpose, and to lull investors into a false sense of legitimacy about the investments in an attempt to have them invest again and/or avoid investigation and legal process," the plea agreement says.
Between December 2006 and March 2008, Jones and Cecrle funneled more than $260,000 in illegal proceeds from the scheme into a joint bank account they set up, according to the plea agreement. More than 1,000 transactions were conducted through the account.
Jones also admitted that he kept the scheme afloat in March 2006 when he used his office to get Cecrle released from the Clark County Detention Center on bad check charges tied to the scheme.
The longtime judge vouched for the water project with at least one victim who knew he was a judge, the plea agreement states. Jones also met numerous times with a victim in his chambers and elsewhere at Family Court to discuss payments to Cecrle related to the project, and he accepted one cash payment himself in the parking lot of the courthouse.
Cecrle's plea agreement said Jones was wearing his judicial robe when he took the money in the parking lot.
Following the federal indictment, the Nevada Judicial Discipline Commission suspended Jones with pay. He has been collecting his $200,000 annual judicial salary for most of the time since then.
The judicial commission suspended Jones for three months without pay in February after it cited Jones for carrying on an improper romantic relationship with a prosecutor who appeared before him in Family Court.
The prosecutor, Lisa Willardson, was fired from the Clark County District attorney's office after the relationship became public. She died of a drug overdose in December.
Contact Jeff German at jgerman@reviewjournal.com or 702-380-8135. Find him on Twitter: @JGermanRJ.