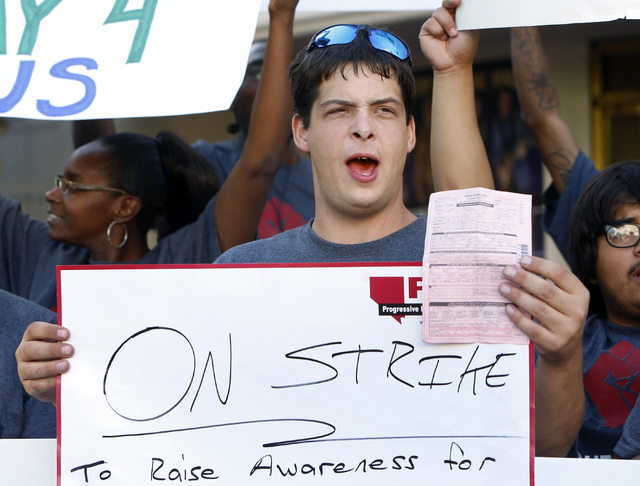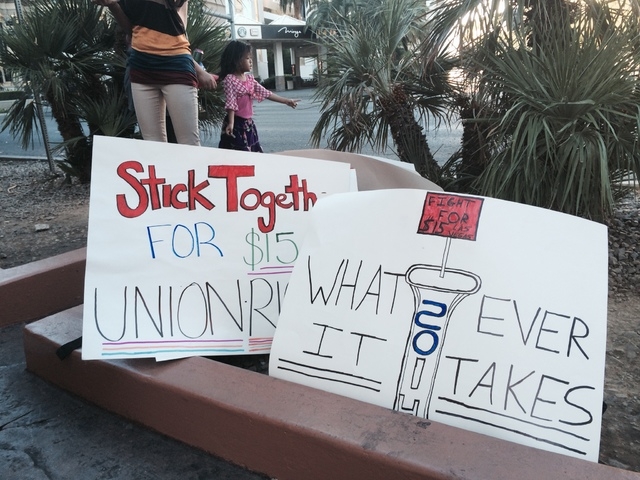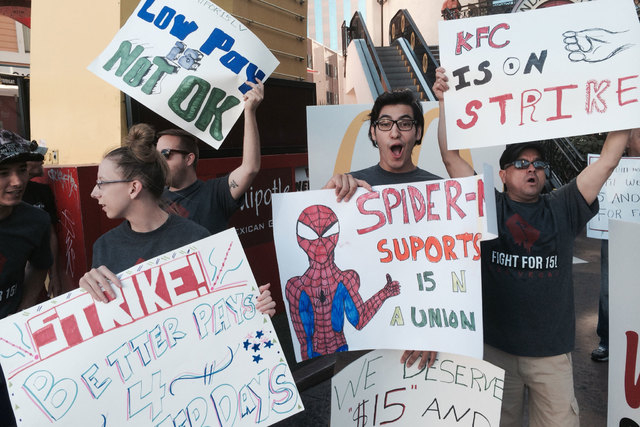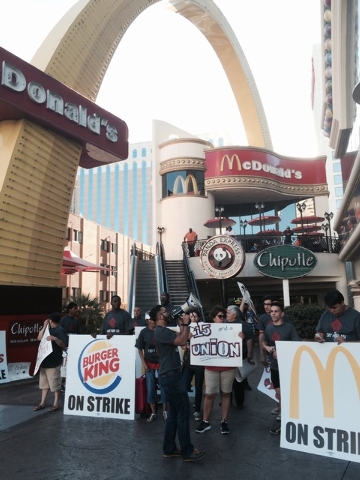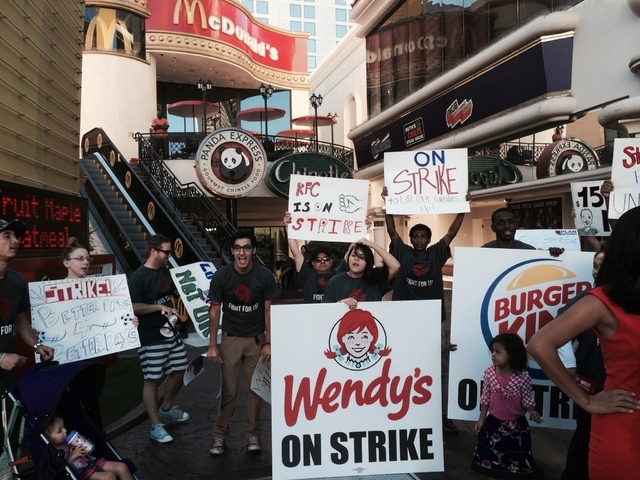 Thousands of fast-food workers walked off their jobs Thursday in 150 cities around the country to fight for a $15 an hour wage, and 10 protesters in Las Vegas were cited after strikes at a McDonald's near Harrah's on the Strip.
Among those cited was Las Vegas resident Brianna Cabano, 19, a Taco Bell employee at 8550 W. Warm Springs Road.
"I want to raise the minimum wage for families, and I don't want to see people suffer," she said. "Fifteen dollars an hour would make a comfortable living for anyone."
When Cabano showed up to strike about 6 a.m. Thursday morning, she marched with nine others onto Las Vegas Boulevard South in front of Caesars Palace, blocking oncoming traffic and chanting, "What do we want? $15 an hour. When do we want it? Now."
"Police officers tried to make us move but we ignored them and were taken into a van and held there for an hour and a half before we were given citations for civil disobedience," she said. "It was so nerve-wracking but amazing too. Everyone was so powerful and we were one movement moving together to try and get a higher wage."
Protests among fast-food workers, planned by labor organizers have gained national media attention since they started in New York City in late 2012.
Since the efforts began, organizers have switched tactics every few months to bring attention to the protests, which have attracted spotty crowds. Organizers previously said they planned to engage in nonviolent civil disobedience on Thursday, which they predicted might lead to arrests.
In Southern Nevada, workers who participated in the strike were employees at McDonald's, Wendy's, Taco Bell, KFC, Chipotle, Jack in the Box, Tropical Smoothie Café, Burger King, and Einstein Bros. Bagels.
A McDonald's Corp. spokesman noted that about 90 percent of U.S. McDonald's stores are independently owned and operated by franchisees that set wages according to job level and local and federal laws. McDonald's does not determine wages set by our more than 3,000 U.S. franchisees.
"At McDonald's we respect everyone's rights to peacefully protest," the spokesman said. "The topic of minimum wage goes well beyond McDonald's — it affects our country's entire workforce. McDonald's and our independent franchisees support paying our valued employees fair wages aligned with a competitive marketplace. We believe that any minimum wage increase should be implemented over time so that the impact on owners of small and medium-sized businesses — like the ones who own and operate the majority of our restaurants — is manageable."
The Progressive Leadership Alliance of Nevada (PLAN) served as community support for the Las Vegas area strike, according to Laura Martin, the organization's communications director.
"This is the fourth strike we've held and we've provided community support because we understand the economic justice fight," she said. "These workers work for billion dollar corporations and they pay them minimum wage and then they also get hit by taxes, which go to subsidizing these corporations to make them wealthier."
The "Fight for $15" campaign, which is backed financially by the Service Employees International Union and others, comes at a time when the wage gap between the poor and the rich has become a hot political issue. Many fast-food workers do not make much more than the federal minimum wage of $7.25 an hour, which adds up to about $15,000 a year for 40 hours a week.
"The impact is in bringing it into the public attention," said Chris Rhomberg, an associate professor of sociology at Fordham University in New York.
President Barack Obama has taken notice too. He mentioned the campaign at a Labor Day appearance in Milwaukee. "If I were busting my butt in the service industry and wanted an honest day's pay for an honest day's work, I'd join a union," Obama said, as he pushed Congress to raise the minimum wage.
Cabano said she began working at Taco Bell as a cashier and cook in February. She is moving out on her own in two weeks and will be facing rent, utilities and a phone bill.
"I currently make minimum wage and I'm living paycheck to paycheck," she said. "While I'm excited to live on my own, I'm scared too because I don't want to live paycheck to paycheck."
Cabano said she's due in court in October to find out what fine the citation carries.
"I don't regret anything," she said. "I stand by my word, and I will not stop with this movement. I'll stop when we get $15 an hour."
Cabano said she is determined to pursue the cause.
"We plan to strike again because we want to get our point across to people around the world," she said. "We'll get this, I know we will."
Review-Journal writer Ricardo Torres and The Associated Press contributed to this report. Contact reporter Ann Friedman at 702-380-4588 or afriedman@reviewjournal.com. Find her on Twitter: @AnnFriedmanRJ