TEN YEARS AFTER 9/11: Is Las Vegas a target?
September 4, 2011 - 12:59 am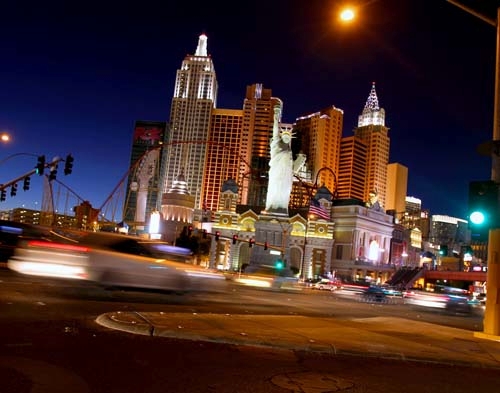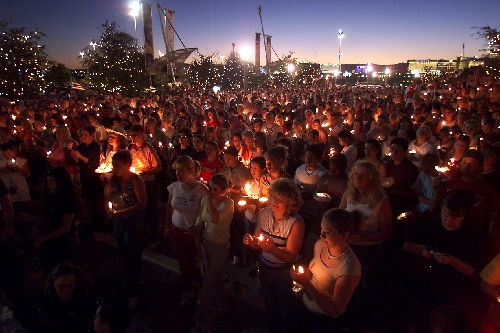 After three months of training on the East Coast, Doug Gillespie was looking forward to a few days off.
He'd just flown back to Las Vegas from Washington, D.C., the night before, on Sept. 10, 2001.
But when he saw the TV the next morning, he knew his mini-vacation was over.
The World Trade Center was burning. The world had changed.
Recognizing Las Vegas' status as a world destination and what that meant for the city as a terrorist target, Gillespie, then-Sheriff Jerry Keller, several casino security chiefs and other top law enforcement officials soon met with the FBI to game plan for a potential attack.
Keller activated his agency's emergency disaster plan, which included many elements from the Y2K plan developed for possible problems when 1999 flipped to 2000, and police remained on high alert for several days.
Keller realized that he stood at the forefront of a new era of policing. Cops like him had spent their careers chasing burglars and bank robbers, con men and wife beaters.
Now they faced a new opponent, one motivated by religious fanaticism, hoping for maximum carnage and willing to die for the cause.
"It was a total shock because everyone thought terrorism was elsewhere," Keller said. "We had to totally reshift our thinking and do it suddenly."
In the aftermath of 9/11, the Metropolitan Police Department and other state and local agencies ramped up their counterterrorism resources, training people, upgrading technology and improving cooperation and coordination with other local, state and federal agencies, all in hopes of short-circuiting an attack.
Law enforcement officials say they've come a long way since then, but they still have those sleepless nights where they worry about what else can be done to prevent what might be unpreventable.
"We have definitely made it harder. 9/11 was a wake-up call," said Gillespie, now sheriff. "We are still vulnerable, and we always will be vulnerable, so let's not kid ourselves. … They are out there. They want to commit harm to us."
'CITY OF SATAN'
Las Vegas attracts 40 million visitors a year, thanks in large part to its reputation as Sin City.
But that reputation also attracts the attention of terrorists, who see the anything-goes city as the ultimate symbol of vice and excess in the United States, said Bill Young, Keller's successor as sheriff.
"We probably represent everything that fundamental Islamist radicals and terrorists hate about America," said Young, who threw himself into the study of terrorist groups and their origins after 9/11.
Beyond being merely a symbolic target, Las Vegas has a tangible link to the attacks in that five of the 19 hijackers came here in the months before the attacks.
Although some believe they came here to enjoy the very vices they had sworn to hate, authorities discount that theory, though they can't say for certain why the hijackers visited. Investigators theorized the visits were made to either plan the attacks or scout potential targets, including Hoover Dam.
A year later, Spanish authorities seized videotapes from suspected al-Qaida operatives showing several Strip locations, including Mandalay Bay, Excalibur, MGM Grand and New York-New York.
The video was used by federal prosecutors in Detroit for the nation's first post-9/11 terrorism trial. In it, one defendant referred to Las Vegas as the "city of Satan" and spoke about Islamic extremist "brothers" destroying it.
On New Year's Eve 2003, then-sheriff Young almost canceled the nation's second-largest celebration because of "very real intelligence and chatter" involving Las Vegas.
He decided to go forward, however, after massive federal resources poured into Southern Nevada for the event, which draws 300,000 revelers to the Strip. Those resources included extra FBI agents, military gunships to patrol the skies, and additional aircraft to provide surveillance and intercept unauthorized air traffic in the area.
The night ended uneventfully.
Mark Doh, assistant special agent in charge at the FBI's Las Vegas office, said the New Year's Eve response might have been an "overreaction." Local FBI offices were still learning how to analyze and react to terrorist intelligence then, he said, suggesting the same information would be handled differently today.
Tourist destinations have suffered frequent terrorist attacks in the past decade, including multiple suicide bombings in Bali, Indonesia, and the 2008 massacre in Mumbai, India, where a coordinated series of bombings and shootings targeted luxury hotels, restaurants and a hospital.
Local authorities have traveled to Mumbai, London and other overseas locations to learn more about terrorist tactics. They realize the long-lasting effect an attack in Las Vegas would have on the state and local economy.
"We lost 15,000 jobs after 9/11," Clark County Emergency Manager Irene Navis said. "It would be difficult to absorb another hit like that to our economy."
Las Vegas is home to 20 of the world's 27 largest hotels and hosts 250,000 visitors every weekend, making it an obvious target for terrorists aiming for large casualties and devastating economic impact, authorities said.
"I don't think you'll talk to anyone in homeland security who says Las Vegas is not a target," Gillespie said.
But Peter Tarlow, who travels the world as a tourism security consultant, said officials in every city he visits believe they're a top terrorism target no matter what the reality is.
"I'm not entirely sure that Las Vegas is as big of a target as people in Las Vegas think they are," he said.
Although the Strip has hundreds of thousands of tourists each day, they are spread out along the four-mile corridor, making it difficult to inflict massive casualties, he said.
Tarlow also downplayed the economic impact of an attack on Las Vegas. It would devastate Nevada's economy and possibly hurt tourism nationwide, but the economic effect beyond that would be limited, he said.
Those factors, as well as the limited media exposure Las Vegas has compared to Los Angeles and New York, lower the city as a potential terrorist target, he said.
BATTLING DOUBTS
Local officials have battled similar doubts throughout the decade as they've fought for federal homeland security grants.
Young recalled walking the halls of Congress to meet key federal lawmakers and make the case for Las Vegas. And he made headlines in 2006 when he called for the resignation of Department of Homeland Security Secretary Michael Chertoff when Las Vegas was dropped from a list of cities considered high-risk targets.
Cities on the list were eligible for special anti-terrorism grants, and Las Vegas had received $8 million the year before.
U.S. Sens. Harry Reid and John Ensign intervened, and Las Vegas returned to the list.
"We had to scream great bloody murder to get our fair share," said Young, adding he couldn't understand why Las Vegas was getting less than cities such as Cincinnati and Cleveland.
The issue resurfaced earlier this year when a new homeland security bill in Congress proposed cutting the list of cities eligible for the Urban Areas Security Initiative funding to 10, which would have excluded Las Vegas and all but the largest U.S. cities.
Nevada's congressional delegation helped defeat the bill.
Las Vegas received about $5 million from the grant last year, part of about $100 million in homeland security grants received by Southern Nevada since 2004.
Though frustrated by the frequent fights for federal funding, Gillespie accepts the challenge as part of his job. It's why he's prepared to fly to Washington, D.C., on a moment's notice. It's why he became involved in homeland security issues on the national stage. It's why he pushes his department to be a model for its counterterrorism efforts.
"We are a player in the homeland security world," Gillespie said. "Our voice is heard."
COUNTER TERRORISM CENTER
By appearances, it could be just about any bland office space.
A maze of cubicles stretches across the floor, their low-slung walls decorated with snapshots of kids and loved ones. On the wall, a bank of flatscreen televisions flash CNN and Fox News Channel.
But the office's humble facade belies its importance. This is the heart of Southern Nevada's counterterrorism efforts, pumping around the clock with a flow of information and intelligence gathered from across the world and in our backyard.
From its home at the Metropolitan Police Department's new headquarters complex, the Southern Nevada Counter Terrorism Center serves as the one-stop shop for the region's anti-terrorism efforts. More than 80 people, including local police, federal agents, and crime and intelligence analysts from 12 federal, state and local agencies, sit side by side, culling, digesting and reacting to a flood of information.
The so-called fusion center, one of 73 across the United States, was created in 2007 to foster cooperation and coordination among law enforcement agencies at all levels, as well as between government and private business.
"The FBI can't do it alone. The Department of Homeland Security can't do it alone. … The Las Vegas Metropolitan Police Department can't do it alone," Gillespie said. "We all need to be a part of it."
Even before 9/11, Southern Nevada officials and law enforcement leaders had developed good working relationships.
Kevin Favreau, head of the local FBI office, said during a career that included stints in San Francisco and Portland, Ore., he had never seen the level of camaraderie and partnerships that exist in Southern Nevada.
Favreau, who previously oversaw the FBI's intelligence efforts, said that the days of the FBI withholding information and squeezing out local police agencies are "long gone."
Since 9/11 the federal agency's approach to sharing information is the rule rather than the exception, he said. That's a key part in the fusion center and on several task forces where federal agents work with local police.
While the early focus of fusion centers was counterterrorism, they have evolved to an all-crimes, all-hazards approach.
The thinking goes that terrorists in the United States might be involved in more common crimes, such as ID theft to provide financial support or stealing raw bomb-making materials before carrying out an attack. By monitoring all crimes, authorities might thwart an attack before the terrorists can carry it out.
Gillespie believes the fusion centers' coordinated approach and analysis has helped reduce crime nationwide in recent years. Thanks to instant crime tracking and analysis, for example, a string of convenience store robberies might be identified and stopped before it can grow further, he said.
Last month , Las Vegas police used the fusion center's resources to track down a Southern California teenager who called in a series of bomb threats to local casinos. And local authorities recently used the fusion center to track and investigate a spate of police imposters.
Other key components in Southern Nevada's homeland security efforts are a task force called All-Hazards Regional Multi-Agency Operations and Response, or ARMOR, and Silver Shield, a statewide program to identify key facilities, government buildings, utilities and businesses that could be targeted by terrorists.
ARMOR includes Las Vegas, Henderson and North Las Vegas police, the Clark County and Las Vegas fire departments, and state and federal agencies. The team is trained to handle a variety of dangers, including chemical, explosive and nuclear threats, and it deals with everything from suspicious packages to deadly biological agents such as ricin.
Silver Shield catalogues critical infrastructure and key resources across the state, identifies vulnerabilities for each and works to shore up potential weaknesses.
Many of those critical resources have already taken steps to increase security, including the Southern Nevada Water Authority, which is responsible for the community's drinking water supply.
The 9/11 attacks prompted $18 million in security upgrades. The authority beefed up everything from the gates outside its treatment plants to its defenses against computer hackers.
One obvious impact of those changes can still be seen at the River Mountains Water Treatment Facility, which opened at the eastern edge of Henderson in October 2002.
The original pre-9/11 plans included interpretive signs and hands-on displays so people could take self-guided walking tours of the plant. Those signs and displays are all still there, but a fence and a guard gate keep the general public from getting anywhere near them.
The Silver Shield list of critical infrastructure not only helps local officials prepare for and prevent terrorist attacks, it also plays an important role in federal formulas that determine grant funding.
OPERATION VIGILANCE
Despite the host of homeland security improvements within law enforcement and government agencies, authorities know they can't be everywhere all the time.
They rely on the public's eyes and ears to spot and report suspicious activity, which they can follow up on.
One campaign, called Operation Vigilance, uses specially trained police and public safety workers to raise awareness at businesses that could be vulnerable to terrorist activity, such as a storage facility or chemical supplier.
For example, a farm supply store might be warned to watch for unusual customers trying to buy large quantities of ammonium nitrate, a fertilizer used in homemade bombs.
Authorities also encourage the public to report suspicious activity through the See Something, Say Something campaign, which features a red eye logo on billboards around the valley.
MGM Resorts International developed the See Something, Say Something campaign internally about two years ago and later shared it with police.
The awareness campaigns helped generate 298 suspicious activity reports last year. Counterterrorism detectives review and investigate those reports, and anyone could potentially unravel a terrorist plot.
The hurdle for authorities is convincing the public to report something out of the ordinary instead of rationalizing it away, said Lt. Greg Damarin of the Las Vegas police counterterrorism unit.
"This is a time in our lives where things have changed, and we need to act on our suspicions," he said.
Las Vegas' countless hotel employees also play a vital role in spotting suspicious behavior because of their numbers and positions throughout the resort corridor.
So they've been given extra attention in the form of five-minute videos produced by UNLV's Institute of Security Studies, which shut down this month because of a lack of funding.
Those videos followed up the institute's video on the Seven Signs of Terrorism, which illustrates the activities terrorists use in preparation for an attack, including surveillance and testing security.
The videos for hotel workers focused on suspicious activity they might see during their day-to-day duties. The institute produced videos for six different hotel jobs, including valets, maids and front desk clerks.
At MGM Resorts International, employees frequently see the videos or shorter versions of them during their pre-shift briefing and in internal communications, said Tom Lozich, a retired Las Vegas police officer who now heads MGM Resorts International corporate security.
Las Vegas resorts play an important role in post-9/11 security and are part of the information sharing chain at the fusion center thanks to an analyst funded by the Las Vegas Convention and Visitors Authority.
RESORTS RESPOND
The challenge for resort security is balancing safety with public perception, Lozich said.
Tourists come to Las Vegas to have fun in a carefree environment, he said. Since putting up metal detectors or heavily armed guards would hurt that environment, much of what the resorts do is behind the scenes, he said.
Keller, who oversaw security at Wynn Las Vegas after retiring from the Metropolitan Police Department, said security measures he instituted included hiring eight bomb-sniffing dogs and tightening access to vulnerable areas such as air handling units.
The various resort security chiefs rely on their relationships and communication with law enforcement and each other to prevent terrorism. While they're competing for the same tourist dollars, they realize that their fortunes would all fall should a terrorist strike on Las Vegas Boulevard.
"It doesn't matter if the attack is at Caesars Palace or the Boardwalk," Keller said. "If you're 1,000 miles away, it's on the Las Vegas Strip, and no one's going to come."
FEAR OF COMPLACENCY
Despite the advances over the past decade, law enforcement officials say they still have improvements to make in keeping Southern Nevada safe.
Gillespie points to upgrading technology and connecting government databases, as well as improving trust when it comes to information-sharing among agencies.
Many cited a concern about complacency setting in among a public that has lost sight of the threat looming overseas and within our borders.
"We cannot drop our guard," said Young, now head of security for Station Casinos. "This is an issue that's never going away for Las Vegas, and anybody who thinks it is is fooling themselves."
Shrinking government budgets and economic pressures are also issues, with Gillespie and Favreau citing worries about cash-strapped governments removing resources and people from the counterterrorism effort.
And many officials worried about the threats they know they can't stop.
They worry about the lone wolf, a terrorist unconnected to an organization and harder to detect, who could walk into a casino and open fire. They worry about a Mumbai-style attack where coordinated groups of gunman strike multiple places at the same time. They worry about missing a key piece of information that could foil a terrorist plot before it becomes reality.
They constantly worry about all these things because they know one slip-up could costs thousands of lives.
"We've got to be perfect 24-seven," Keller said. "They've only got to be right once."
Review-Journal reporter Henry Brean contributed to this report. Contact reporter Brian Haynes at bhaynes@reviewjournal.com or 702-383-0281.
Coming this week
Iconic images: Five describe how they took photos of attack
Tuesday
Two presidents: Attacks' ramifications never end
Memories: locals share their recollections of 9/11 see view
Wednesday
In Las Vegas: Investigators still can't say why hijackers came here
Thursday
Las Vegas victims: Attack anniversary hard on families
Friday
Muslims react: Las Vegans knew everything had changed
Saturday
Music of 9/11: Attacks inspired hundreds of songs
Sunday
Sept. 11: Aftershocks continue to be felt in people's lives