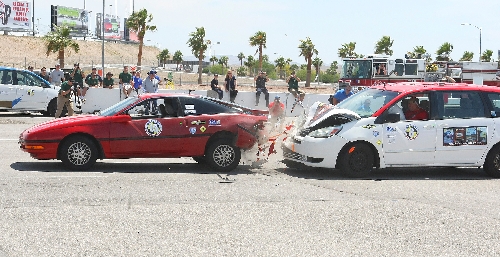 Rusty Haight cruises straight ahead at 50 mph in a Ford Crown Victoria — a "baby" buckled into a car seat in back. He nears a short line of cars waiting to his left. The second car in line bumps the first — an empty Hyundai Sonata — pushing it directly into Haight's path.
The cars clash, tangling together in a thunderous thump. No squealing of the brakes or swerving. Haight wanted to hit the Sonata square, not in a glancing swipe.
As smoke billows over the hood and coolant pools on the pavement, Haight gives a thumbs-up to his crew and about 100 others watching from behind a concrete barrier at the Las Vegas Motor Speedway.
He isn't a fame-seeking daredevil.
The baby doll in back isn't for amusement.
This isn't a stunt, as the scene may suggest, but science, a crash test.
The crash was one of eight on Monday simulating common car accidents — head-on, rear-end and other collisions — for the benefit of crash re-constructers, engineers, police investigators and insurance company representatives.
They converged here from around the world to see what they usually miss, an accident in progress.
Investigators usually put the pieces together after the fact, said William McGuimmes, a detective from Northbrook, Ill., a Chicago suburb.
"A lot of these guys aren't even first on the scene, like me," said McGuimmes, who has worked more than 100 fatal and near-fatal crashes. "It may be six months before they see it. These tests, we look at them as validation of our techniques."
For New Zealand crash analyst Chris Marks, the Las Vegas conference is one of the biggest he attends and the most helpful, using newer cars than most. This is becoming a must because cars — relying on more and more electronic stability controls — have changed so much in recent years, he said.
The crashes give re-constructers a chance to sift through the mangled cars, tread patterns and information-storing black boxes as they would normally do. But since they know what happened, they can confirm whether their tricks of the trade paint a true picture.
Will advances in automatic stability controls force investigators to change their assumptions? They won't find out until Thursday when they compile all their data and go through the video footage frame by frame.
"It's a ginormous laboratory," Haight said of the crash tests.
And Haight is the lab rat, behind the wheel for every run. Other cars are remotely controlled.
He doesn't wear the safety equipment of a NASCAR driver. Just the standard seat belt of any car off the assembly line, plus kneepads and a chest plate for precaution. Not much more than any other driver.
He steps out of the Crown Victoria wearing shorts, a T-shirt and sneakers.
The 51-year-old is the world record holder for most car crashes and made his 950th career crash on Monday, also surpassing his 54 mph crash speed record.
"If you know what hurts people, you can create a wreck that doesn't," said Haight, director of the Collision Safety Institute, which held the 10th annual ARC-CSI Crash Conference at the speedway with the help of the Accident Reconstruction Network. "Plus, you can get all the data from me that you can't from dummies."
Wires are connected to Haight to read his vitals during each crash.
Being a real-life crash test dummy is becoming a family business . His 16-year-old son, Connor, has taken the wheel for 13 low-impact crashes, completing most recently on Sunday.
"He just got his driver's license, so I figured he might as well get a taste of what's ahead," Haight said and chuckled.
Contact reporter Trevon Milliard at tmilliard@reviewjournal.com or 702-383-0279.