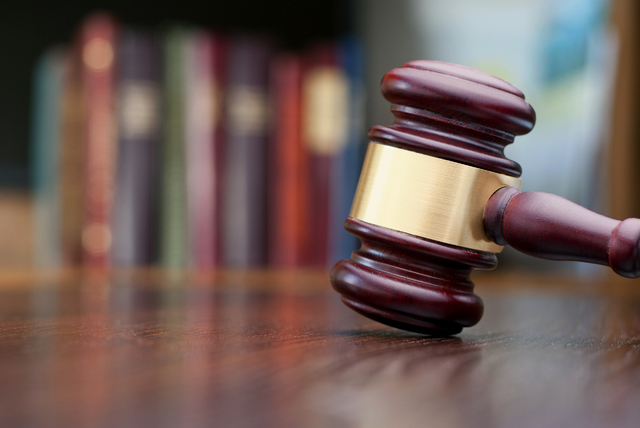 An FBI informant testified Friday that he once fled to Mexico, leaving his family including a newborn daughter behind, out of fear for his safety after he helped authorities break up a theft ring in the Las Vegas Valley.
Yordani Corona Del Toro, 23, told the jury in the federal theft trial of three Cuban immigrants that his mother had received threats and that he decided to go to Mexico last year to stay with family, even though he knew he was supposed to appear in state court for sentencing on one of his felony burglary cases.
Del Toro said he also went to his native Cuba to see his ailing grandfather, before returning to Las Vegas to face the state case.
Under cross-examination from defense lawyers, Del Toro testified that he came back because he missed his daughter and mother.
Del Toro said he was arrested at McCarran International Airport by his FBI handler, Shay Christensen, and a Las Vegas police detective and was allowed to see his daughter on the way to the Clark County Detention Center.
Defense lawyers Kathleen Bliss and Raquel Lazo tried to show that Del Toro was living it up while on the lam, partying poolside and flashing a wad of cash. But Del Toro said a picture he posted on Facebook of himself at a pool in Cuba was simply taken on his birthday.
U.S. District Judge Jennifer Dorsey would not allow the lawyers to let the jury see or hear about the Facebook photo displaying the cash.
Defense lawyers spent much of the day hammering Del Toro about the favorable plea deals he got in two separate burglary cases in state court. Despite a 2007 felony conviction, he received probation in both cases, but was ordered to serve three months at the detention center for fleeing the country.
Del Toro acknowledged Christensen helped him get the plea deals because of his undercover work in the federal theft investigation. His time behind bars ends May 31.
Julio De Armas Diaz, 54; Alexis Torres Simon, 46; and Alexander Del Valle Garcia, 42, are standing trial on felony charges tied to the theft of drugs and high-quality merchandise from delivery vans and warehouses around the valley.
Del Toro testified Thursday he secretly recorded conversations for the FBI with the defendants planning the robbery and kidnapping of a delivery van driver hauling pharmaceutical drugs.
De Armas Diaz and Simon were taken into custody April 8, 2013, as they were about to rob the driver at gunpoint, according to prosecutors. Del Valle Garcia was arrested several days later.
Members of the theft ring conducted surveillance of retailers to determine delivery patterns, prosecutors alleged. Once a delivery truck was identified, members followed it to a warehouse where the merchandise was stored.
The stolen goods were loaded into waiting vehicles, according to prosecutors.
FBI agents linked the ring to the Oct. 15, 2012, warehouse theft of $573,756 in Coach merchandise, including purses, in southeast Las Vegas.
The trial resumes Monday with more cross-examination of Del Toro.
Contact Jeff German at jgerman@reviewjournal.com or 702-380-8135. Find him on Twitter @JGermanRJ.