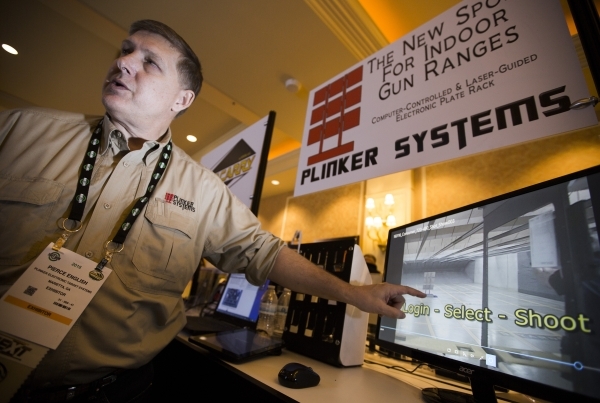 Two brothers from Georgia are bridging the gap between live target shooting and video games.
Capel and Pete English of Atlanta debuted their new game, Plinker, at the Shooting, Hunting and Outdoor Trade Show, or SHOT Show, this week at the Sands Expo and Convention Center.
Plinker — from a slang term for casual target shooting, usually of cans — was created for indoor ranges. The English brothers said they created it to introduce more young people to shooting sports, offer a fun way for law enforcement to train and increase profits for range owners.
"We call this 'gamers with guns,'" Pete English said.
Plinker, he said, offers younger folks a competitive game in which live ammunition meets the so-called Internet of things and is sure to attract millennials who love shooting video games like "Call of Duty."
Here's how it works: People go to the shooting range with their pistols (rifles are not recommended for Plinker). Inside the bay, there is a tablet computer on the wall for them to choose the game they want to play. At the end of the aisle are a set of square steel plates attached to a base, which aims a laser-light at the target the players are supposed to shoot. There are different settings for the length of time for each target or the order in which the plates are lit up.
And then there is the requisite social media tie-in — players will be able to register online and use a smartphone app to track their scores, compare them with friends' scores and post the results to social networks, which can also mean free advertising for the range.
But the game can also be useful for training, the English brothers say. They said most police aren't true marksmen and practice only enough to pass a shooting exam a few times a year. But shooting paper targets gets boring after a while.
Plinker is not only fun, but it teaches split-second decision making, an important skill for police officers, they said.
But it's not just police who can benefit from more training. Most gun owners go to the range two or three times a year, but Plinker could entice them in more often. That means profits for gun ranges, which charge for ammunition.
"If shooting is fun, customers come back. They come back more often and bring their friends," Pete English said.
A Plinker system, which includes the AR500 steel plates (the same steel that tanks are made with) and everything else, comes at a one-time price of $12,000. A yearly maintenance contract runs about $1,800. The English brothers said the range owners they consulted with would see a return on the investment in the first year.
Plinker scored three deals during SHOT Show with about 25 more interested. Time will tell whether it will come to Las Vegas, where gun ranges are a frequent destination for international travelers.
The SHOT Show is the Sands Expo's largest show — there are more than 13 acres of floor space, on multiple levels, with 12.5 miles of booths and more than 1,600 exhibitors. More than 60,000 people are in town for the show, which runs through Friday. It's closed to the public.
The Review-Journal is owned by the Adelson family, majority owners of Sands Expo and Convention Center operator Las Vegas Sands Corp.
Contact Wesley Juhl at wjuhl@reviewjournal.com and 702-383-0391. Find him on Twitter: @WesJuhl