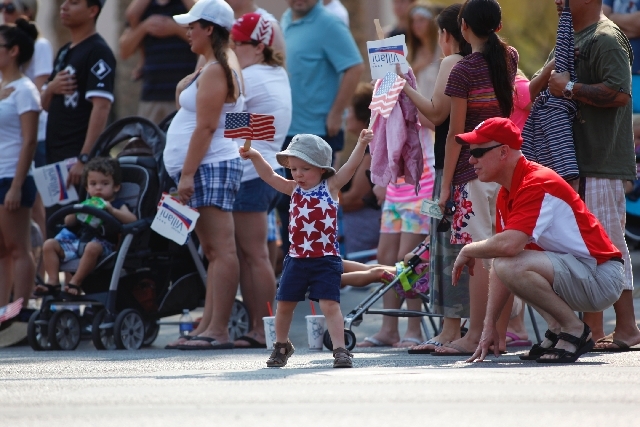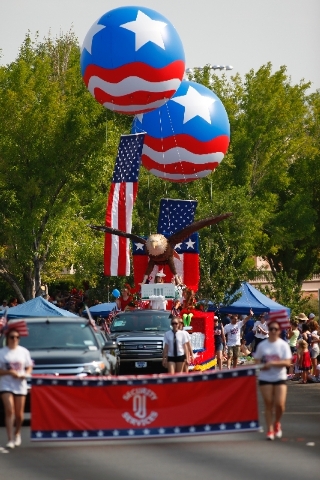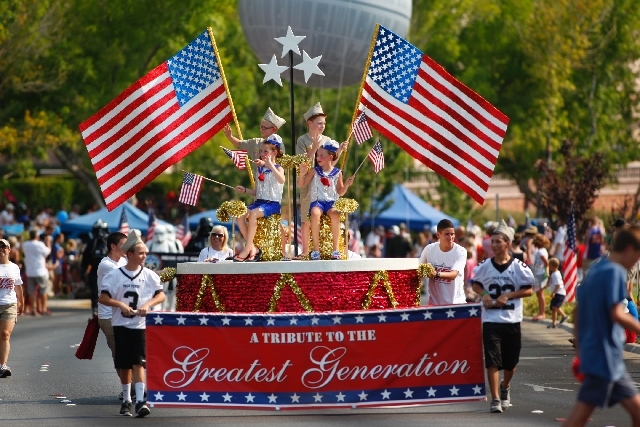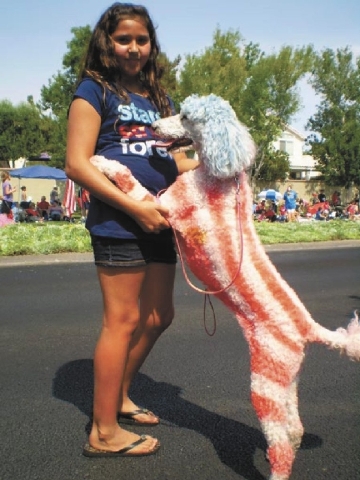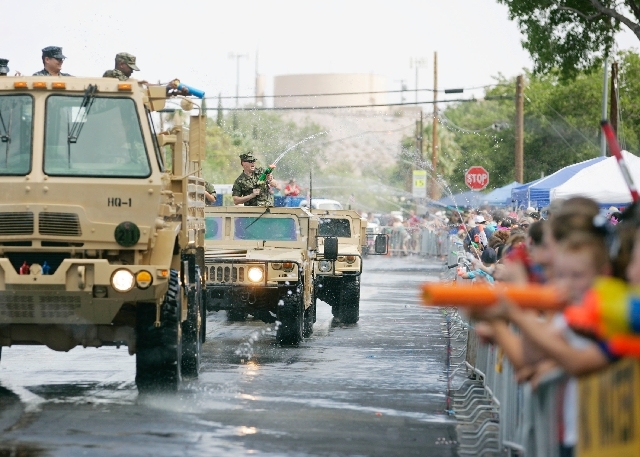 Red, white and blue shirts, shorts and hats could be seen throughout the streets of Summerlin as more than 30,000 people gathered Thursday for the 19th annual Summerlin Council Patriotic Parade .
Parade-goers arrived hours before the parade started at 9 a.m. and brought tents, umbrellas, water bottles and plenty of sunscreen as they watched vintage cars, U.S. Marines and more than 25 floats travel down Hillpointe Road.
Gov. Brian Sandoval, the first sitting governor to attend the parade, and Sen. Dean Heller led the festivities in new Mustang GTs.
"It's such a privilege to participate on such an amazing day," Sandoval said. "It's an honor to be a part of this."
Huge floats roamed the Summerlin streets as "Born in the U.S.A.," "Living in America" and "Party in the U.S.A." provided an American influence.
The parade's 70 entries included bands, charities, cars and floats.
"Everyone's been working close to around the clock on this parade," said Adrienne Augustus, a public relations manager for Summerlin. "We really tried to have representations of the American culture and history."
Fans shaped like American flags were handed out to the crowd enduring the 110-degree heat.
Fathers and kids tossed Frisbees while mothers applied sunscreen to uncomfortable toddlers as Big Red, a 1964 fire truck, made its way through the parade route.
Las Vegas City Councilman Ricki Barlow rode on the open-topped, 85-foot firetruck with his family, waving to the crowd. It was Big Red's 17th year at the parade, and children flocked to the edge of the street to wave as it passed by.
"As a kid, what toys did you want to have?" said Steve Klein, who has 24 years experience as a firefighter and who drove Big Red . "You've got to have the firetruck. The kids love it."
Classic Ford Model Ts from the 1920s made their way before the astonished crowd. Shortly after, a 1925 Wurlitzer Band Organ followed suit while playing music that brought a baseball feel to the atmosphere.
Nothing screams "America" like Fords and baseball, and throngs of people wore shirts of some of the oldest teams — the Boston Red Sox, Chicago Cubs, New York Yankees and Detroit Tigers.
Even "Star Wars" made an appearance in the parade as six Stormtroopers, Chewbacca and four soldiers carrying a giant Death Star drew excitement from kids and adults.
Even the patrons who weren't old enough to drive recognized the importance of military veterans. They were greeted with standing ovations and tons of waves as they made their way through the streets.
It's something Sandoval is proud of.
"It's such a patriotic day," Sandoval said. "I'm so proud to be governor of a state that appreciates its veterans."
Contact Steven Slivka at SSlivka@reviewjournal.com or 702-383-0264.