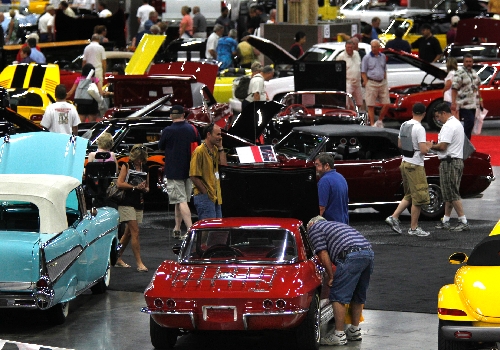 Steve Johnston said he can see natural beauty any time he wants back home in Ontario, Canada.
On Thursday, he skipped a nine-hour bus tour of the Grand Canyon to instead attend the fourth annual Barrett-Jackson Auto Auction in Las Vegas. The Grand Canyon trip was his wife's suggestion. She's in town for a convention.
"I have no regrets. I came by yesterday and saw the cars and tried to get tickets," Johnston said as he made his way to Mandalay Bay Events Center for the first day of the auction.
Nearly 600 collectible and custom vehicles will be sold at the three-day auction, the last of four stops on Barrett-Jackson's 40th anniversary tour. Speed Channel will broadcast 19 hours of the auction live in high-definition television.
The Barrett-Jackson auction is open to the public and draws about 50,000 car enthusiasts.
Attendance looked strong Thursday, with 8,000 tickets sold in the first four hours, a Barrett-Jackson worker said. Daily admission is $15.
"It's a great car show," said Craig Jackson, chairman and chief executive officer of Scottsdale, Ariz.-based Barrett-Jackson Auction Co. "People are excited. They like coming to Barrett-Jackson, they just haven't felt comfortable with the economy. A lot of people watch us on Speed Channel and want to come and watch it live and Las Vegas itself is just another excuse to come."
Jackson signed autographs and had his picture taken with fans at a display of cars going to auction in Scottsdale in January, including a restored Delahaye roadster, a 1947 Bentley and a Tucker.
The premiere vehicle in the Las Vegas auction is the 2009 Mosler Raptor GTR Coupe valued at $450,000. It's the first production Raptor and sits on a 2009 chassis, though the car was completed in 2011. It features a twin-turbo, 1,200-horsepower engine and weighs only 2,350 pounds.
Another beauty is the 1997 Vector V12 Coupe, one of only 12 made and one of two powered by a Lamborghini Diablo 5.7-liter V12 engine.
There are plenty of Corvettes, Camaros, Mustangs and other American muscle cars on the block. A 1965 Ford Mustang convertible went for $21,000 in the early bidding.
"I feel like a kid with a sweet tooth in a candy store," said Al Morken of Manitoba, Canada, owner of a 1957 Chevy that isn't in the auction. "Everything's so new and shiny. Even the old cars look like they just came out in the 1950s. I give credit to these guys who do the restoration. They're not only talented, but they have vision."
Ronnie Reding of Guthrie, Ky., said he took the first plane trip in his life to come to Las Vegas with his son, Jody, for the Barrett-Jackson auction. He also went to Hoover Dam and the Grand Canyon and rode around Las Vegas Motor Speedway at 165 mph in the Richard Petty Experience.
"I've been going to car shows all my life and this is the best one," Reding said. "I'm old school. I like the hot rods."
In addition to the auction, those attending the show can participate in ride-and-drives by Ford, GM and Porsche, and shop for automotive accessories and memorabilia at vendor exhibits.
Contact reporter Hubble Smith at hsmith@reviewjournal.com or 702-383-0491.