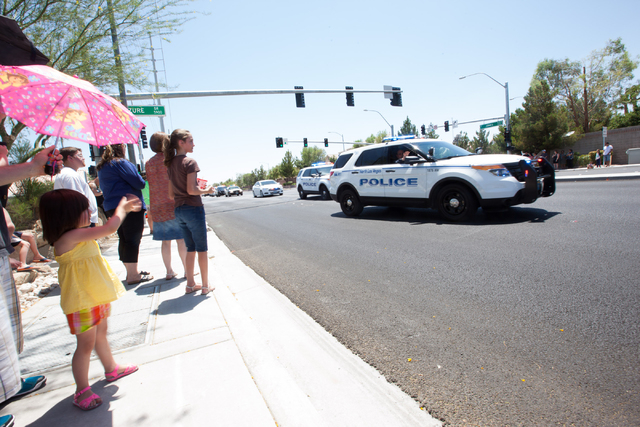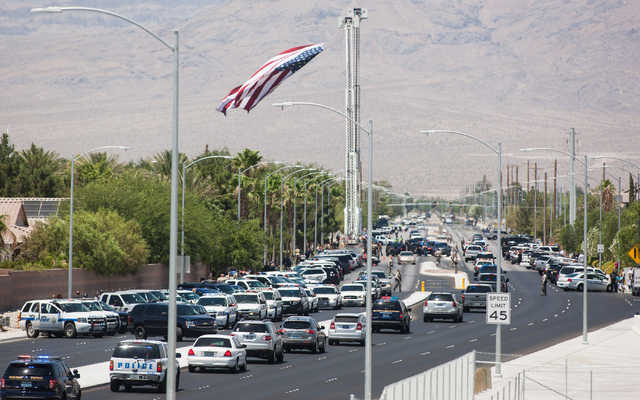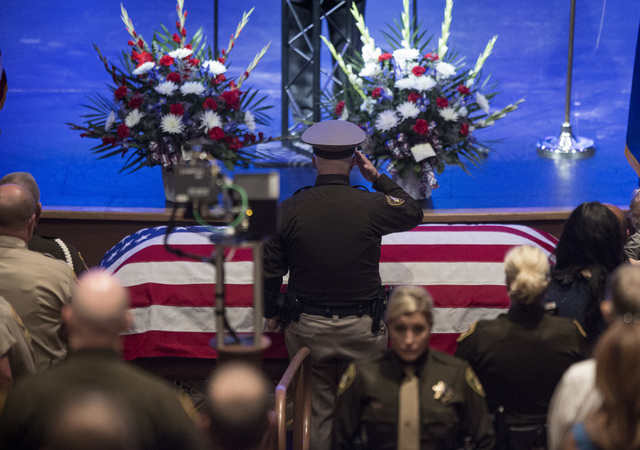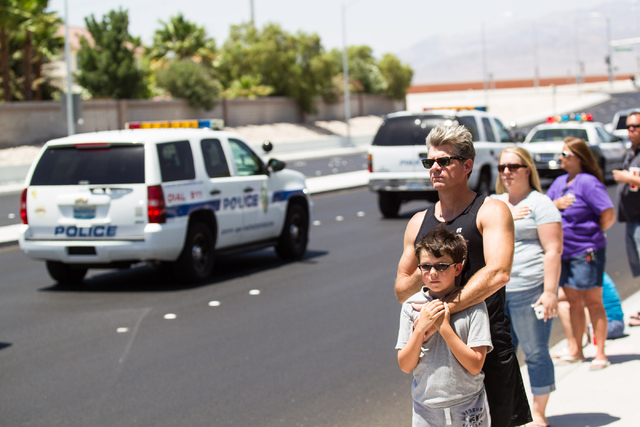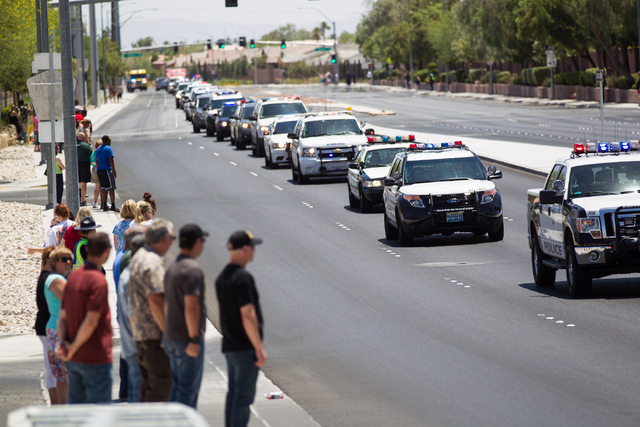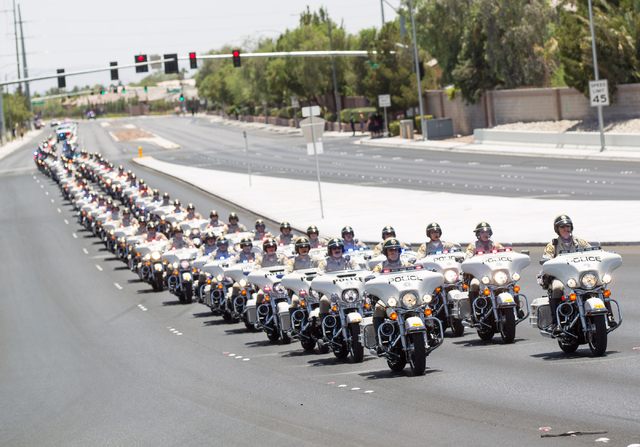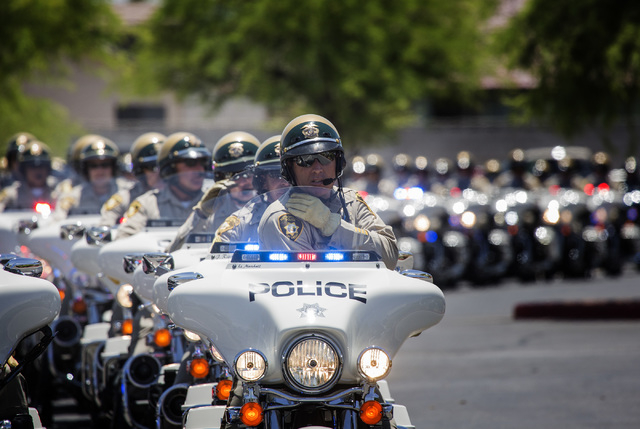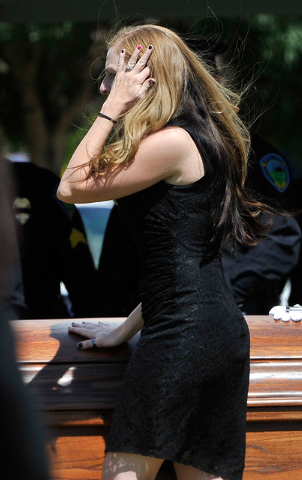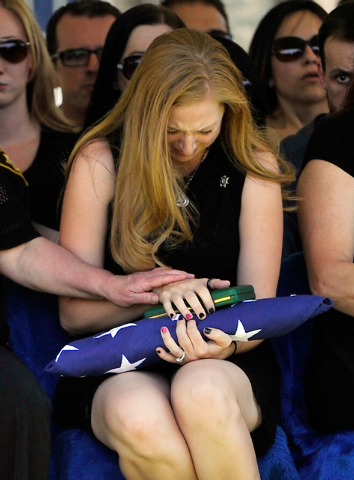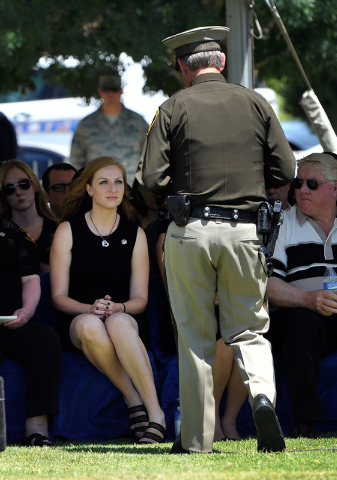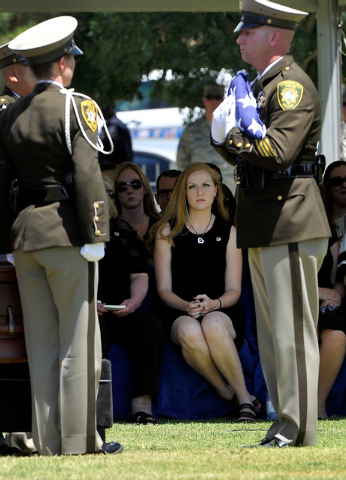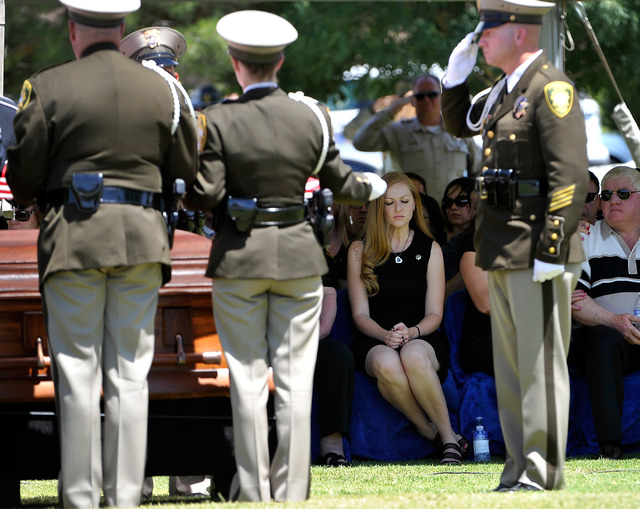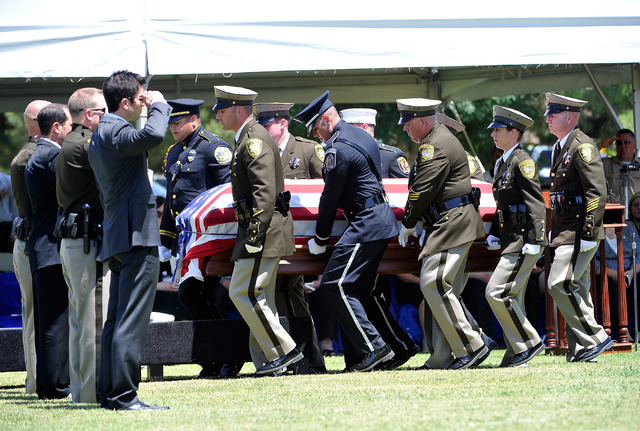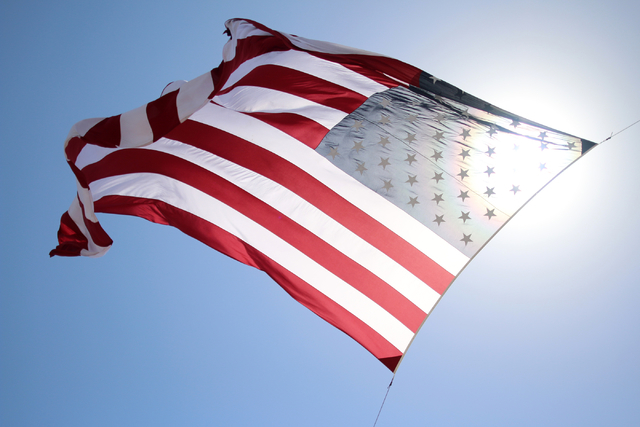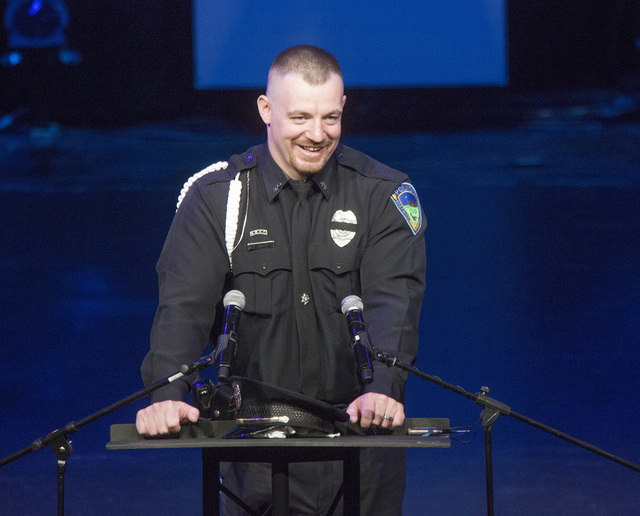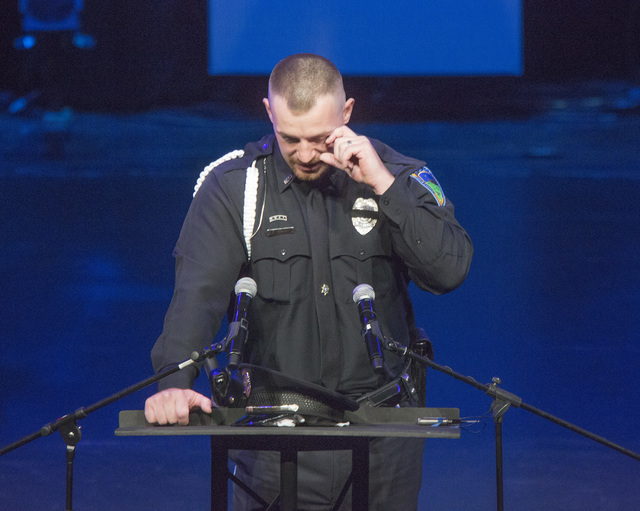 Slain Las Vegas police officer Igor Soldo was remembered Thursday as a devoted family man who loved reading books, traveling around the world, playing basketball and fighting crime.
"This community has lost a true hero," said friend Jason Hopfer, who worked with Soldo at the Metropolitan Police Department.
Thousands — many in uniform — packed into the Canyon Ridge Christian Church to pay tribute to Soldo, one of two Las Vegas police officers ambushed and killed Sunday while having lunch. The church, at 6200 W. Lone Mountain Road, has a capacity of about 3,300.
Soldo, 31, and fellow officer Alyn Beck were gunned down while eating at CiCi's Pizza, 309 N. Nellis Blvd. A separate service for Beck, 41, is planned for Saturday.
The men were uniformed patrol officers assigned to the department's Northeast Area Command and the first two victims in a shooting rampage that resulted in five deaths.
Beck, a senior patrol officer and father of three, joined the Las Vegas department in 2001.
Larry Burns, a recently retired police captain and candidate for Clark County sheriff, spoke at Thursday's service and recounted the story of Soldo's first attempt to be hired as a Las Vegas police officer.
Burns said Soldo drove from Lincoln, Neb., for his interview but arrived five minutes late and was sent away.
After going through the hiring process a second time, Soldo joined the department in 2006.
"Our lives have been blessed because he has served us," Burns said.
Soldo "enthusiastically supported" Burns' campaign, according to the funeral program. Burns will face Assistant Sheriff Joe Lombardo in the general election.
Friends said Soldo had an impressive memory when it came to recalling statutes or case law.
"But if you asked Igor where he put his car keys, he would have no idea," joked Josh Stearns, who met Soldo in the police academy.
Stearns also recalled being involved in a foot pursuit, during which he heard Soldo say, "I got you, buddy. I'm right behind you."
Welcoming the pair of fresh legs, Stearns let Soldo take over the pursuit.
When Stearns caught up to him, Soldo was handcuffing the suspect. Afterward, Soldo scolded him, saying, "Stearns, this isn't a relay race foot pursuit. Where did you go?"
The story drew laughter from the crowd.
David Walker also met Soldo in the academy and "immediately recognized that his hard exterior was all a sham."
He said Soldo, who was married and had an infant son, showed "his true self" when he was home with his family.
Walker also described his friend as a good storyteller with a great memory for details.
"It was amazing how accurate he was," Walker said.
Dan Gibson said he met Soldo in high school in Nebraska. Later, they had a falling out, and Gibson didn't speak to Soldo for months.
When Gibson finally approached his friend again, Soldo was "overjoyed."
"He would always have your back, even if you turned your back on him," Gibson said.
Soldo had encouraged his older brother, Robert, to become a police officer.
Robert Soldo, 33, is an officer in Beatrice, Neb. Dressed in his uniform, he spoke at the service and described his younger brother as his "partner in crime" during the pair's youth in Bosnia.
"I wish I could take that bullet for him, because it's not fair," Robert Soldo said.
Their father, Pero, was a fire chief in Bosnia. The family came to the United States when the boys were children, settling in Nebraska.
Soldo graduated in 2000 from Lincoln Southeast High School in Lincoln, Neb., and then studied at the University of Nebraska-Lincoln, where he obtained a bachelor's degree in criminal justice in 2004.
Before joining the Metropolitan Police Department, Soldo worked as a part-time corrections officer for three years in Lincoln.
He met his wife, Andrea, while working at the Nebraska jail, where she also was a correctional officer. The couple married in 2009 and planned to celebrate their son's first birthday in Lincoln on July 7.
Several large screens throughout the church displayed images from Soldo's life as the service came to an end. Various photos showed Soldo with family, friends and co-workers. Videos captured him making his son, Logan, laugh.
The display ended with a video of Soldo holding his son and telling him to say "Goodbye, Mommy." The baby then waved to the camera.
Outside the church, numerous police officers directed drivers as they entered and later exited the parking lot.
Dozens of Las Vegas police cadets marched in line before the service. Their discipline and determination marked an odd contrast at the service: despite the grief of the event, the mood was one of pride and honor.
Uniformed police officers set their jaws but now and then lifted sunglasses to wipe away tears.
The Nevada Emerald Society donned red, blue and green kilts and joined Las Vegas and Henderson bagpipes and drum groups for a haunting rendition of "Amazing Grace."
After the service, police motorcycles led two white limousines followed by hundreds of patrol cars in the funeral procession.
The motorcade traveled from the church to Palms Northwest Mortuary and Cemetery, on Jones Boulevard north of the 215 Beltway.
Dozens lined the cemetery fence to catch a glimpse of the graveside service, where Soldo's wife was given an American flag.
Police snipers set up on the roof of a building on cemetery grounds. Several officers attending the funeral said at least one "anti-government" threat had been made. Metro spokesman officer Jesse Roybal declined comment when asked about perceived threats.
Police still don't know what triggered Sunday's attack by Jerad and Amanda Miller, a married couple who espoused anti-government views.
Armed bystander Joseph Wilcox, 31, was shot and killed by Amanda Miller after he confronted Jerad Miller inside a Wal-Mart near Cici's Pizza.
Wilcox, called a hero by police after his death, never fired a shot.
Jerad Miller, 31, was shot and killed by a police tactical team that swarmed the store.
Amanda Miller, 22, shot and killed herself.
Reporters Rachel Crosby and Wesley Juhl contributed. Contact reporter Carri Geer Thevenot at cgeer@reviewjournal.com or 702-384-8710. Find her on Twitter: @CarriGeer.