Three Square Food Bank receives $10 million gift
February 20, 2015 - 4:40 pm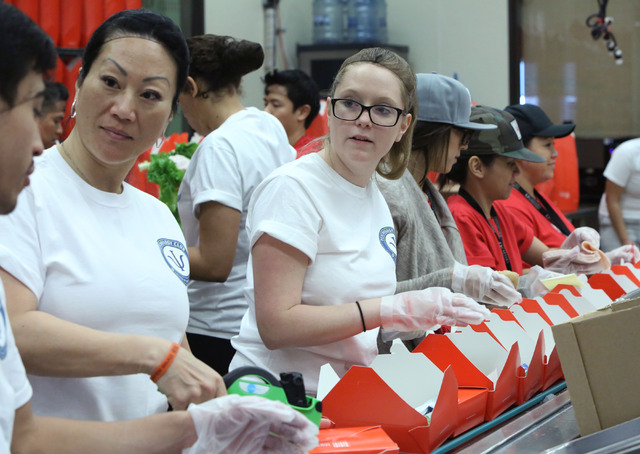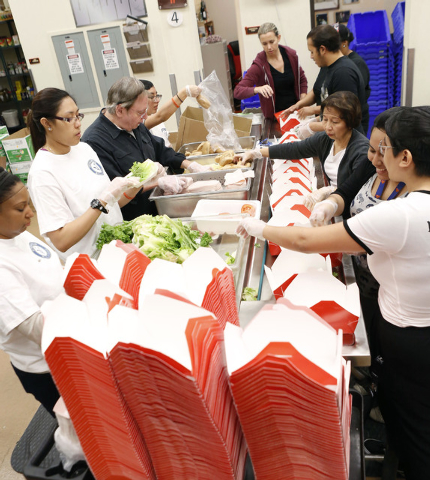 The Engelstad Family Foundation on Friday announced a $10 million gift for the Three Square Food Bank to help put an end to hunger in Southern Nevada.
The money will go to the nonprofit's endowment to help provide financial sustainability, said Brian Burton, president and chief executive officer for Three Square.
The gift will triple the nonprofit's current endowment of $5 million, he said.
"I think today will be felt for a long, long time," he said at a press conference to announce the organization's historic gift.
The $10 million will be awarded throughout the next five years and Three Square will be able to use the dividends and interest each year to sustain its operations. The principal will remain intact to grow over time.
Three Square, which started in December 2007, partners with other community agencies and nonprofits to help provide food to those in need. The food bank "rescues" surplus and unused food from grocery outlets, and it also purchases food from retailers and accepts donations of nonperishable food.
Other local agencies and nonprofits are able to purchase food from Three Square at low prices. Three Square also donates food to local nonprofits to help sustain their food banks.
In the past seven years, the organization has distributed 165 million pounds of food to those in need through its community partners, Burton said. It has had 40,000 donors and 67,000 volunteers since 2008.
About 137,000 people receive food each month through the organization's partners, Burton said.
"When I think about that number, it gets to me because it's a huge number, but I'm also grateful that these agencies are treating all of them with such great dignity and giving them the ability to stabilize their lives," he said.
Burton said if one thing exists today, it's collaboration.
"When you think about a food bank, we only exist in collaboration," he said.
Thomas A. Roberts, president and chief executive officer for Catholic Charities of Southern Nevada, echoed that statement.
He said Catholic Charities' food pantry would not exist without Three Square and the organization wouldn't be able to feed 1,400 seniors through its Meals on Wheels program either.
"Thank you for the gift of collaboration," he said.
Burton said the Engelstad family has been a pillar of support for the community and has been generous to Three Square. The Engelstad Foundation has provided $3.7 million to Three Square over the years.
It helped refurnished the nonprofit's kitchen, where chefs and thousands of volunteers prepare millions of nutritional meals. On Friday, several dozen volunteers prepared meals quickly as loud music played in the background.
The foundation also helped Three Square launch the Summer Food Service Program, which has provided more than 680,000 meals to students in need since 2009.
"We are glad they've chosen Three Square to benefit from their foundation," Burton said.
Ralph and Betty Engelstad first came to Southern Nevada in 1961 from a little farming community in North Dakota, their daughter Kris McGarry said. Her father, one of the largest real estate owners in the country, began to contribute to a startup, Opportunity Village, in the 1970s.
"We are not going anywhere. We are going to continue our work and being part of this community," she said.
Three Square is a financially responsible organization and has an eye toward the future as to how they are going to end the hunger problem in the community, McGarry said.
"This will give them a little more … cushion," she said.
Diana Bennett, former chairwoman for Three Square's board of directors, said the gift will make a significant difference for those in Southern Nevada.
"The Engelstad Family Foundation gift means more food and better food for everybody in the Las Vegas community, regardless of what ZIP code they live in," she said.
Contact Yesenia Amaro at yamaro@reviewjournal.com or 702-383-0440. Find her on Twitter: @YeseniaAmaro.