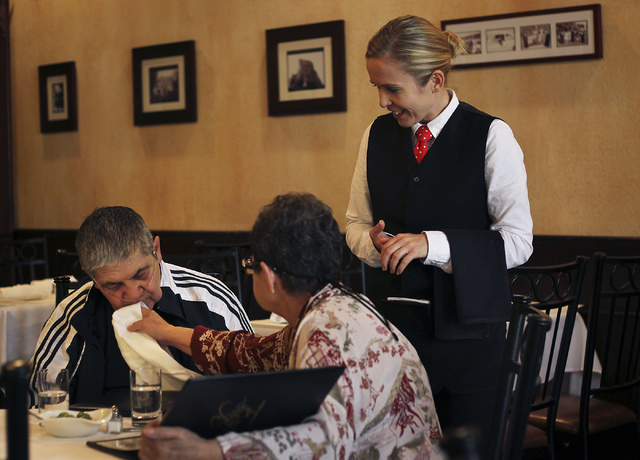 Talking about death over dinner may sound unpleasant, but some local health care experts are hoping Las Vegans do just that Saturday.
National Healthcare Decisions Day, which falls on April 16 every year, offers a chance for people to discuss end-of-life care decisions with their families, putting aside the sorrow or awkwardness the conversation can trigger, said Dr. Dean Tsai, medical director and palliative care physician at Southwest Medical Associates.
"Starting the conversation seems to be one of the biggest hurdles," Tsai said.
The day of discussion arrives on the heels of a new national study in which only 29 percent of physicians surveyed reported having formal training on how to talk to patients and families about end-of-life care.
The survey, released Thursday by philanthropies John A. Hartford Foundation, California Health Care Foundation and Cambia Foundation, showed 46 percent of physicians frequently or sometimes feel unsure of what to say when broaching the subject with patients and families.
The survey gauged the opinions and experiences of primary and specialty care doctors who regularly treat patients 65 and older.
J. Kate Tuttle, a nurse practitioner at Nathan Adelson Hospice, said primary care doctors face pressure to see a large number of patients, but their offices can still provide a calm environment in which to discuss end-of-life options.
"When it comes from a primary care provider, it's in a place where patients aren't making decisions when they're in a crisis," she said.
Tsai said he believes it's important that he, as a physician, be part of the patient's end-of-life care discussion.
Clear instructions on what to do in case of unfortunate medical events can prevent conflict between children or other relatives, he added.
"The person with the loudest voice tends to have the biggest say, but it shouldn't be that way," Tsai said.
Stacey A. Tovino, UNLV William S. Boyd School of Law professor and director of the school's health law program, said it's wise for all adults to have an advance directive — a document allowing them to make their care wishes known.
Though the names vary by state, there are two main types of advance directives.
A living will or directive to physician specifies a person's feelings on administration of life-sustaining treatments, Tovino said.
A health care or medical power of attorney allows someone to appoint an agent to make care decisions in the event the patient is unable.
Additional end-of-life care issues include mental health directives, do-not-resuscitate orders and organ donation planning.
If patients don't prepare advance directives, decisions on life-sustaining treatments can be made by spouses, adult children, parents or adult siblings, in order of priority according to Nevada law, Tovino said.
"I'm 43, and I always tell my students who are less than half my age, 'This is something we should start thinking about now,'" Tovino said.
If a person is in the midst of a separation or divorce, an unfortunate circumstance can get even more complicated as the other partner is forced to make health care decisions for the patient, she said.
She added that if someone can't figure out the paperwork , they can ask for advice from hospital social workers, health care providers or a lawyer.
"I would never want a physician in the emergency department to be stuck in that position of not knowing what I'd want," she said.
Contact Pashtana Usufzy at pusufzy@reviewjournal.com or 702-380-4563. Find @pashtana_u on Twitter.
RELATED
One sure bet: Death in las vegas
For all its divisions, humanity is united by a single shared trait: Everybody dies. So, how do people die in Sin City? The Las Vegas Review-Journal digs deep into the ways that Las Vegans put their unique stamp on death — the one sure bet you can get in life.