Top 2 elected officials removed from Nevada service union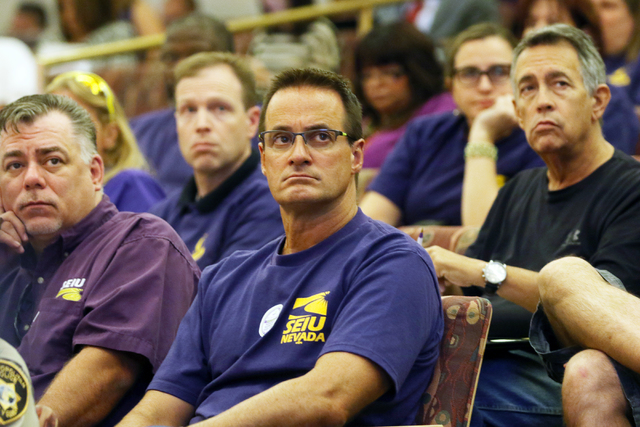 Service Employees International Union removed its Nevada chapter's two highest-ranking elected officials Wednesday, according to an internal memo obtained by the Review-Journal.
President Cherie Mancini and executive vice president Sharon Kisling are barred from holding office for one year and are suspended from union membership for six months, the memo states.
SEIU Local 1107 spokeswoman Dana Gentry confirmed via email that Mancini and Kisling have been ousted. Both were elected in June, but Mancini had served as the local's president since Martin Bassick resigned in October 2015.
Although Mancini and Kisling campaigned together, the two clashed repeatedly during their time at the helm of SEIU 1107.
The infighting prompted in a private two-day hearing in October, during which members of SEIU International's executive board and hearing officer Carol Nieters heard complaints about how the local union was being run.
"The overall pattern that emerges from the evidence is one of a President willing, and even inclined, to sideline her fellow officers so that she can function autocratically or, at best, with a small cadre of staff whose hiring was never even approved by the (SEIU 1107 Executive) Board," Nieters wrote in a report of her findings. "Her conduct is not to be condoned."
Mancini declined an interview through Gentry. Kisling could not immediately be reached for comment.
SEIU Local 1107 represents about 18,000 workers in Nevada. About half are government employees and half are private sector health care workers.
SEIU International executive vice president Neal Bisno and deputy chief of staff Deedee Fitzpatrick attended a SEIU 1107 executive board meeting Wednesday night "in order to discuss how the Local can move forward in the way that best serves its members," the memo states.
SEIU International president Mary Kay Henry appointed SEIU International staff members Kathy Eddy and Steve Ury to assist Local 1107 leaders "with carrying out the Local's priorities and commitments," the memo states.
Months of infighting
Nieters recommended Mancini's removal because of actions the president took in July against members of SEIU 1107's contract bargaining team at University Medical Center.
Mancini unilaterally canceled an imminent contract ratification vote with the hospital and announced she was opening an internal investigation into the bargaining team members for violating their fiduciary duty "without any explanation or evident justification," Nieters wrote.
"Her accusation impugned the integrity of the bargaining committee members and their loyalty to their members, and put the Local and its entire membership in a terrible light with the employer and the community," Nieters wrote.
Mancini was also faulted for hiring union staff and approving service contracts without the permission of the other members of SEIU 1107's executive board, and for meeting with administrators from different companies without inviting vice presidents on the union's corresponding bargaining units.
Nieters recommended removing Kisling from office because of her attempt in August to usurp Mancini's authority.
While Mancini was on vacation, Kisling tried to fire SEIU 1107 Director of Organizing and Representation Peter Nguyen. During a confrontation at the union hall, Nieters wrote, Kisling "accosted, hounded, berated and threatened" Nguyen, resulting in another executive board member putting her body between Kisling and Nguyen in fear that the altercation would become physical.
"In sum, Sister Kisling's actions in attempting to terminate Peter Nguyen amounted to an abuse of her position and a blatant attempt to aggrandize to herself the authority of Sister Mancini long enough to rid herself of an individual staff member who had long been a thorn in her side," the hearing officer wrote. "Such conduct cannot be countenanced."
Contact Michael Scott Davidson at sdavidson@reviewjournal.com or 702-477-3861. Follow @davidsonlvrj on Twitter.